PARTNER POST: Reinvent classic potato dishes to create a new holiday tradition. This year, forget the tried and true recipes and show off your cooking skills with a twist on an old favorite.
Mashed potato dumplings are filled with spiced sausage and fried until crispy on the outside. A delicious new way to serve holiday potatoes.
By Janette Fuschi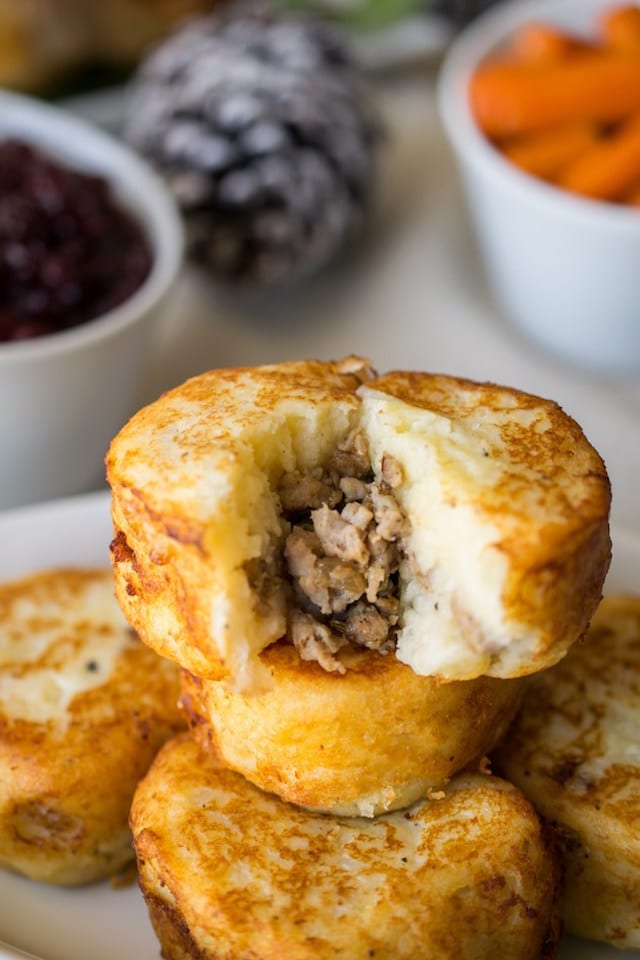 Sausage filled potato dumplings are the perfect holiday side dish. The holidays are a time when we can allow ourselves a little indulgence. The dumplings are shallow fried and this develops a crispy exterior that gives way to a fluffy interior.
These dumplings may be my new favorite holiday side dish because all the flavors of holiday cooking are all inside these fluffy discs. They could also be made with holiday leftovers, just stuff leftover mashed potatoes with turkey and stuffing, shape them and fry. The dumplings are also delicious the next day, just reheat on low heat in a sauté pan for a tasty snack or lunch.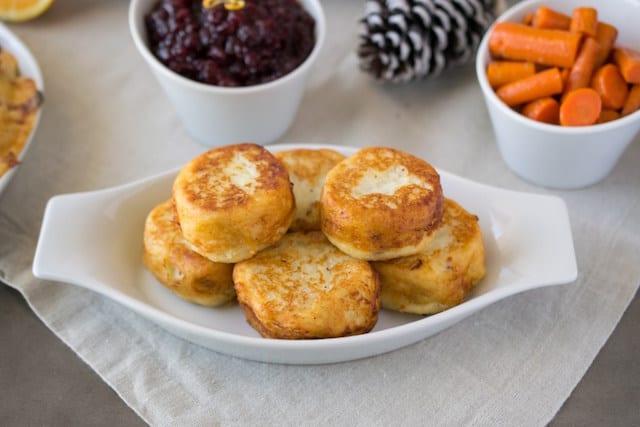 Stuffed potato dumplings are popular in Europe and different countries have their own versions. Sweden have 'kroppkakor', which are usually filled with pork and onions. Germany have 'kartoffelkloesse' and these are unstuffed and boiled. Maybe these dumplings will become your new favorite holiday side dish?
Sausage Filled Potato Dumplings
Mashed potato dumplings are filled with spices sausage and fried until crispy on the outside. A delicious new way to serve holiday potatoes.
Ingredients
14 ounces turkey or pork sausage, removed from it's casing
1 small or ½ medium onion, finely chopped
1 teaspoon dried sage
1 teaspoon fennel seeds
3 large potatoes about 14 ounces each, cooked, peeled, mashed and allowed to cool * see note
½ teaspoon salt
¼ teaspoon pepper
1 egg
1 tablespoon flour
Vegetable oil
Instructions
To a sauté pan add the sausage meat, onion, sage and fennel.
Cook over medium heat, breaking up the meat as it browns, about 10 minutes.
Transfer the sausage to a bowl and set aside.
To the mashed potato add the salt, pepper, egg and flour.
Mix well until the egg and flour are well combined.
Take a golf ball size handful of potato and shape into a flat pancake.
Place 1 tablespoon of sausage in the center, then place another pancake of potato on top, sealing the edges. Shape into 'hockey' puck shapes.
To a sauté pan add the oil ¼ full over medium heat.
Once the oil starts to ripple, carefully add 3 dumplings (don't overcrowd the pan).
Fry the dumplings for 2-3 minutes per side until golden brown. Drain on a paper towel and serve warm.
Notes
A quick way to cook potatoes: Prick holes in the potatoes with a fork and microwave them 1 at a time on high for 4 minutes, turn over and repeat. Allow to cool enough to handle, then they are easy to peel and mash.