Chef Marco Sacco of 2-Michelin-star restaurant Piccolo Lago in Mergozzo, Italy shares one of his signature dishes, Salmon Ingot with Michelle Tchea's Chefs Collective. 
Traveling to Italy would be the best way to enjoy this dish but, if you can't… here it is
CHEF MARCO SACCO'S SALMON INGOT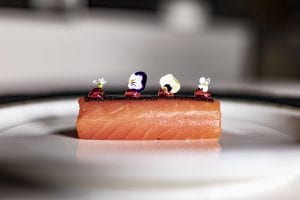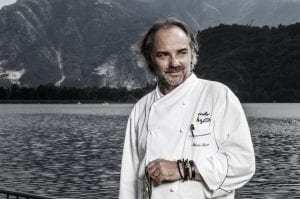 Ingredients for 10 portions
20 g raspberry gelatin
50 g sakura sprouts mix
120 g balsamic bread
840 g marbled wild salmon
For the raspberry gelatin
(for 45 g)
30 g raspberry vinegar
20 g sugar
0,5 g agar agar
For the balsamic bread
10 g sandwich bread
50 g balsamic vinegar
1 g vegetable carbon
For the smoked salmon
700 g half salmon
23,3 g sugar
93,3 g coarse grain salt
Prepare the salmon:
Carefully fillet the salmon and let it marinate for a day.  Rinse the excess salt, dry and proceed to smoke with cypress needles.  Let rest in the refrigerator for a day before pin-boning and cleaning. Portion into 10 ingots of 70 grams from the 700 g half.  Mould into a cylindrical shape with the help of clingfilm, and let rest for another 24 hours in the fridge.
For the raspberry gelatin, combine all the ingredients and bring to a boil.  Spread the mixture onto a baking sheet and split with a whisk.
For the balsamic vinegar bread, begin by removing the crust from the white sandwich bread.  Melt the vegetable carbon into the vinegar and pose the bread inside the mix. Allow to soak and absorb.  Remove the slices and dehydrate overnight. Blitz to reduce to a grainy powder.
Finishing and presentation
Poise the salmon ingot in the centre of the plate.  Sprinkle the balsamic bread powder to form a thin line on top of the ingot and add spots of raspberry gelatin atop the black line.  Adorn with sakura sprouts to close the plate.
Michelle Tchea
Michelle Tchea is a 4-time bestselling author. Her books include, Building a Perfect Meal, My Little SoHo Kitchen, Signature Dishes (Australia's Best) and Chefs Collective. Her work can be found in other leading luxury travel and food magazines including Travel+Leisure Asia, SMILE, NUVO Magazine and The Telegraph