This colorful Indo – Chinese inspired vegetable stir fry is a perfect light lunch.
By Priya Mahadevan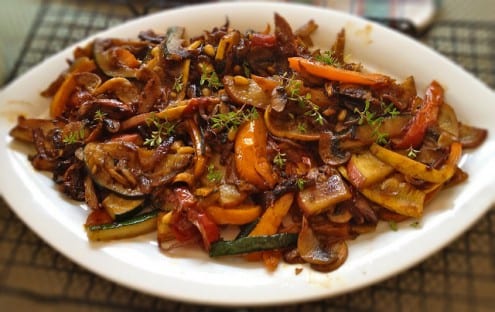 Some days the sun shines brilliantly and makes for the best day to click some good pictures – especially of food – a day like that presented itself and I was beside myself with joy since I had invited some friends over for lunch and I was planning on making this veggie stir fry. Colorful veggies can be a big turn on for the gastric juices and a visual treat.
Print
Indo – Chinese Vegetable Stir Fry
This colorful Indo – Chinese inspired vegetable stir fry is a perfect light lunch.
Author:

Priya Mahadevan

Prep Time:

15 mins

Cook Time:

5 mins

Total Time:

20 minutes

Yield:

4

1

x
Veggies of your choice
Hot stir fry sauce

1tsp

Sambar powder

1 tsp

or squirt of Sirarcha sauce

1tbsp

Ginger

1tbsp

Garlic

1tsp

sesame seeds

1tsp

of Asian spices
Nuts (optional)

1tbsp

+2tsp of sesame oil
Fresh green Thyme to garnish (can use basil or other too)
Instructions
Heat 1tbsp oil
Add the garlic and ginger and sesame seeds
Roast till garlic is golden
Add the chopped veggies
Add all the spice powders – The sambar powder infuses a fine Indian aroma to this dish while the Asian Spices confirms that it is indeed a Chinese dish with an Indian twist – The addition of Potatoes also lends some Indianness to the dish.
Cook on high flame stirring/tossing them.
Once they are tender, but still crisp, add the sauce. The veggies should be al dente and retain their shapes and their own individual flavors – that's what makes this dish special
Serve HOT Over noodles or as a side with Jasmine Rice
Notes
NOTE: If you are using potatoes, like I did, you may want to cook it for a few minutes in the microwave or steam them ahead of time for a 3-4 minutes
Priya Mahadevan
Priya Mahadevan is a writer and food blogger with a background in journalism & communication. Priya's mission with her food blog is to blow the myth that healthy cannot be tasty. She was a political and feature correspondent for a prominent Indian newspaper in the 90s before moving to the US. She lives in Virginia with her husband and 3 beautiful children. You can find her world of vegetarian recipes at http://priyasnowserving.blogspot.com.