Hummus and Pepper Pita Pizza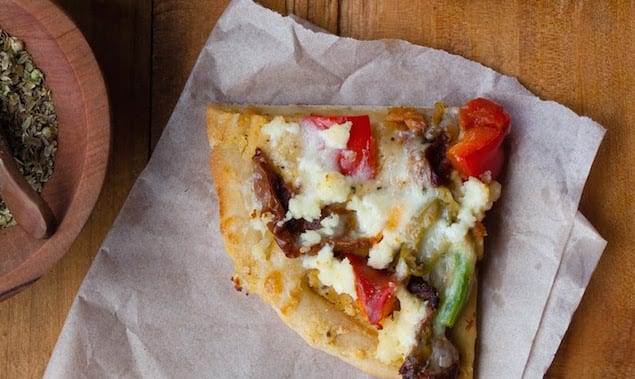 Combining hummus with the sweet bell peppers, olives, sun dried tomatoes and tangy feta cheese creates a wholesome mix of colors and flavors that are perfect for a light summer meal.
By Nandita Nataraj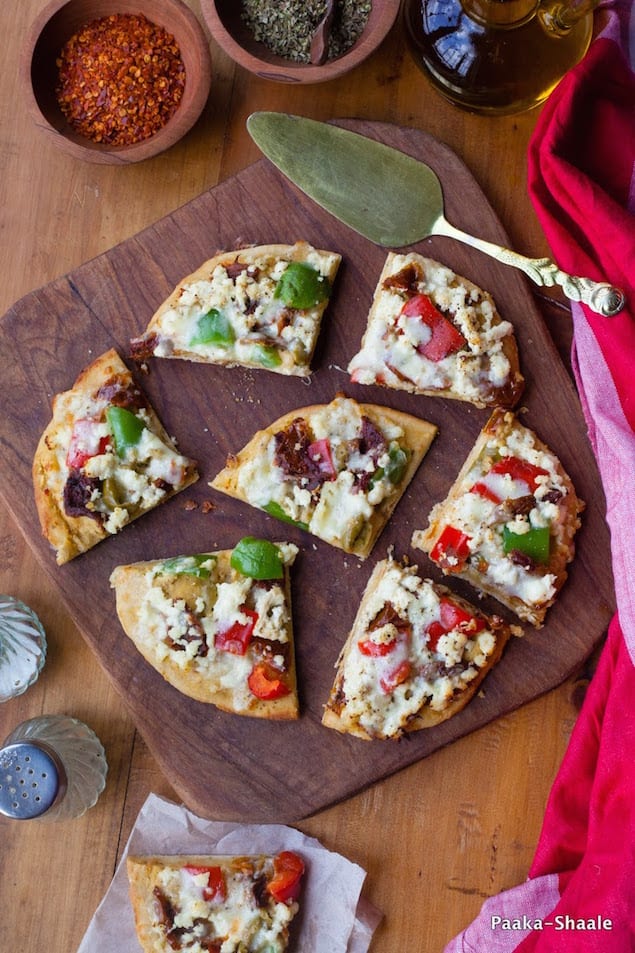 This pizza breaks all rules by using whole wheat pita bread for the base and hummus for the spread. In short, this recipe is just perfect for a light summer meal.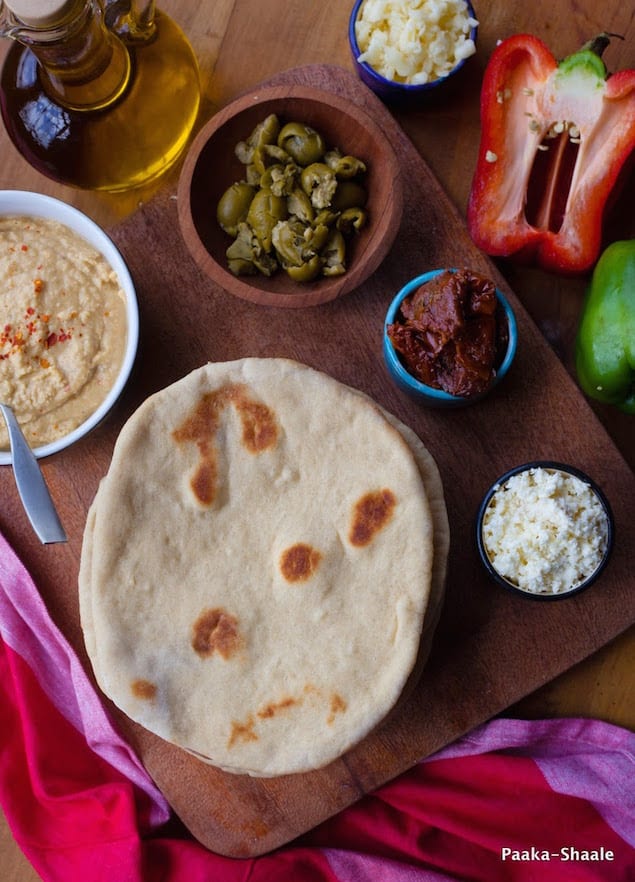 This Mediterranean Pizza is a fun way to enjoy new flavors. If you have some Pita bread and hummus stocked, then this Pizza can be put together in minutes.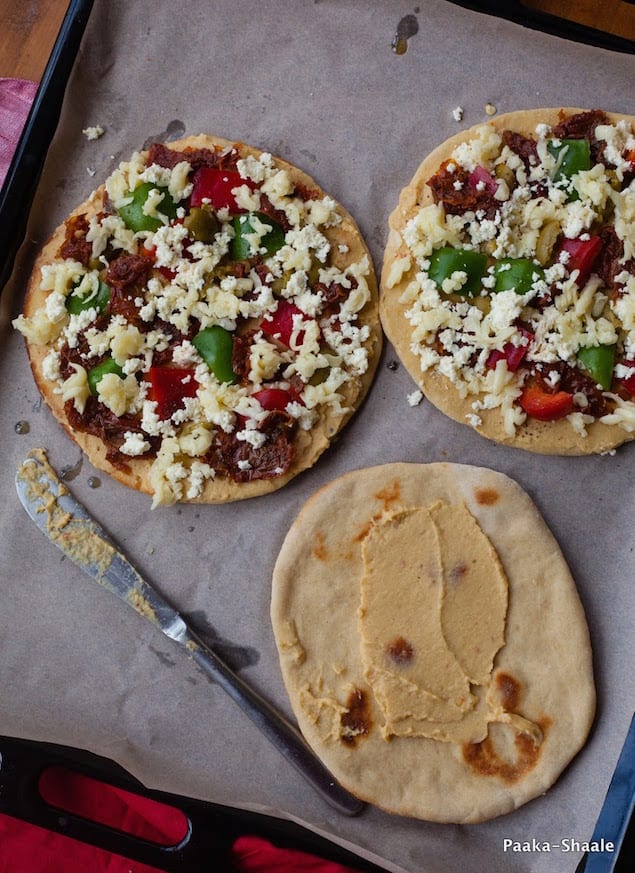 After making this pizza, I have become a huge fan of Mediterranean flavors. Combining hummus with the sweet bell peppers, olives, sun dried tomatoes and tangy feta cheese creates a wholesome mix of colors and flavors.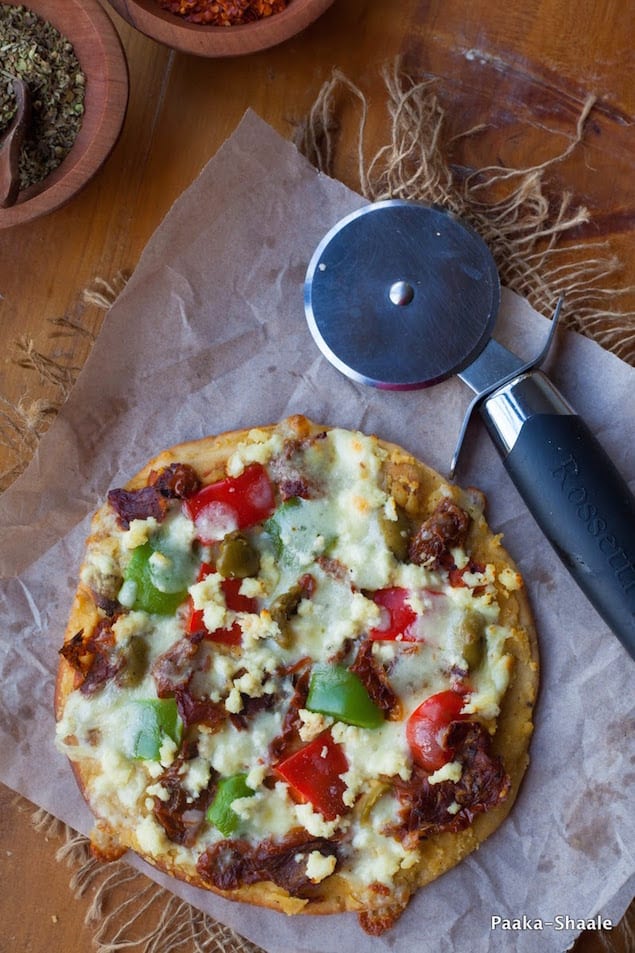 Hummus and Pepper Pita Pizza
Hummus, bell peppers, olives, sun dried tomatoes and feta cheese on a pita pizza creates a mix of colors and flavors perfect for a light summer meal.
Cuisine:
Mediterranean Inspired
Ingredients
6"Pita breads- 4
Olive oil to brush the Pita breads
Hummus- ¾ cup
Sliced yellow, red and green bell pepper- 1 cup
Sliced Olives- ¼cup
Sun dried tomato- ¼ cup
Feta cheese- 100gms
Mozzarella cheese- 100gms
Salt and pepper to taste
To serve
Chili flakes and dried Oregano
Instructions
Brush the Pita loaves with some olive oil and toast them in the oven till they are warm.
Remove and spread 1-1/2 to 2tbsp of hummus evenly on each bread.
Scatter the sliced bell peppers, olives, sundries tomatoes all over. Sprinkle some salt and pepper over the vegetables.
Mix both kinds of cheese and spread evenly over each loaf.
Preheat the oven to 200 C and Bake the prepared pizzas for 4-5 mins or till the cheese melts.
Cut the pizza into wedges and serve with chili flakes and herbs.
Nandita Nataraj
Nandita was born, bred and spread in India, but right now lives in Tanzania where her quest for simple and exotic pleasures of food led to the creation of the blog Paaka-Shaale. She believes that food is not just a means to feed a body. But it is also meant to appeal the mind and satiate the soul.