One of the keys to a perfect apple pie is baking it on the lowest rack position in the oven and on top of a pizza stone to ensure that the crust will not be soggy.
By Amy Casey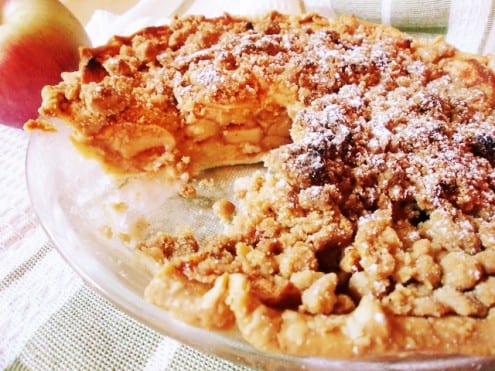 Apple Crumb Pie
One of the keys to a perfect apple pie is baking it on the lowest rack position in the oven and on top of a pizza stone to ensure that the crust will not be soggy.
Ingredients
For the pie
1crust from a 15-ounce package rolled refrigerated unbaked piecrust
7 cups sliced, peeled McIntosh apples (about 2-1/2 pounds)
½ cup sugar
3 tablespoons all-purpose flour
1 teaspoon ground cinnamon
¼ teaspoon allspice
⅛ teaspoon ground nutmeg
For the crumb topping
1 cup all purpose flour
⅓ cup brown sugar
⅓ cup sugar
1 tablespoon cornmeal
½ teaspoon cinnamon
6 tablespoons butter, melted
Instructions
Preheat oven to 375 degrees. Move oven rack to the lowest position in the oven. Place a pizza stone on the rack.
Unroll piecrust into a 9-inch pie plate. Crimp the edge of the crust.
Place apples in a large bowl and toss with sugar, flour, cinnamon, allspice, and nutmeg.
In a separate bowl mix crumb topping ingredients of flour, sugars, cornmeal, and cinnamon. Stir in melted butter until combined and crumbs form.
Transfer apple mixture to the piecrust-lined pie plate. Sprinkle with crumb topping. To prevent overbrowning, cover edge of pie with foil. Place pie on a parchment lined baking sheet Bake for 40 minutes. Remove foil. Bake for 20 minutes more or until apples are tender and filling is bubbly.
Cool on a wire rack.