You know we Italians LOOOOVE our cheese. We grow up on a mozzarella and Parmigiano diet, and a cocktail party without cheese seems inconceivable to us. By following these 6 steps, you can set up the best dairy free cheese platter ever, that's healthy, absolutely delicious and, of course, Italian approved ;)
This tutorial is especially fitting now that the Holidays are coming up (imagine snacking on this epic dairy free cheese platter by the fireplace with a glass of wine or kombucha…) or any time of the year, whenever you need to organize a nice, memorable dinner.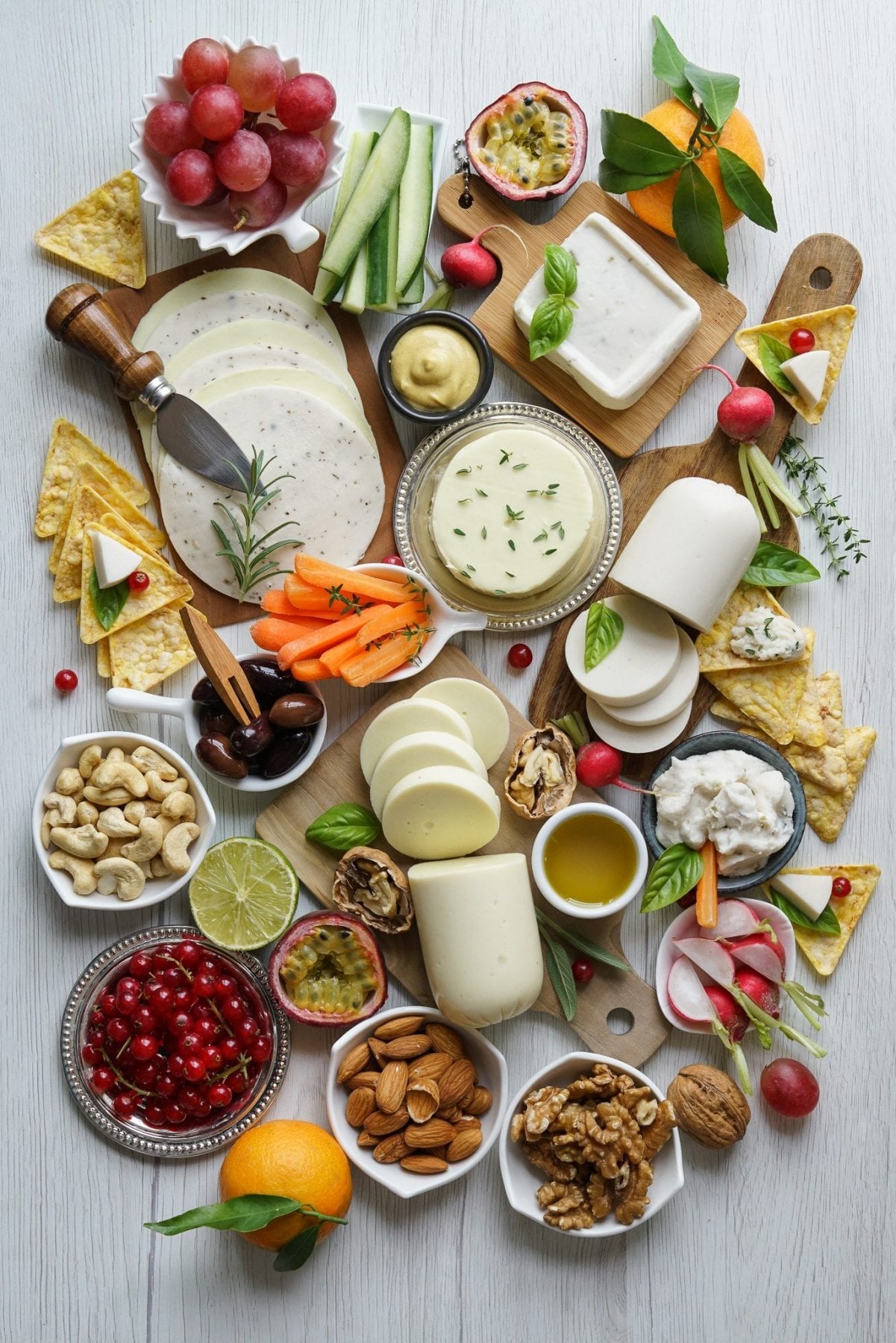 In just 6 easy steps, you can put together a dairy free cheese platter that's absolutely stunning, easily exchangeable with other types of fruit, veggies or snacks you have in your house… and it won't leave you with that sense of drowsy heaviness you feel after indulging in a regular one!
How To Build The Best Dairy Free Cheese Platter in 6 Easy Steps: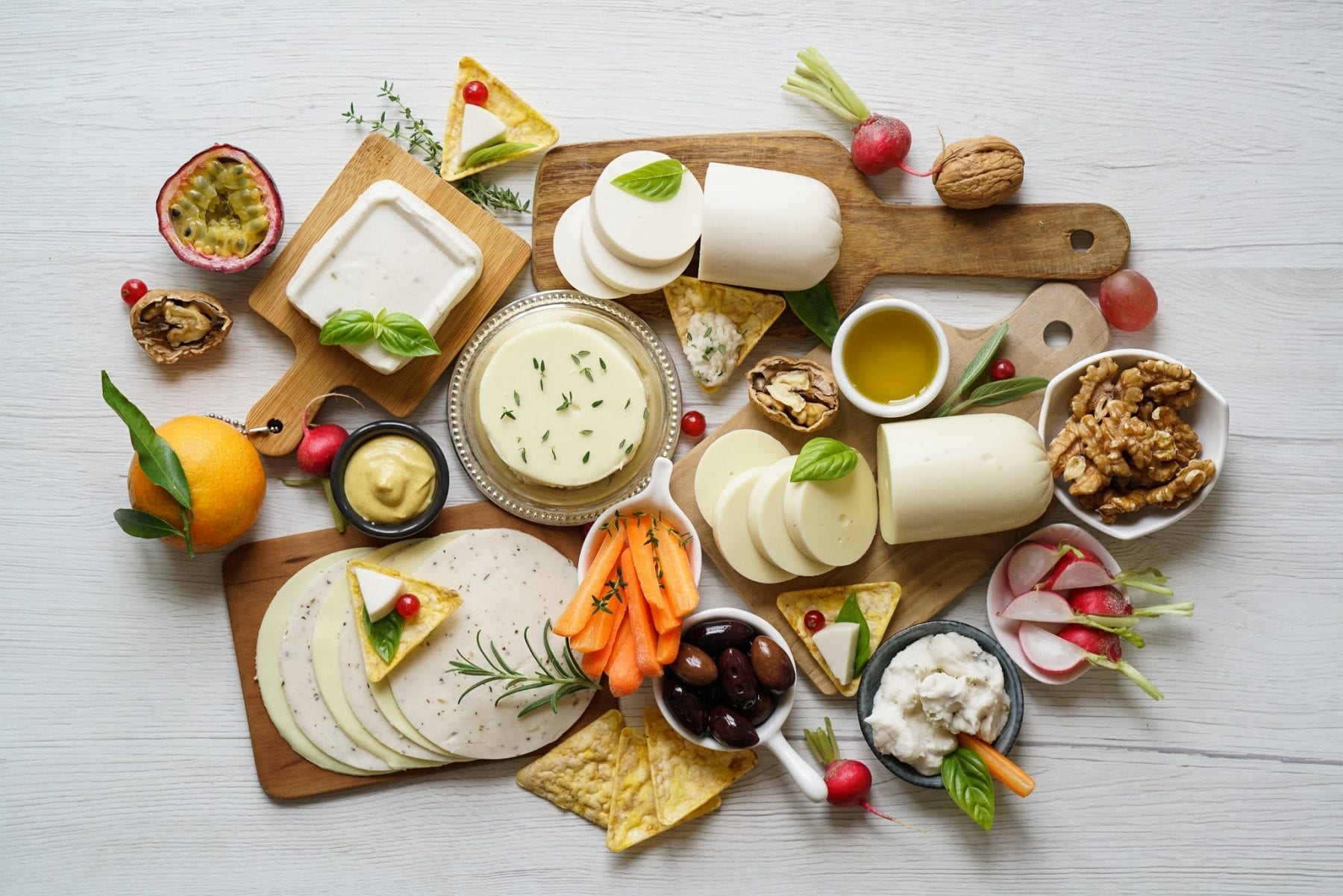 STEP 1: Choose the Best Dairy Free Cheese You Can!
After going dairy free, the hardest thing to replace in my diet was definitely cheese. Yes, there are a lot of vegan cheese brands on the market… but, in most cases, their ingredient list comprises a million ingredients (many of which you can't even pronounce) and the taste does not live up the original :(
Since I am lucky to travel often in between Italy and the States, I can always keep an eye on what's new in the Italian health food scene. And ever since I found MozzaRisella, I fell in love! This dairy free cheese, made from Italian brown rice germinated with spring water from the Dolomites, is so delicious that all the people I made it try to became huge fans and said they like better than real cheese!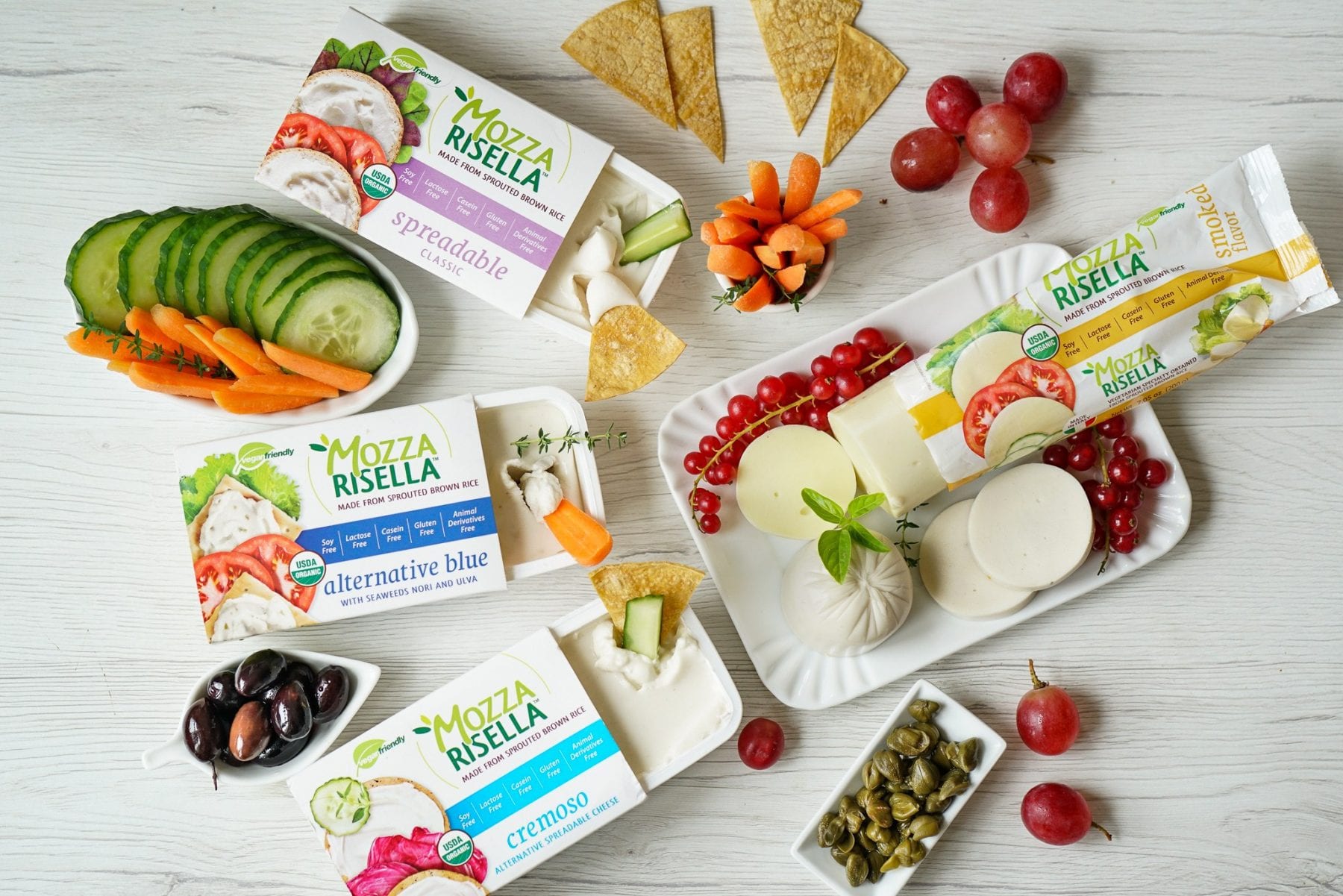 When the sprouts are brimming with nutrients, they are transformed into a "rice milk" packed with loads of micronutrients: carbohydrates, proteins, fibers, vitamins, minerals and 22 amino acids similar to those found in breast milk!
And this "rice milk", combined with other whole ingredients such as cold pressed coconut oil, apple vinegar and lemon juice, is then transformed in the best dairy free cheese I have ever tried, which is not only organic and free from the main 8 food allergens, but also very light and easy to digest.
MozzaRisella was just awarded Best Vegan Cheese by Veg World News as well as at EXPO East in Baltimore last summer, and and luckily it's now available in the States too and can be found by case on this site, or in smaller quantities in all Wegmans stores on the East Coast, at Orchard Grocer in NY, Riverdel, Brooklyn and on this online store.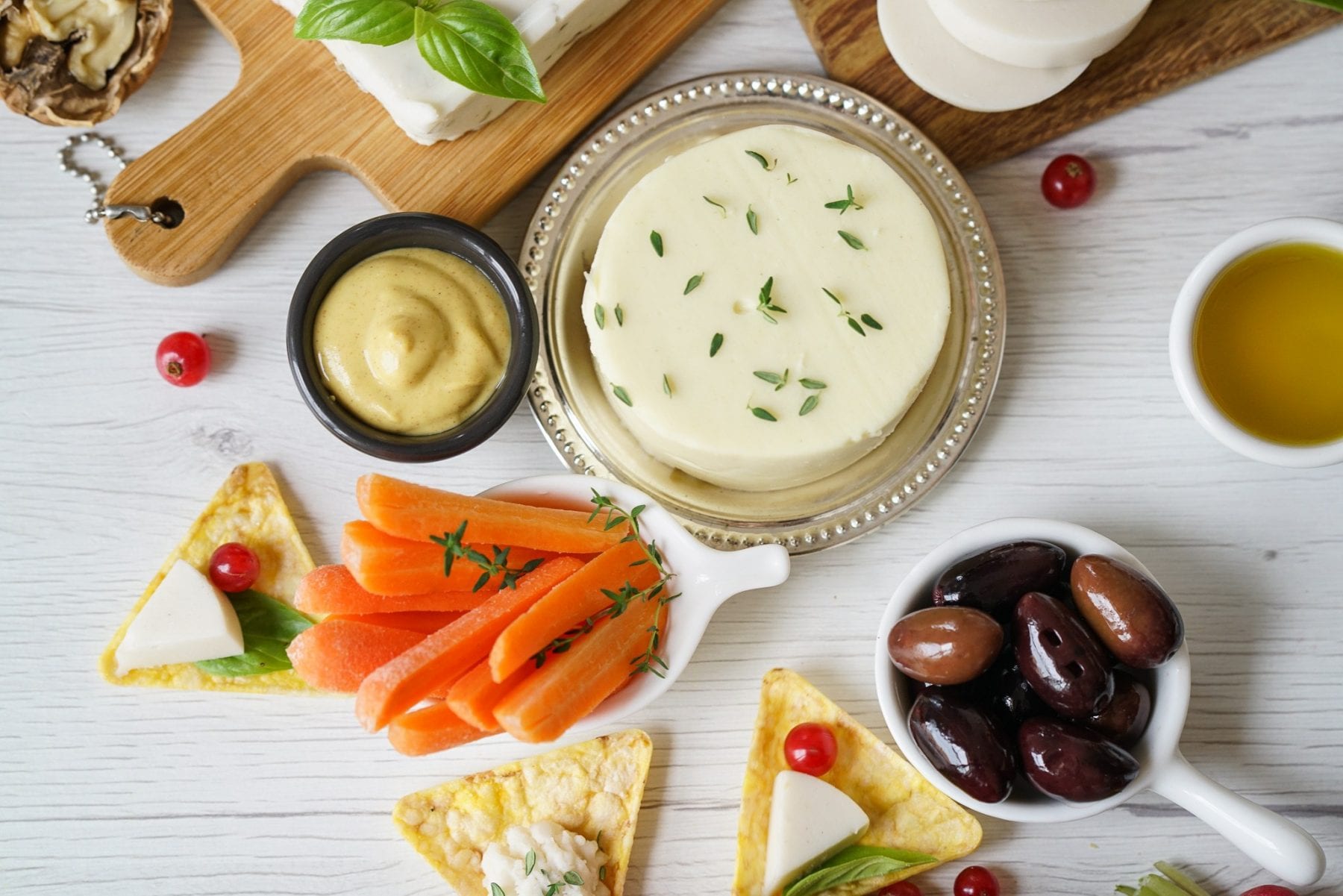 STEP 2: Pick & Pair Your Cheeses
Depending on the number of guests (and how hungry they are ;) pick 4 to 7 different cheeses. Just like you would in a regular cheese platter, try to include a variety of textures and flavors: aged, soft, firm, blue.
For mine, I chose: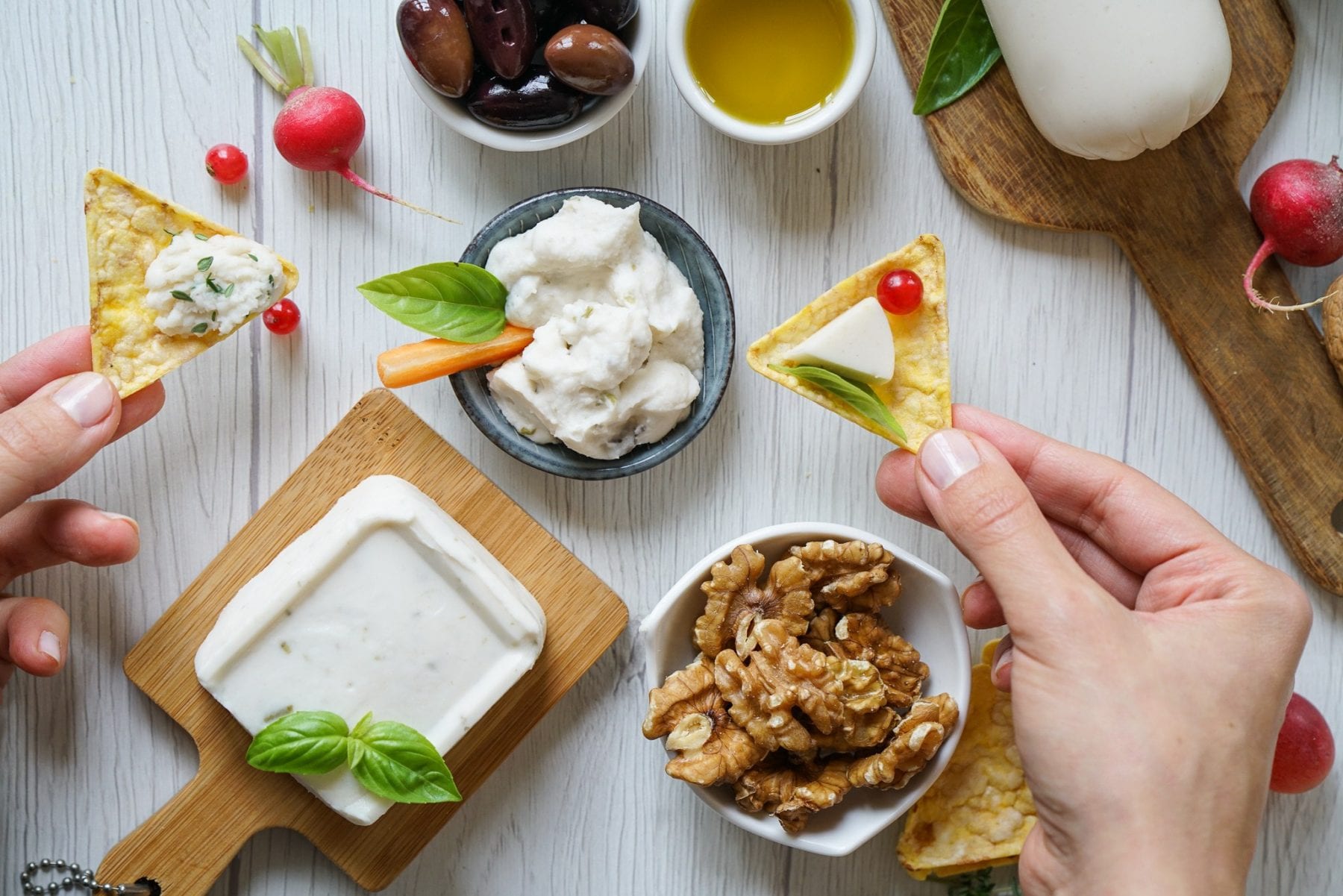 STEP 3: Find a Good Vessel
The best way to transport some delicious dairy free cheese all the way to your mouth is a tasty vessel!
Finding good gluten free and even grain free crackers is pretty easy these days, but you can also opt for crunchy veggie sticks instead, to keep your dairy free cheese platter lighter and more nutritious:
Almond Flour Crackers
Paleo Crackers
Grain Free Tortilla Chips
Cucumber sticks
Carrot sticks
Capsicum sticks (if you can tolerate nightshades)
Radish slices
STEP 4: Add Some Tasty Bites
The reason why a cheese board is fun is because it's not just cheese! Try to add as many savory, tasty bites as you can to your platter, in order to create a nice contrast of textures.
Here are some of my favorites:
Nuts (Raw Almonds, Walnuts, Cashew Nuts)
Capers
Olives
Pickles
Cocktail Onions
Preserved Artichoke Hearts
Hummus
Sauerkraut
Mustard
Lastly, I love to scatter some fresh herbs (basil, mint, rosemary and thyme) on my dairy free cheese platter as they give it a fresh and delicious smell and make for a perfectly healthy and flavorful topping!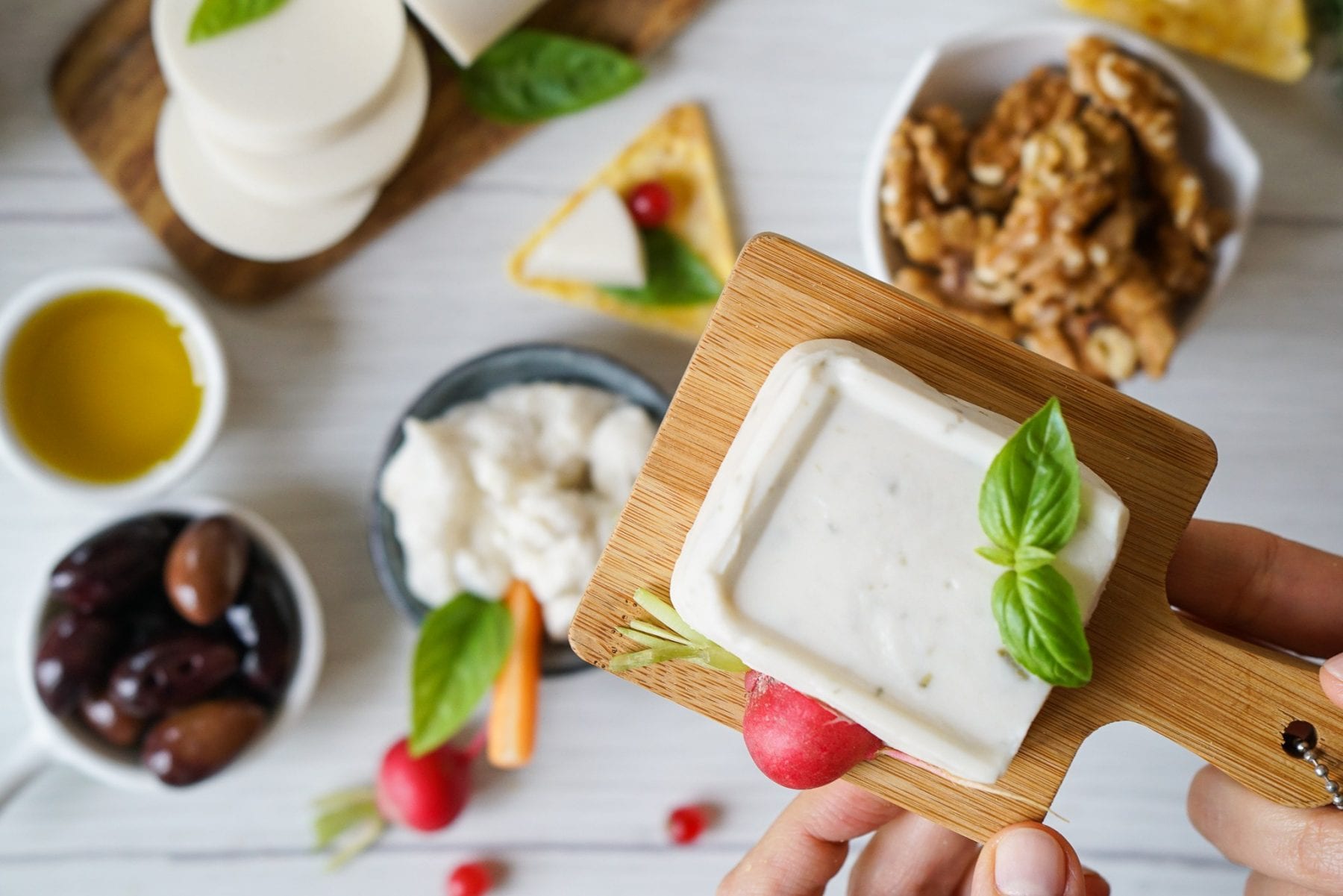 STEP 5: End On a Sweet Note
It's no secret and cheese and fruit go really well together. Choose fresh fruit over dried, as the latter is more sugary. These are some of my favorite options to add more flavor and color to your dairy free cheese platter:
See Also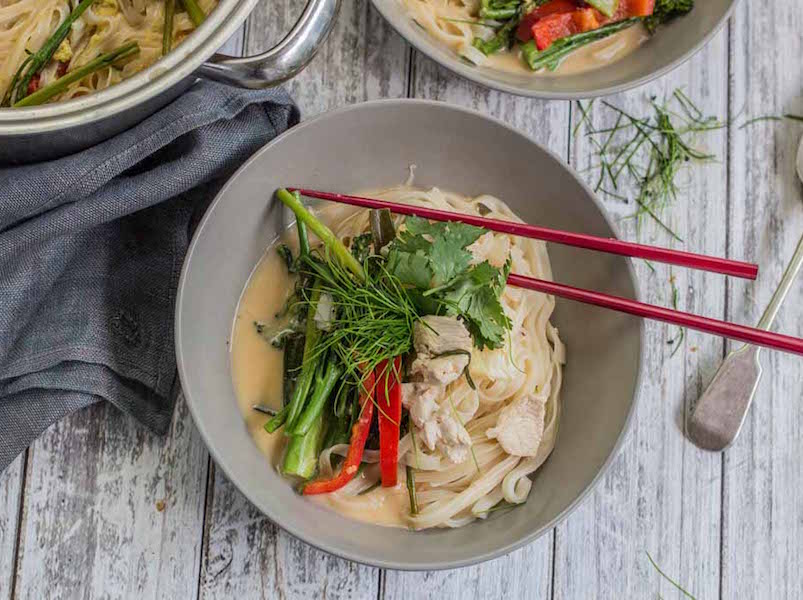 Strawberries
Blueberries
Grapes
Pomegranate
Dried Figs
Dried Apricots
Pear slices
Passion Fruit
Red Currants
Sugar Free Fruit Jam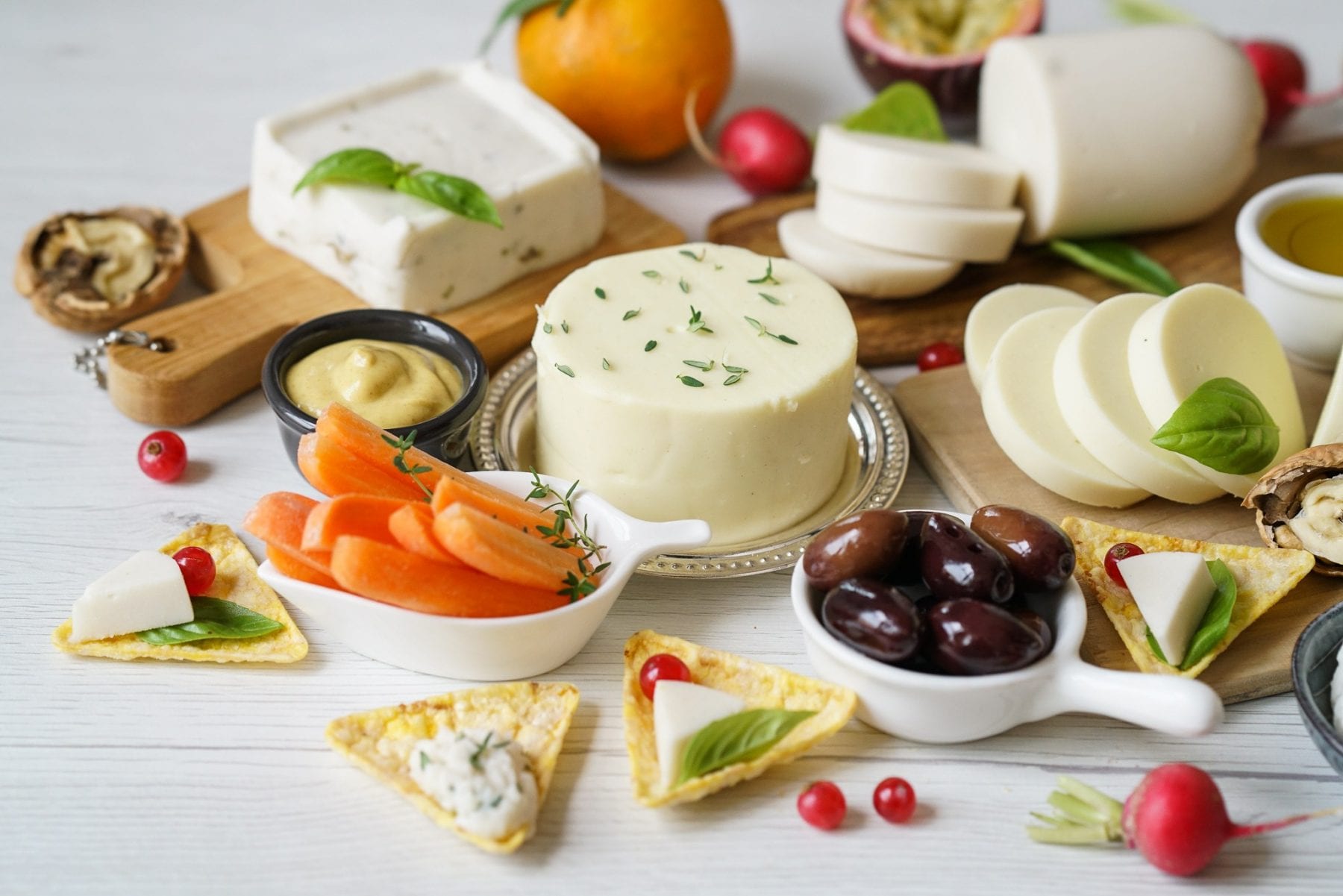 STEP 6: Set Up a Beautiful Arrangement
My favorite part of building this dairy free cheese platter was definitely the arrangement!
I put together a few little wooden boards to serve each one of the cheeses I chose, and added lots of different bowls and glass jars to accommodate all dips, veggie sticks and crunchy bites.
If you don't have small wooden boards, you can arrange all the foods over a large one instead (you can place a small piece of parchment paper under the cheeses to prevent them from staining your board).
Make sure to place small plates, cutleries and napkins on the side and things can get messy!
As a final touch, scatter some berries and herb leaves around to make your dairy free cheese platter even more beautiful… and you are good to go!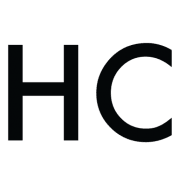 Ambra Torelli
Born and raised in Italy, Ambra is a healthy recipe developer, food and travel writer with a passion for healthy living and wellness. She is the founder of 'Little Bites of Beauty" and the author of the cookbooks "Healthy Italian Desserts Made Simple" and "The AIP Italian Cookbook". She shares her daily food & travel adventures on her Instagram @LittleBitesofBeauty