Doña Vega Mezcal started as a passion project and has blossomed into a full-fledged business for Sonya Vega Auvray.
Starting at an early age, Sonya sipped the spirit alongside her Mexican family. "I immediately fell for the bold taste, the smoky notes, and the unique flavor of this powerful spirit." says the founder. The entrepreneur who also founded the PR agency, The Wetherly Group, has a knack for identifying trends. A talent that led her to sense a rediscovery about mezcal taking flight in the U.S. She jumped on this opportunity to pursue creating her own mezcal brand. One capturing the authenticity of Mexico's spirit. Yet modernizing it to appeal to attract new sippers.
At what moment did you decide to start crafting Doña Vega Mezcal?
Hard to say, I took a hiatus to spend time with my family and with a personal interest researched mezcal. This started as a passion project and then developed into my new career focus. Three years later the brand is born. From this stage, I realized it was time to take the risk and build my brand.
Describe Doña Vega Mezcal.
The spirit is produced in Oaxaca, and after testing products and recipes with 22 farms, I landed on my partner. They were selected for the quality and later discovered it is run by all women! Doña Vega Mezcal is slightly less smoky, smooth, and approachable.
Why is it considered Mexico's Spirit (versus tequila)?
Mezcal is produced using a more ancient form of distillation which has deep ties to indigenous cultures across the country. While tequila is made from one variety of agave, mezcal can use a wide range of varieties of agave. Offering unique looks and tastes of the environment.
What are the familiar scents and tastes of the spirit?
It is naturally sweeter, rounder with a velvety taste; nutty undertones, and a white pepper finish.
Describe the journey to breaking into this male-dominated industry?
This definitely has been one of the biggest challenges. A key element in scaling a spirits brand is getting distribution, and where male dominance supersedes. This is my current focus.
Can you share your process compared to other makers?
Mezcal is overall traditional and can use in many recipes. However, I think it's important to respect the process of the palenques in Oaxaca. Hence I  kept the price range ideal to Mexico's in an attempt not to commercialize their history. However, my brand is less smoky, smooth, and approachable for all!
What makes Doña Vega Mezcal special and perhaps more modern?
Our espadin (type of agave) is actually espadin copon; a high-grade espadin that offers a smoother sip. Second, we made it slightly less smoky, so it's appealing to a broader audience.
Who and what are the influences to making the product?
I found it more interesting than tequila and wanted to explore. However, once the my brand became real, I sat with my grandfather who added some history and then it Doña Vega Mezcal became more personal.
How do you enjoy mezcal and on what occasions?
Typically, I enjoy mezcal (or other spirits) neat, however during quarantine, it was fun to create cocktails and play with fruits and herbs.
What is the traditional way to enjoy mezcal?
Mezcal is traditionally sipped from a copita at room temperature. After taking a sip you take a bite of a slice of orange that has previously sprinkled with the sal de gusano (aka pulverized warm salt). The slice of orange is meant to keep your sip of Mezcal just like the first one, with a clean and smooth palate.
Any fun recipes or projects in the works while in quarantine?
It was quite fun experimenting recipes with my husband. My favorite concoction was homemade rhubarb syrup, then marinated with lemongrass. This mixed with the mezcal and lime was quite delicious. I'm no expert in this area, but personally enjoyed it!
What advice did you receive at the beginning of your career that can inspire other female founders in the industry to pursue their dreams?
Always start at the top; you can always tier down! This was geared toward pitching clients, however used well in any industry.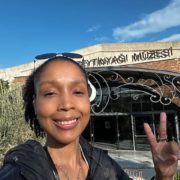 Alyssa Holder
Alyssa Holder is a writer specializing in food and travel topics since 2015.