Hotel mini bars are often featured in cautionary tales of stale chips and high markups, but there is one South Beach hotel ready to take on that stereotype.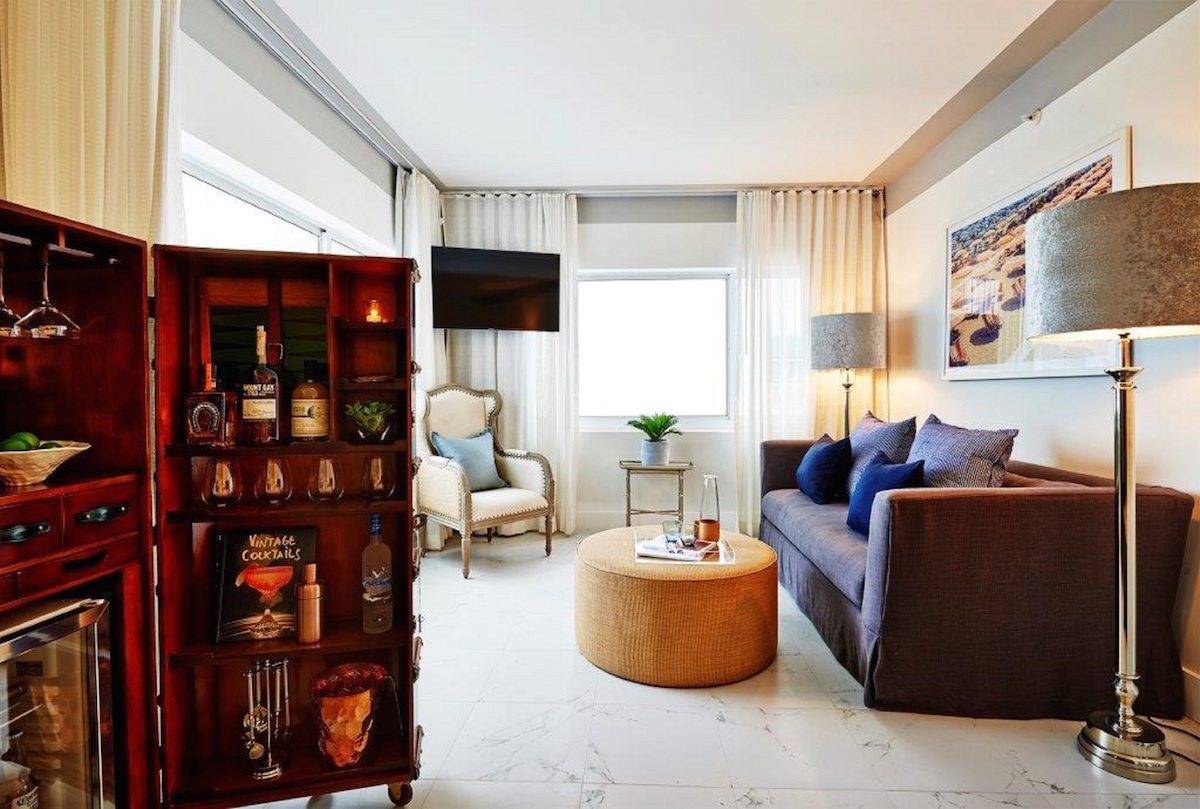 It's hard to walk anywhere in Miami's South Beach neighborhood without the looming sight of a hotel, usually featuring the location's iconic art deco style. Standing out among this coterie has become more of a challenge as each location boasts newer services and Instagram friendly backdrops with abandon. At The Nautilus however, the design is a breathe of fresh air. Clean white open spaces juxtaposed with Richard Serra-like curves give way to the moodier dining spaces. In The Driftwood Room, cozy booths and wood paneled walls set the mood, drawing the guest further within to an outdoor patio, the ocean twinkling just in the distance.
Despite this paired back coastal simplicity, surprisingly it is the in room amenity that steals the culinary show.
Standing at five feet tall, the Nautilus's show stopping amenity offers guests an impressive mini bar alternative. Housed inside a turn of the century style steamer trunk lies a cornucopia of snacks and alcohol ranging from travel size samples of every liquor to full size options with a bartender set. Unexpected treats like board games, branded beach blankets, flip flops and even T-shirts grace the wooden drawers.
Displayed in an open embrace to the room, it's hard to resist the siren song of this relic from the past, it's tins of caribbean chips and glass tumblers calling out, ready to be served. By reimagining the mini bar, a hotel staple in desperate need of a refresh across the hospitality board, the Nautilus gives guests a delicious reason to explore the indoor side to South Beach, guilt free.
Leora Novick
Leora is a travel journalist and the founder of Persephone Social, a hospitality focused social media agency based in NYC.