Sponsored Post: Whether you are hosting a wine party or looking for the perfect pairing for your dinner party menu, we've teamed up with Sonoma-Cutrer to provide wine inspiration for your next gathering.
Hosting a holiday dinner? Think outside the box and serve up a flavorful, cozy Indian-Style vegetarian holiday dinner paired perfectly with wine.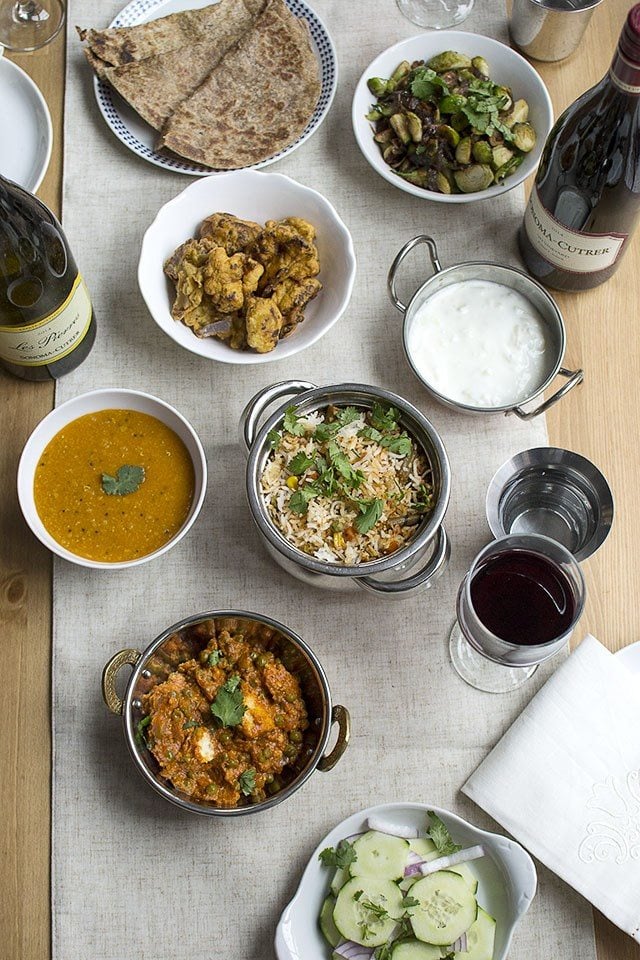 Before you know it, Christmas will be here. Which means a lot of parties and a lot of get togethers. So today I have tips for hosting an Indian Style Vegetarian Holiday Dinner. I am including the links to the recipes and recommendations for wine to go with the dishes.
Indian food is slightly difficult to pair with wine because of all the different spices that are used in the cooking. Keeping the flavor profile, the sweetness or tartness of the dish in mind is crucial in pairing vegetarian food with wine.
Sonoma-Cutrer has some amazing collection of California wines that work beautifully with the Indian dishes.So here's my Indian style vegetarian dinner menu. I paired the dishes with Vine Hill Pinot Noir and Les Pierres Chardonnay.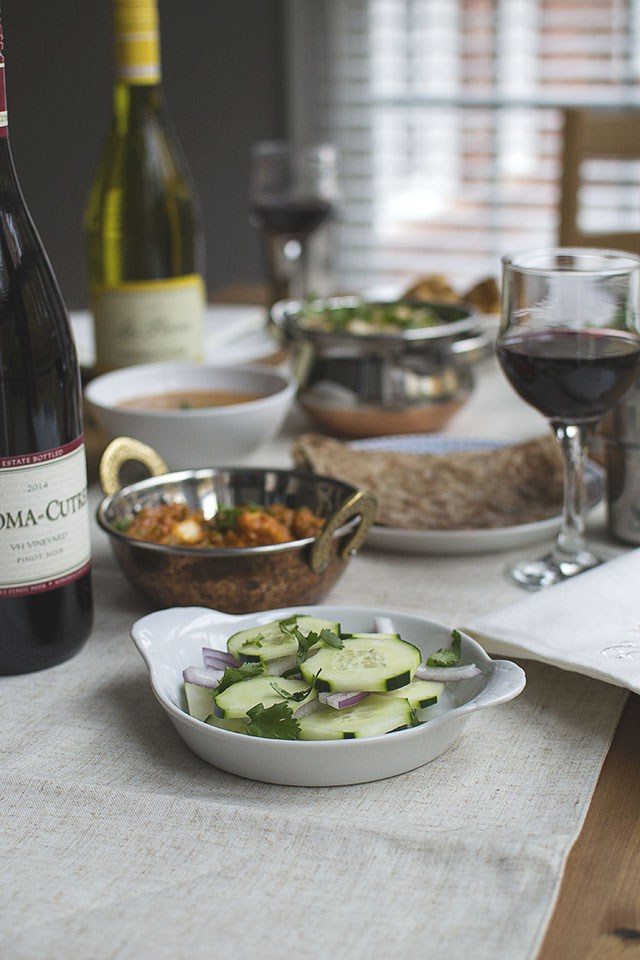 Appetizer: Cauliflower Pakoda (cauliflower florets dipped in spiced chickpea batter and deep fried until golden)
Salad: Cucumber and Onion (No recipe needed, just slice and dress lightly with lemon juice, salt and pepper)
Soup: Lentil Soup
Main Course: Vegetable Dum Biryani with Raita
Main Course: Roti
Side Dish: Paneer Curry
Side Dish: Caramelized Brussel Sprouts with OnionsSonoma-Cutrer's process of making wine is a careful symphony of Old world tradition and new world innovation. They utilize hard work and artistry, science and intuition, knowing and feeling. They have tours and tastings of wines on their winery. Check out their site for more information and if you are in the area, go and experience the tasting yourself.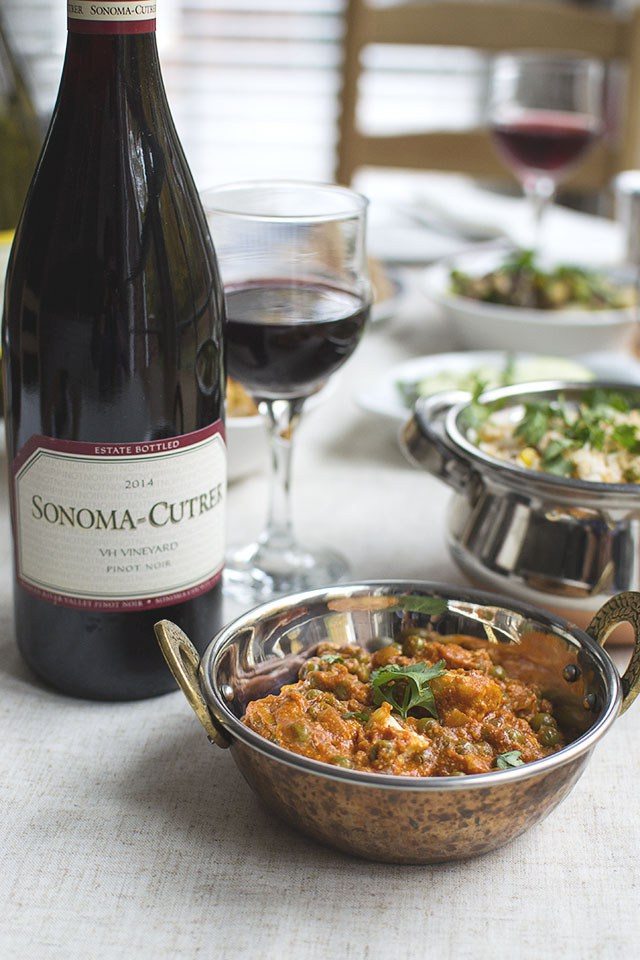 Vine Hill Pinot Noir has an aroma of intense red cherry, hints of rhubard and cherry cola complement the nuances of oak.This is one of the most versatile red wines and pairs well with the Indian dishes. Biryani and the paneer curry are moderately spicy and pair well with fruity notes in the Pinot Noir. I feel like this wine is a great match to many spiced tomato gravy curries and rice dishes.
Les Pierres Chardonnay has a signature bright and lively citrus-laced acidity. This wine is perfect with the Lentil soup because it's light and lemony and complements the creaminess of the dish. It is also great with the cauliflower pakoda.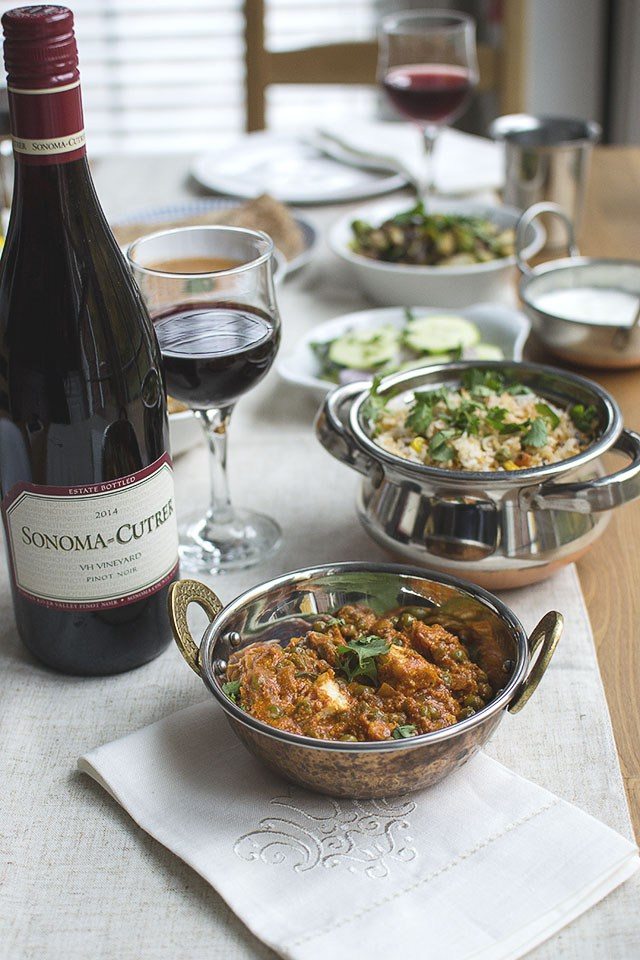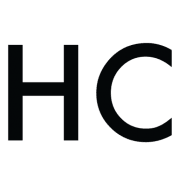 Pavani Hideout
Hello There!! I am a full time mom and a Food blogger. I am a vegetarian and I share my tried and tested vegetarian dishes in my blog 'Cook's Hideout'.