This S'mores Pie drew such rave reviews at our 4th of July party that it needs to be made a few more times this summer. A graham cracker crust, fudgy chocolate filling, and marshmallow topping make this pie a quintessential treat.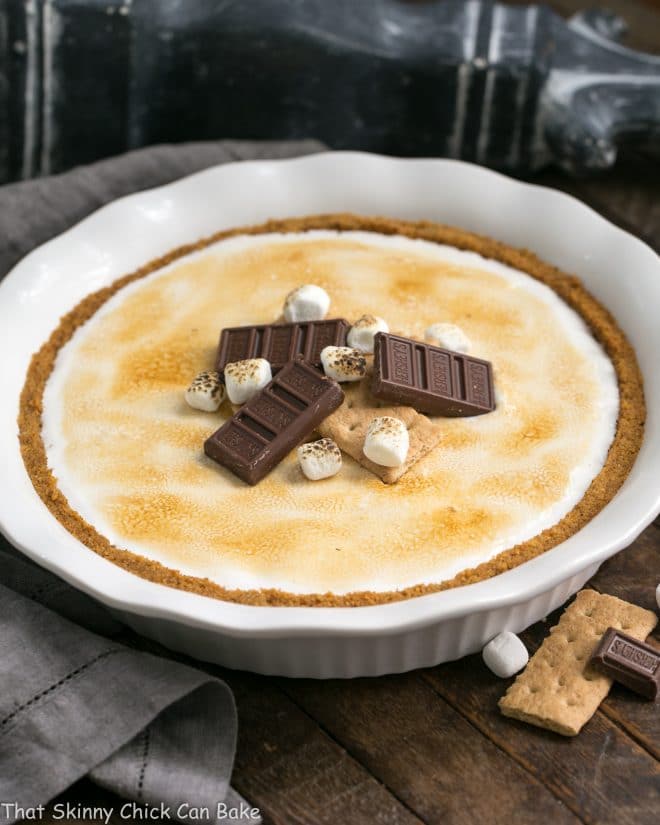 The traditional s'mores graham cracker sandwich filled with a charred, gooey marshmallow and melty chocolate can take a back seat to this dreamy pie. My family adores this sophisticated dessert that was inspired by a simple campfire treat.
S'mores evoke memories of our summer holidays in Colorado where we'd hike to our favorite picnic area nestled among the pines along the Roaring Fork River.
After our brats or burgers were grilled, it was time to hunt down the perfect toasting sticks for our marshmallows.We'd all lose at least one to the fire and have one incinerated to a crisp without achieving that ideal brown exterior with a soft gooey interior.
Sandwiched between sweet graham crackers with a few squares of a Hershey bar, my sisters and I savored these campfire classics. Pure Americana, and a slightly more elegant version that's an ideal way to celebrate the birthday of our country.
This recipe was published in Gourmet magazine in 2006, so it's been over a decade since I initially served this at our 4th of July pitch in dinner. Even at this second go 'round, my friends were impressed that the graham cracker crust and fudgy filling were topped with a homemade marshmallow layer.
I got out my handy, dandy mini-torch and bruleed the top to give the look of a toasted marshmallow. This was the first dessert to disappear!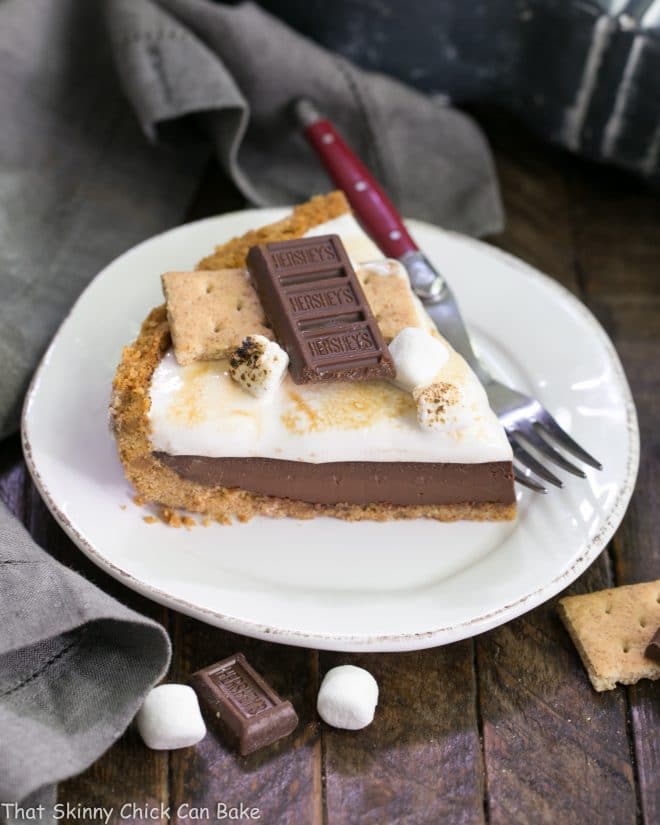 Tips for Making this S'mores Pie Recipe:
The graham cracker crust and ganache filling are pretty basic and easy to prepare. It's the marshmallow topping that can be tricky. Here are some suggestions for making a perfect batch:
-Make sure to track down and purchase plain, unflavored gelatin which can be found at most major supermarkets. It will give the topping its structure. I use Knox brand.
-The gelatin must be proofed or bloomed in cold water before adding it to the rest of the ingredients.
-You will need to make a sugar syrup which involves heating sugar, water and corn syrup up to 260º. You need an accurate candy thermometer to monitor the temperature of this liquid as it cooks.
See Also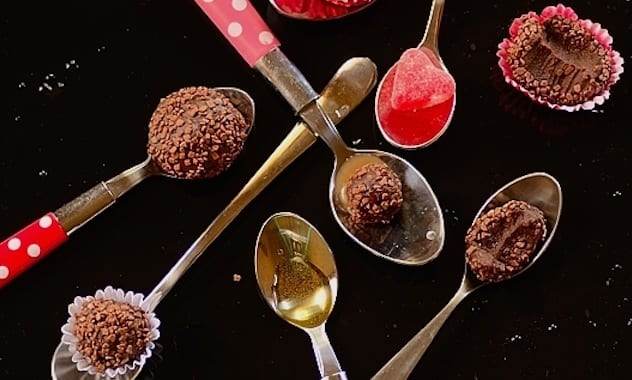 -This marshmallow topping needs a long whipping time to go from frothy to thick and white. Using a stand mixer will definitely make the process easier, but it can also be made with a hand mixer and some patience.
-An alternative is to buy large marshmallows and cut them in half making short rounds. Cover the surface of the pie with these marshmallow rounds and use a culinary torch to brown. This could probably be done under your oven's broiler, but watch carefully so the marshmallows don't burn.
More Chocolate Pie Recipes You'll Love:
Triple Chocolate Mousse Cake from That Skinny Chick Can Bake
Chocolate Velvet Pie with Meringue Crust from That Skinny Chick Can Bake
Nicknamed S'mores as a shortened version of "'some more," my family loves all s'mores inspired desserts. I've made s'mores cookies, cookie cake and bars as well as this pie.
Click here for the crust recipe.
Print
Homemade S'Mores Pie
Author:

Liz Berg

Prep Time:

40 minutes

Cook Time:

40 minutes

Total Time:

1 hour 20 minutes

Yield:

8

servings

1

x
Category:

Dessert
FOR GRAHAM CRACKER CRUST:
Click the link above for the recipe.
FOR CHOCOLATE FILLING:
7 ounces

semisweet chocolate (finely chopped)

1 cup

heavy cream

1

large egg (at room temperature)
FOR MARSHMALLOW TOPPING:
1 teaspoon

unflavored gelatin (I used Knox brand)

1/2 cup

cold water

3/4 cup

sugar

1/4 cup

light corn syrup

1/2 teaspoon

vanilla
Instructions
Make the crust. Click the link above for the recipe.
Put chocolate in a large bowl. Bring cream just to a boil in a heavy saucepan (or microwave in a large Pyrex measuring cup till cream starts to boil), then pour hot cream over chocolate. Let stand a minute or two, then whisk until chocolate is melted and the mixture is smooth. Whisk in egg and a pinch of salt until combined and pour into prepared crust.
Cover the edge of pie with foil and bake until filling is almost set, about 25 minutes. Remove to rack and cool to room temperature, about 1 hour.
To make marshmallow topping, sprinkle gelatin over 1/4 cup cold water in the metal bowl of your stand mixer (or another large heatproof bowl if using a hand mixer)and let stand until softened, about 1 minute.
Stir together sugar, corn syrup, a pinch of salt, and remaining 1/4 cup water in a heavy saucepan. Bring to a boil over medium heat, stirring until sugar is dissolved. Boil until liquid reaches 260º.
Begin beating water and gelatin mixture medium speed, then carefully and slowly pour in hot syrup avoiding the sides of the bowl and beaters. When all of the syrup is added, increase speed to high and continue beating for about 5 minutes. Add vanilla and beat until combined, then spoon onto center of the pie, spreading to edges with an offset spatula if needed. Chill, uncovered, 1 hour, then cover loosely with plastic wrap sprayed with non-stick cooking spray and chill 3 hours.
To serve, brown top using a hand held kitchen torch or place pie on baking sheet, cover sides with foil and broil (about 4 inches from element) for about 3 minutes or till top is golden brown. Cool about 10 minutes before cutting.
For easiest slicing, dip a large knife into hot water, dry knife and slice.Repeat.
Notes
The topping can be rather finicky, so if you'd rather, you can cut large marshmallows in half and place them over the filling. Use a culinary torch to brown.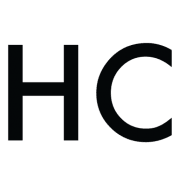 Liz Berg
My mom was an amazing cook, but she wasn't much of a baker. When my sisters and I yearned for a sweet treat, I turned to our trusty BH&G cookbook and zeroed in on the dessert tabs. My love of baking began in my childhood kitchen. I married a chocoholic and together we had 3 children with plenty of sweet teeth. I started my blog in 2010 to chronicle my baking journey.