Homemade Remoulade Sauce and Salmon Cakes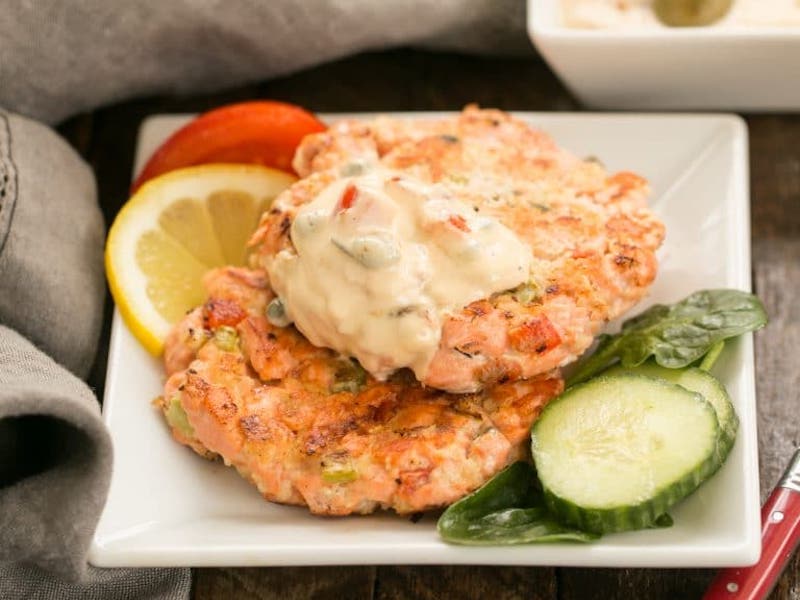 These Fresh Salmon Cakes are an elegant version of comfort food. Ditch the canned salmon and try this recipe using all fresh, delicious ingredients and topped with a homemade remoulade sauce.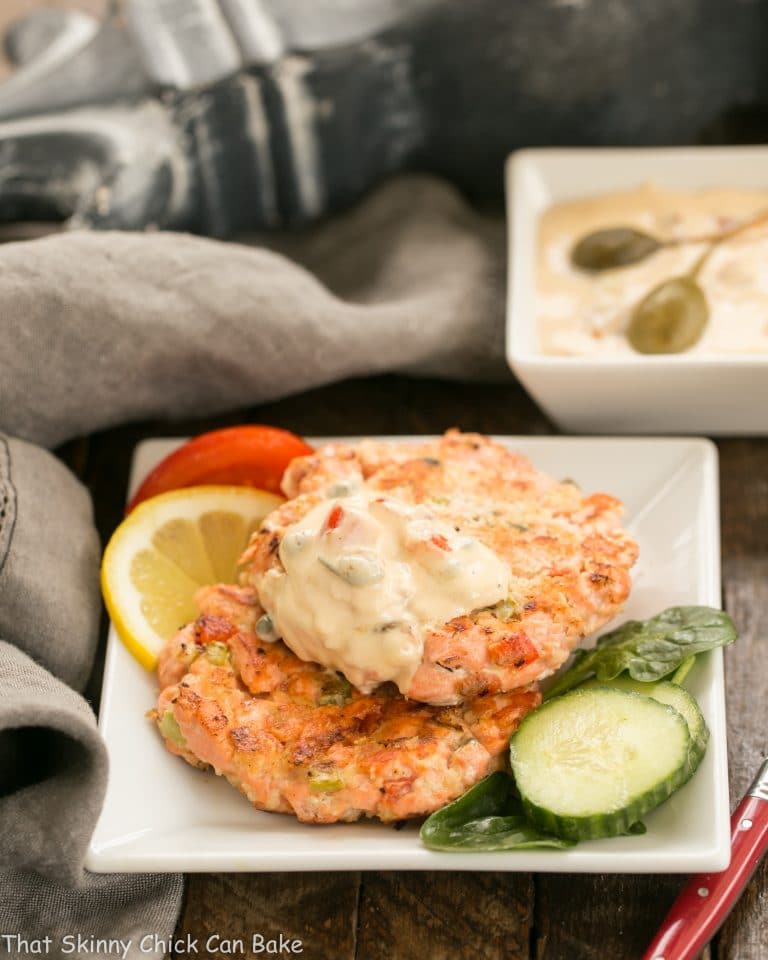 We love trying new salmon recipes, and I definitely needed to get out of my rut. Thankfully, fresh salmon cakes came to mind.
I remember cracking up when my high school friend, Lisa, told me that she was having "salmon patties," for dinner. Ewwww….they sounded awful to my immature 16 year-old ears. But how was I to know how fabulous they could be when I had never tasted them.
I'm definitely a convert since those judgmental teenage years! And adding a homemade remoulade sauce, that even Bill adored, made these salmon cakes a gourmet treat.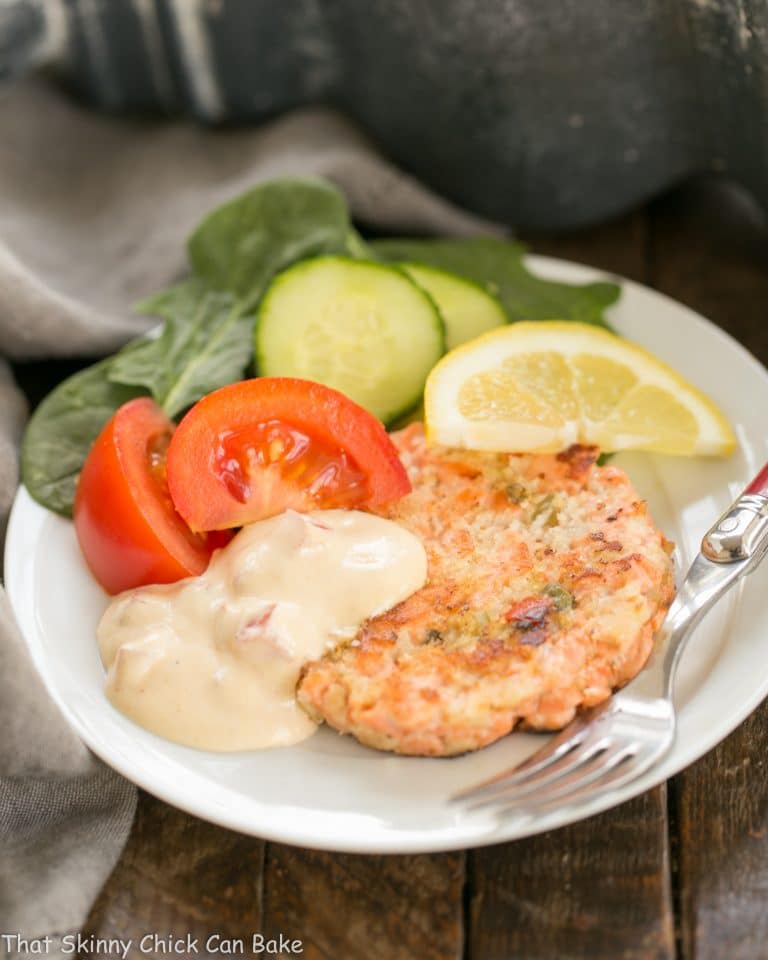 These fresh salmon cakes were a hit with the family. I wasn't sure if Bill would reach for the ketchup, but he was quite pleased with a dollop of remoulade atop his patties. I even ate a couple of the cold leftovers right out of the fridge!
Since these don't have much binder to hold them together other than a bit of mayo and bread crumbs, they are fragile. I used a biscuit cutter as a template to make the patties as round as possible. I simply placed the cutter on the pan, packed in the raw salmon mixture and let cook for just a minute to allow the salmon to firm up a bit before lifting it off for the remainder of the cooking time.
This is definitely an extra step only if you care a lot about their appearance. My family would eat these looking like blobs or ameobas in action, so do as you please! Feel free to make bite sized versions for appetizers, too.
Click here for the homemade remoulade sauce recipe.
More Salmon Recipes You'll Love:
Maple Glazed Salmon
Salmon Watercress Salad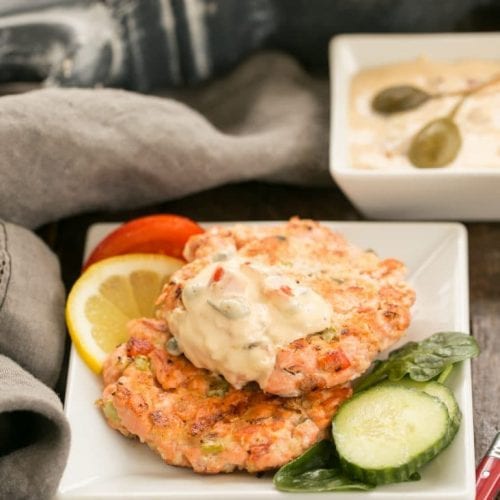 Homemade Remoulade Sauce and Salmon Cakes
Liz Berg
Ingredients
Salmon :
3

tablespoons

olive oil

divided

1/4

cup

minced onion

2

tablespoons

minced red bell pepper

2

tablespoon

minced celery

Salt and pepper

to taste

1

tablespoon

capers

1 1/4

pounds

fresh salmon

wild preferred, coarsely chopped

1/4

cup

mayonnaise

1/4

cup

plus 1 tablespoon panko bread crumbs

divided

2

cloves

garlic

minced

1

teaspoon

Dijon mustard

1

pinch

cayenne pepper

1

pinch

Old Bay seasoning
Remoulade:
Click the link above for the recipe.
Instructions
To make salmon patties, heat olive oil in a skillet over medium. Saute the onion, red pepper, celery, and a pinch of salt in hot oil until onion is soft and translucent, about 5 minutes. Add capers and cook for another minute. Remove from heat and cool to room temperature.

Mix together the salmon, onion mixture, mayonnaise, 1/4 cup panko, garlic, mustard, cayenne, Old Bay seasoning, salt, and ground black pepper together in a bowl until well-mixed. Cover the bowl with plastic wrap and chill for 1-2 hours.

Form salmon mixture into round patties then sprinkle remaining panko bread crumbs over each patty.

Heat olive oil in a skillet over medium-heat. Cook until golden and cooked through, 3 to 4 minutes per side.

To make remoulade, mix all ingredients and season to taste. Process in food processor if you'd like a smooth sauce.

Serve hot with remoulade sauce on the side.
Notes
Recipes adapted from Cindy Peyton and All Recipes.
Liz Berg
My mom was an amazing cook, but she wasn't much of a baker. When my sisters and I yearned for a sweet treat, I turned to our trusty BH&G cookbook and zeroed in on the dessert tabs. My love of baking began in my childhood kitchen. I married a chocoholic and together we had 3 children with plenty of sweet teeth. I started my blog in 2010 to chronicle my baking journey.