These Croissant Buns make for an excellent baking project for a cozy winter weekend. Start by making a homemade laminated dough on Friday evening and they'll be ready to devour over the weekend.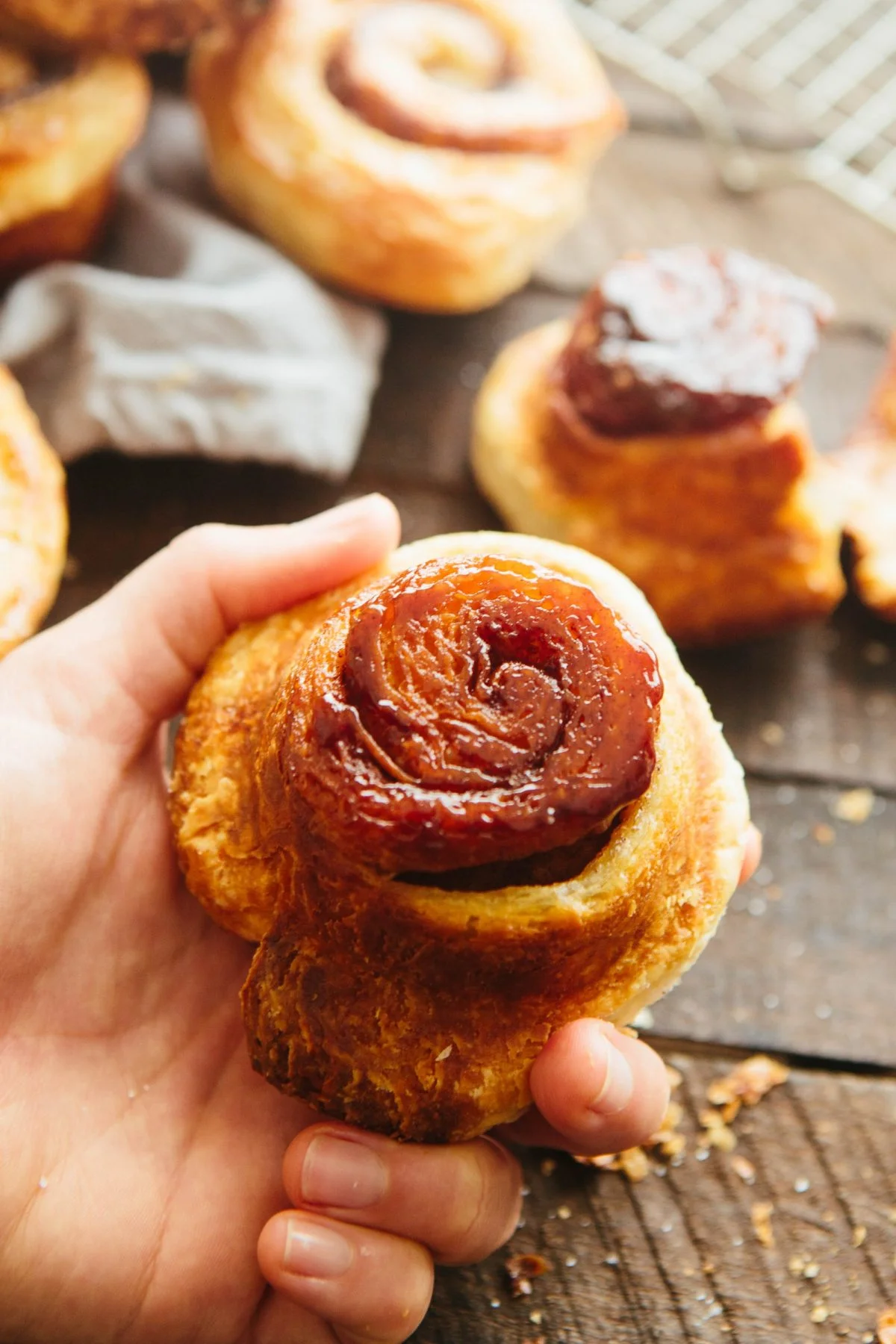 I've had an obsession with buttery, flaky pastries for as long as I can remember. I like to complain that we don't have a decent bakery here on the island, but really, it's a blessing in disguise. I would never be able to demonstrate enough self control to live in a place that has homemade pastries available anytime I want.
However, sometimes I really do wish there was a good bakery nearby in order to instantly satisfy my cravings for all things buttery and flaky. Because making them yourself? It's far from instant. This recipe falls under the "labor of love" category. If you, like me, love buttery, flaky pastries and long, challenging baking projects, then this post is for you. Read on.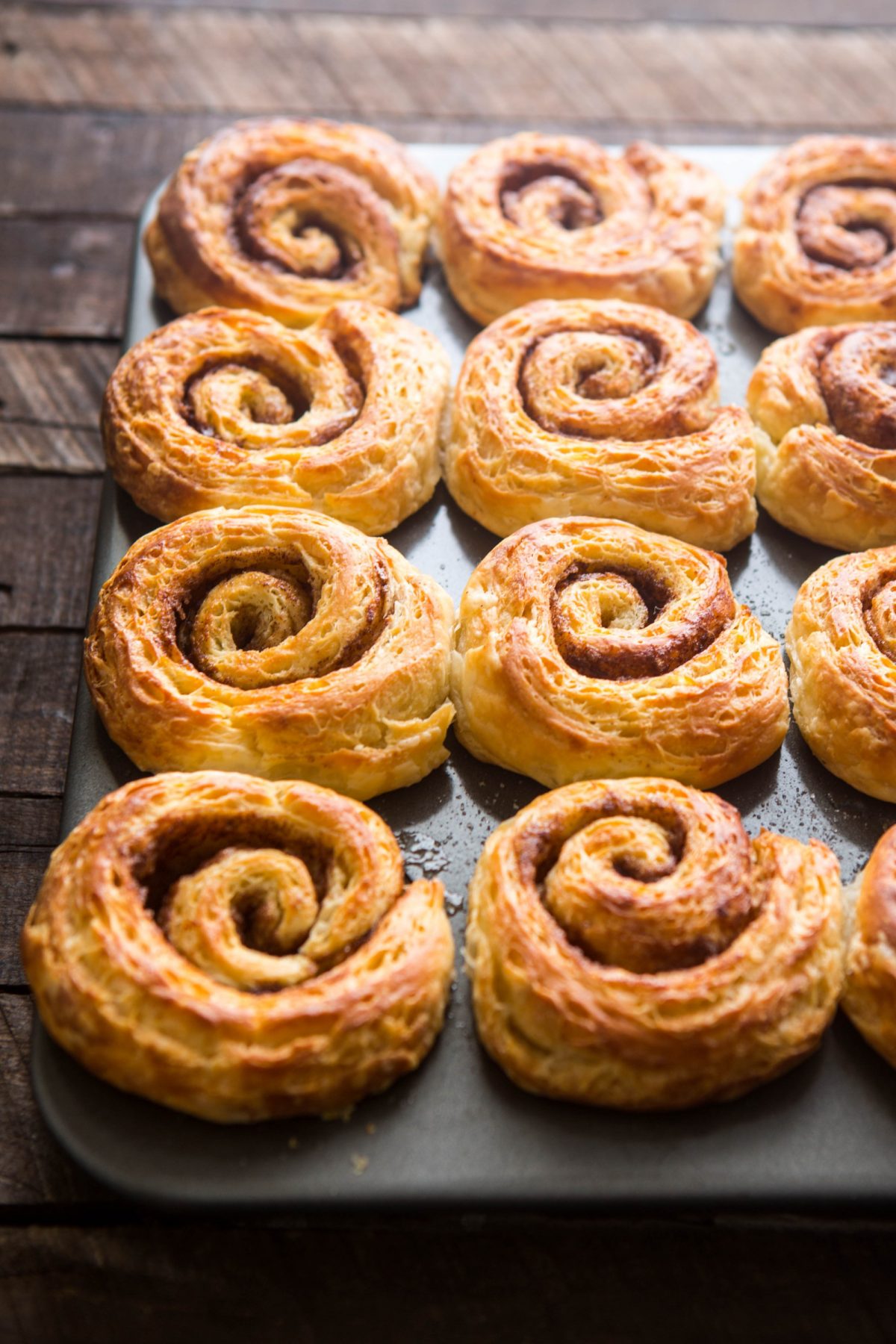 Morning buns aren't super common here on the east coast. They're much more of a midwestern / west coast thing. They fall into the same category as cinnamon rolls, but morning buns tend to be a little lighter, not as sweet, and usually made with a puff pastry or croissant-like dough. I made this recipe first since it had "best" in the title, but it used more of a brioche dough, and while they certainly weren't bad, they just weren't what I was after. That's why I've specified croissant morning buns in the title, because that's what these are: a glorious mashup between a croissant and a sticky bun.
Croissant dough is what's known as a laminated dough, like puff pastry or danish. Lamination refers to the process of rolling and folding thin sheets of butter in dough to create puffed layers and crispy flakes once baked. This is perhaps one of the more intimidating baking procedures, and while I'm certainly no stranger to the struggle, it's a fun and rewarding technique to learn. Don't get frustrated if yours don't turn out perfect the first time – it's normal. Baking, like anything else, is a practice. But unlike most other things, even when the results are less-than-perfect, they're usually still pretty delicious – and that always counts as a win in my book.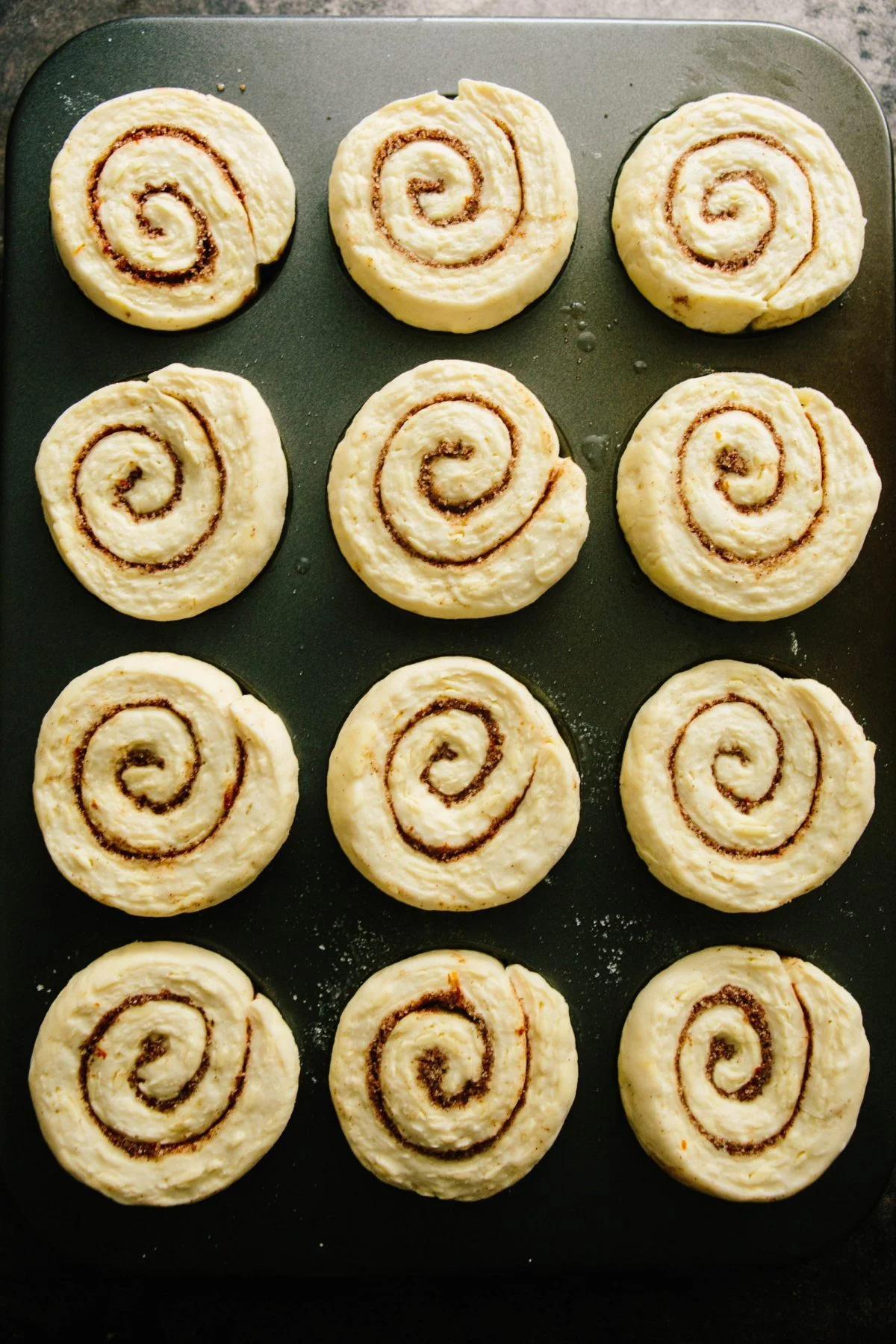 This recipe is a slight adaptation from the famous Tartine morning buns. Tartine is the be-all-end-all of the bread and pastry world. My friend Brieann used to work at their flagship bakery San Francisco and a few years ago she gifted me one of their cookbooks. The Tartine books are all beautiful and intensely detailed for anyone seriously interested in baking, whether as a career or hobby. While I am technically a professional and I did take a baking class in culinary school, I still consider myself to be more of a hobbyist when it comes to baking. I love working with my hands and experimenting with different techniques, but I find it too finicky and frustrating to ever do on a larger scale.
This recipe isn't quite as labor intensive as it may seem, but it does take a good bit of time, most of it inactive. Your best bet is to start on a Friday evening, work on it all day Saturday, and then have it ready to bake off Sunday morning. As long as you don't have to leave the house for longer than an hour on Saturday, the process can actually be pretty leisurely, and definitely a lot of fun.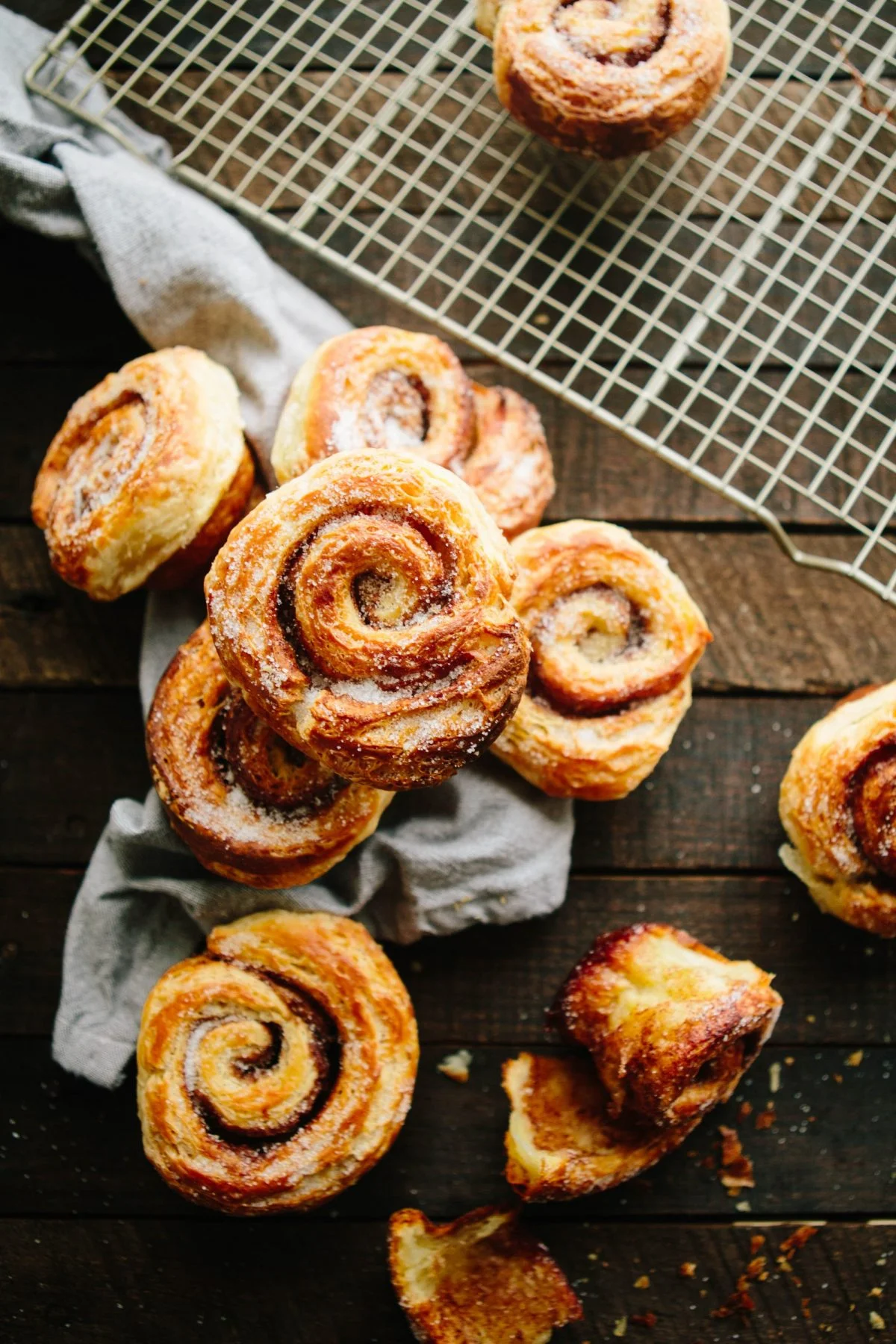 The first step of the recipe is to make a preferment, which adds structure and flavor to the dough. From there, the dough is made and then the lamination happens. This step is the trickiest, but don't let it scare you. The key, as I've learned, is to have the butter at the right consistency. You want it somewhere between firm and soft, cool, but not cold, and definitely not warm. It needs to be malleable enough to spread into an even layer, but not so soft that it's like icing a cake. The best way to achieve this is by beating cold butter in a stand mixer for a few minutes. Focus on getting this right and you shouldn't have any problems.
The butter gets spread out onto the dough and then folded again and again. This is what creates all those gorgeous flaky layers. After each fold or "turn", the dough will need to chill a bit before doing it again. The folding itself is really pretty quick and easy, but it's the overall process that can seem daunting.
The laminated dough then gets rolled up with a filling of (more) butter, cinnamon, sugar, and orange zest, then gets plopped into a buttered and sugared muffin tin. Once baked, the dough puffs up to become light and crisp, while the butter and sugar caramelize together to create the most incredible flavor and texture. The shattering crunch of the outer layers, the tender inner crumb, the sticky sweet caramel on the bottom, and the little bits of butter that gush out when you bite down. Come. Onnnnnn.
These morning buns are everything you could ever want on a lazy Sunday, and I promise they are most definitely worth the effort.
Click here for the filling recipe.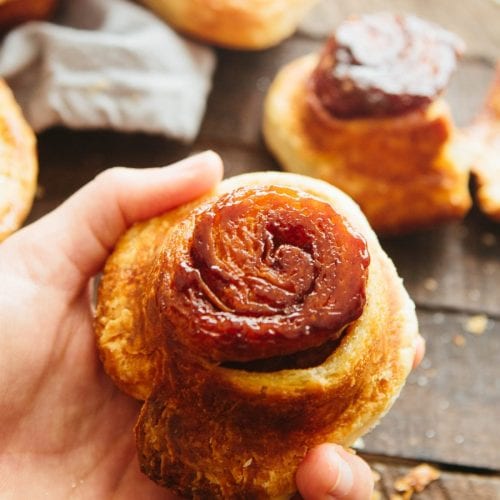 Homemade Laminated Dough: Croissant Buns
Nicole Gaffney
Ingredients
PREFERMENT
6

tablespoons

milk

1 1/2

teaspoons

active dry or instant yeast

2/3

cup

all purpose flour
DOUGH
2

teaspoons

active dry or instant yeast

3/4

cup

plus 2 tablespoons milk

3

cups

all purpose flour

3

tablespoons

sugar

2

teaspoons

kosher salt

1/2

tablespoon

unsalted butter

melted and cooled

22

tablespoons

2 3/4 sticks unsalted butter, cool but pliable
FILLING
Click the link above for the recipe.
Instructions
MAKE THE PREFERMENT
Heat milk in a saucepan over medium-low heat until warm (80-90 degrees is ideal). Transfer to a medium bowl, then stir in yeast. Let sit for a minute, then mix in flour until smooth. Cover and let rise until doubled in volume, about 2-3 hours at room temperature or overnight in the refrigerator.
MAKE THE DOUGH
Place the preferment in the bowl of a stand mixer fitted with a dough hook. Add yeast and mix on medium speed for about 4 minutes, stopping to scrape down the sides and hook as needed.

Add half the milk, then continue mixing on medium speed until fully incorporated. Add the remaining milk along with the flour, sugar, salt, and melted butter, then mix on low speed until it forms a shaggy dough, about 3 minutes. Cover and let rest for 20 minutes.

Turn the mixer back on low speed and mix until the dough becomes smooth and elastic, about 3-4 minutes, but not any longer. Overmixing will cause the dough to become tough. Cover and let rise until the volume increases by half, about 1-2 hours.

Dust a large work surface with flour, then place dough on top. Press into a rectangle about two inches thick. Wrap in plastic, then refrigerate for 4-6 hours.
LAMINATE THE DOUGH
About an hour before you're ready to laminate the dough, place butter in the bowl of a stand mixer and beat with a paddle attachment until smooth and slightly softened. The goal is for the butter to be pliable enough to spread, but still cool and relatively firm. If the butter is too soft, it will ooze out of the dough. Once the butter is at the proper consistency, transfer to piece of plastic and form into a rectangle. Cover and refrigerate if the house is warm, otherwise leave it at room temperature until ready.

Remove dough from the refrigerator and transfer to a lightly floured work surface. Roll dough into a 20"x10" rectangle with the long side facing you.

Using your fingers and/or an offset spatula to spread the butter over the left two thirds of the dough, leaving the right third bare. Spread the butter as evenly as possible and leave a 1/2 inch border around the edges.

Fold the bare third (on the right) over the buttered center, then fold the remaining buttered side (on the left) over that, like a letter. Gently pinch the seams together to encase the butter.

Turn the dough 1/4 of the way so that the long end is facing you again, then roll into another 20"x10" rectangle, being careful not to release any of the butter. Fold the rectangle into thirds the same way you did before, then wrap loosely in plastic wrap, transfer to a sheet pan and refrigerate for 1-2 hours.

Return the dough to the work surface, dusting with more flour if needed. Carefully roll out into another 20"x10" rectangle and fold into thirds one more time. Rewrap in plastic wrap, then transfer to the refrigerator for an additional 1-2 hours or overnight. The dough may also be frozen at this point for up to 3 months.
ASSEMBLE THE MORNING BUNS
Mix together the granulated sugar, brown sugar, orange zest, cinnamon and salt in a small bowl.

Brush the insides of a 12-cup muffin tin lightly with butter, then sprinkle with granulated sugar. Swirl the pan around to coat all sides with sugar, then tap out the excess (reserve for finishing the buns). Line a sheet pan with parchment paper.

Remove the dough from the refrigerator, transfer to a lightly floured work surface, and roll out to a 16" x 12" rectangle with the long side facing you. Brush the rectangle all over with the remaining melted butter, then sprinkle the sugar mixture evenly over the top.

Starting with the long side facing you, carefully roll dough into a tight log, then pinch the seams together to seal. Transfer to the parchment lined baking sheet, cover with plastic wrap, and chill for 30 minutes to firm up.

Remove log from the refrigerator, then use a sharp knife to cut into 12 even pieces. Start by cutting directly down the center, then cut each half in half, then each half into thirds.

Place each piece into a muffin cup, then cover loosely with plastic wrap and let proof somewhere warm until puffed up, about 1 hour.

In the meantime, preheat the oven to 375 degrees. Place the muffin tin on a foil-lined sheet pan to catch any drippings, then transfer to the oven. Bake until deep golden brown, about 45 minutes to an hour.

Generously dust the tops with granulated sugar as soon as they come out of the oven. Let the buns sit in the pan for about 2-3 minutes, then gently remove them from the pan and let cool upside down on a wire rack.

Serve warm. Buns are best enjoyed the day-of, but any leftovers can be frozen for later.