Laura Davis with a recipe for homemade granola that will ensure you get your day started just right.
By Laura Davis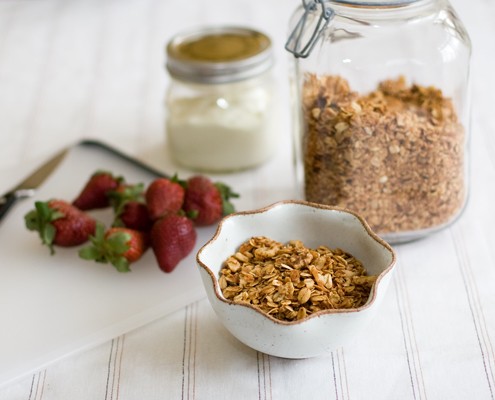 I can't think of a better way to start the day than with a bowl of fresh fruit and organic, plain yogurt topped with homemade granola.  I used to spend a fortune on packaged granola.  At close to $5 or more for the better quality granolas, I decided to make my own. Granola can be caloric so the amount of sugar and fat that it contains was also a concern.  If I make it, I know what is going in it.  I can control the amount and type of sugar and oil, add my favorite nuts and choose my own grains.  I like that.  Granola has a good shelf life so it won't expire after a couple of days.
Oatmeal, a sweetener and a fat are the few ingredients that make up the base of granola. From there it is your own creation, within reason, of course. Give some people the license for creativity and an ingredient like bacon shows up.  What doesn't bacon go in these days?  Hopefully, bacon flavored granola is going too far.   The sweeteners can be whatever your favorite is.  Maple syrup, agave nectar, honey, brown sugar, just to name a few, can all be used interchangeably with each other.  There is a varying sweetness among them so keep that in mind.  I am going to stick to a local honey that I purchase at our farmers market from Bryers Apiary.  It is my favorite honey and therefore is an ingredient in my favorite granola.
Breakfast is my favorite time to have granola but have you ever tried it over ice cream?  Added to you favorite pancake batter?  Used to make a parfait with fresh fruit and cream or sweetened yogurt?  It doesn't have to only be for breakfast.
Granola
makes about 10 cups, if this is too much it can be easily halved
6 cups (1.5l) of oats, old fashioned
1 cup (2.5dl) of wheat germ (or a combination of wheat germ and wheat or oat bran)
1 cup (2.5dl) of nuts, walnuts, pecans, slivered almonds or a combination
1 cup (2.5dl) of sweetened, shredded coconut
1/2 (1.25dl) cup of flax seeds or sunflower seeds
1 tablespoon of ground cinnamon
1/2 to 1 teaspoon of freshly grated nutmeg
pinch of salt
1/2 cup (1.25dl) of canola oil
3/4 cup (1.8dl) of honey, maple syrup or a combination of maple syrup and brown sugar
2 teaspoons of good vanilla
1 teaspoon almond extract
Dried fruit (optional):  1 cup of dried raisins, blueberries, cranberries, mango or apricot.  I usually add whatever dried fruit I like later as needed.  Some people like to go ahead and add it right after it is made.  Your choice.  I think the granola stays crisper longer if added as needed.
1. Preheat the oven to 300°F (150°C).
2. Mix all the dry ingredients together into a large roasting pan. I use a roasting pan that is the size of a sheet pan with two inch sides.
3. Mix all the wet ingredients together.  It is easiest to warm the honey and oil together before adding the extracts.  This makes it easier to mix into the dry ingredients.
4. Add to the dry ingredients and combine it well.
5. Bake in the oven for 12 minutes 4 times. Stir well between each baking time except the last time the granola is removed from the oven.  The last time the granola is taken out of the oven let it cool before stirring.
Notes:  Grain and nut substitutions or additions can be made easily and with very good results.  The oats should remain the base for the granola.  Other suggestions are oat bran, wheat bran, pumpkin seeds, sesame seeds, hazelnuts.

The oil can be reduced in this recipe to 1/4 of a cup but the granola won't clump together as well.  It will still taste delicious.  The same thin for the honey or sweetener but only reduce it to 1/2 cup.  I would recommend only reducing the the oil or the sugar but not both.
Walnut oil or unrefined coconut oil can be substituted for some of the canola oil for added flavor, but the shelf life is not as long as canola or safflower oil.
Enjoy!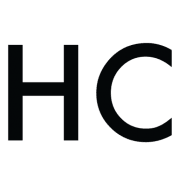 Laura Davis
Laura Davis is the author of the blog Sweet Savory Planet and has a life long culinary passion with southern roots originating in her home state of Alabama. She has a degree in nutrition from University of Texas at Austin.