Without using anything from a can, this fresh enchilada sauce has bold flavor and great body for your next enchilada endeavor.
By Sasikala Balaraman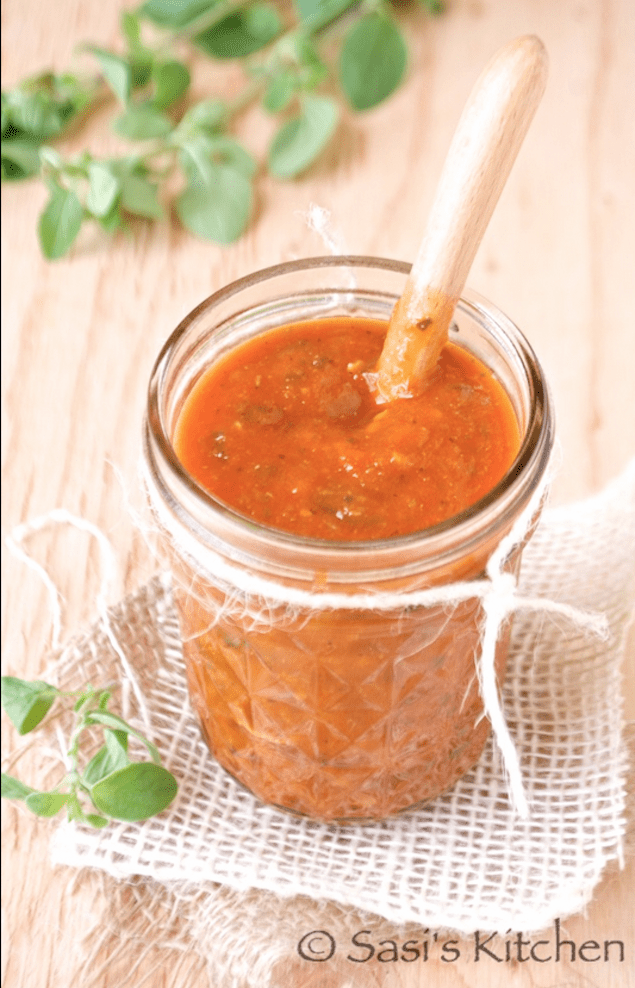 Some things in life are much better when made from scratch, like this enchilada sauce for example. When your sauce is properly flavored, the whole enchilada turns out just right!
This sauce uses a secret ingredient (red bell ­pepper) and can be made in shorter period of time. Sauce is extremely tasty and so flavorful. No canned ingredients needed!
The sauce gets its spicy ­kick from jalapeños and red chili powder. I used 1/2 tsp of red chili powder and the sauce was moderately spicy. Feel free to adjust red chili powder according to your liking. Some recipes uses all purpose flour as thickening agent, but this sauce works well without it too!
A simple trick to check the doneness of the sauce -­ Place a spoon (wood/metal) in the sauce. Remove, and run your finger through the middle of the sauce. If a clear path is left, the sauce is thick enough and ready.
See Also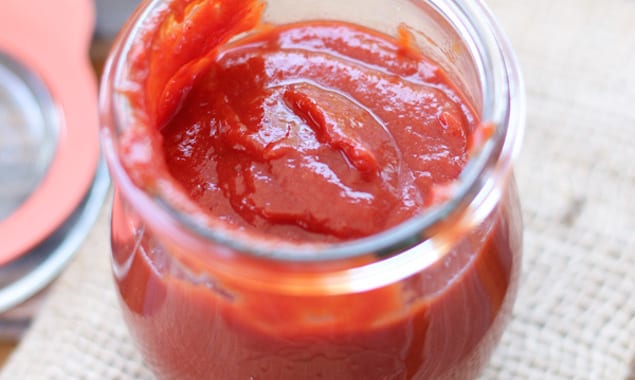 Now once you make the sauce, head here for the whole enchilada recipe.
Print
Homemade Enchilada Sauce
Without using anything from a can, this fresh enchilada sauce has bold flavor and great body for your next enchilada endeavor.
Author:

Sasikala Balaraman

Yield:

1.5 cups

1

x
Category:

Condiment, Sauce, Side

Cuisine:

Mexican
1

large red Bell­pepper

1

lbs ripe roma Tomatoes (about 10)

3

cloves Garlic

1/2

medium sized Onion, quartered

2

Jalapeños

1 tsp

Cumin powder

1/2 tsp

Red chilli powder

1 tsp

dried Oregano

1 tbsp

fresh Oregano, chopped
Salt, to taste

1 tsp

Brown sugar
Instructions
Place tomatoes, bell­pepper, garlic, onions, and jalapeño on a medium baking tray. Place the tray under hot broiler (change the oven settings accordingly) and char the ingredients for about 9 to 10 minutes, turning them halfway through.
Remove the skin from bell­pepper, garlic cloves, tomatoes and let it cool. Place garlic, bell­pepper, tomatoes (along with its juices), onion, jalapeño in the blender and purée until smooth. Return the puree onto a pan. Add cumin powder, red chilli powder, dried oregano, salt, brown sugar and let the sauce reduce until it coats the back of a spoon (takes about 10­ to 15 mins).
Lastly, add fresh oregano and remove from heat.
Store it in a dry jar until use.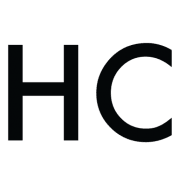 Sasi Balaraman
A south-Indian food enthusiast turned blogger started 'Sasi-Samayal-Kurippu' in an attempt to record and pass-on some of her family's old and traditional recipes. Now, spreading her experimental wings in trying other international/fusion cuisines too. Her idea of recipes are always simple, easy & healthy home-style cooking. Her passion and interest towards cooking, blogging and photography has always gotten the best out of her!