A simple recipe for the most indulgent chocolate Swiss roll. With a moist and decadent gluten free chocolate sponge, a mascarpone whipped cream filling, and a super luscious chocolate ganache glaze. This is, without doubt, every chocolate lover's dream come true.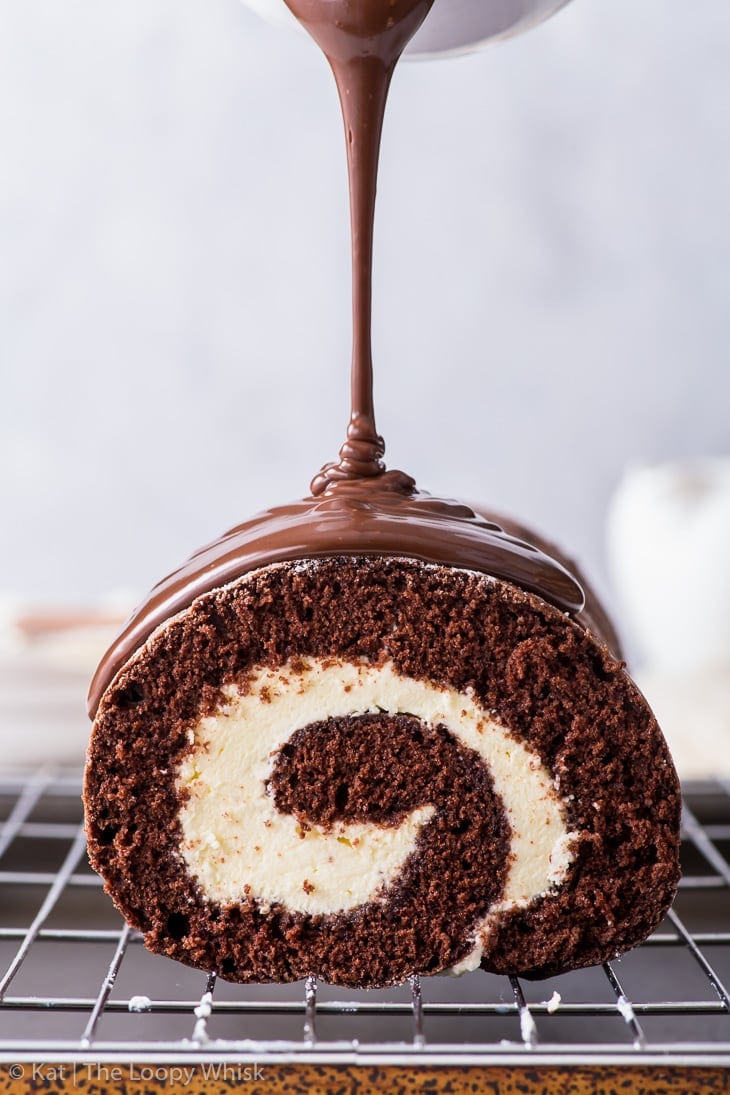 What do you do when you have leftover whipped cream in the fridge? The possibilities are of course endless – but my personal favourite is this chocolate Swiss roll.
With an intensely chocolatey sponge, whipped cream + mascarpone filling and a shiny chocolate ganache glaze… this one's a no-brainer. And it's gluten free as well! Of course, if gluten free isn't a requirement, you can easily make this Swiss roll with plain wheat flour.
There's a common misconception that Swiss rolls are difficult to make – from accomplishing the perfect swirl to the dreaded cracking of the sponge… there are numerous horror stories out there. Well, insofar as a failed Swiss roll fills you with horror.
As it turns out, those truly are misconceptions. The perfect swirl can be a piece of cake (pun 100% intended) and the dreaded cracking can be avoided if your sponge cake is just flexible enough to roll nicely, without being dense or too gummy.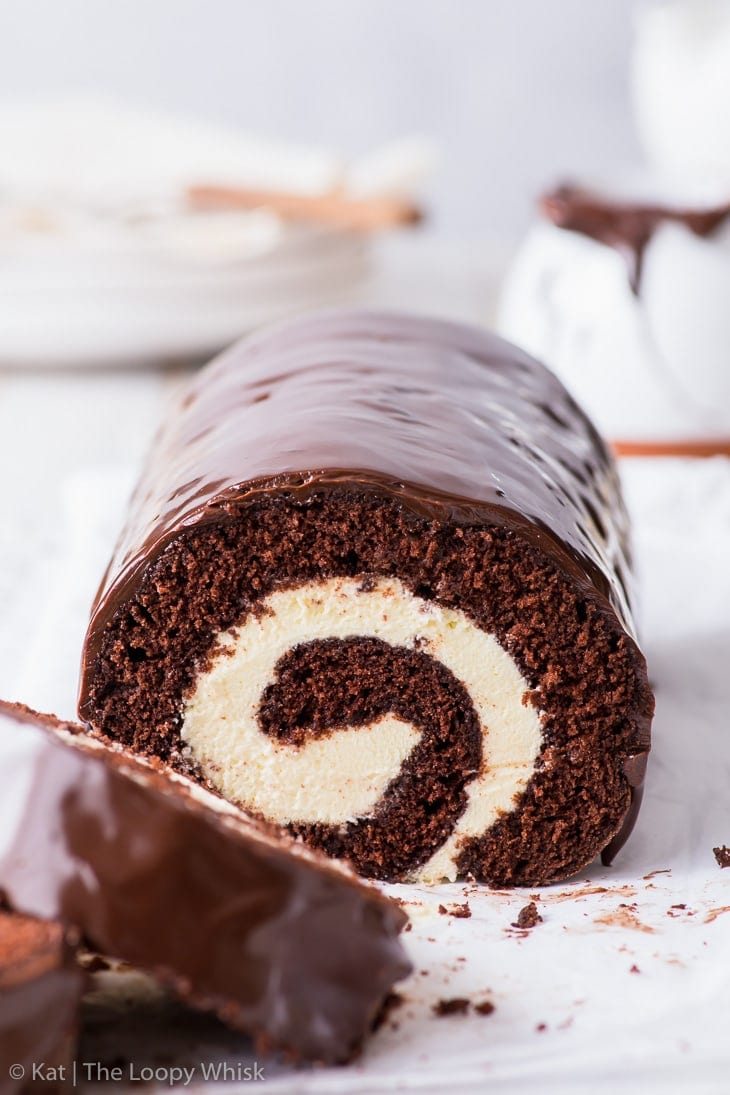 Now, if you're not quite gentle enough and your sponge does crack a bit… here's the genius part: the luscious, decadent chocolate ganache glaze will cover up any such imperfections.
In addition to, of course, being just downright sinfully delicious, and giving the chocolate Swiss roll a drool-inducing shiny appearance. Now that's one multitasking glaze.
What is the difference between a Swiss roll and a roulade?
This is one of those questions that, when you type it into Google, just leads you round and round in a wild goose chase. Some make a distinction between a roulade and a Swiss roll based on the type of sponge used.
However, the predominant opinion (which also seems the most logical one) is that a Swiss roll is a roulade, but not every roulade is a Swiss roll. Thus, Swiss rolls are essentially a subset of roulades.
The word "roulade" stems from the French language and refers to any dish that's prepared by rolling the components together. This could be a sweet dessert made from a sponge cake, rolled together with a filling such as whipped cream, pastry cream or chocolate ganache (commonly known as a Swiss roll).
However, it could also be a savoury roulade, for instance when thin pieces of meat, poultry or fish are rolled up together with a savoury filling.
Today, we're talking exclusively about the sweet, mouthwatering dessert version – the Swiss roll.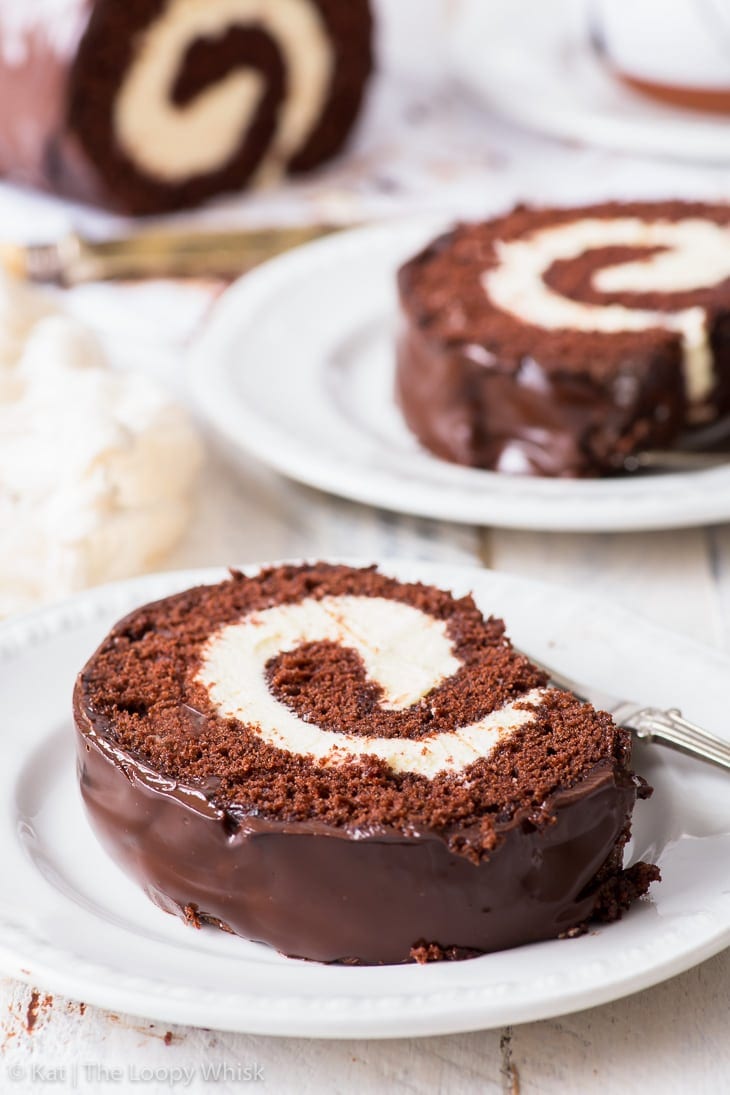 See Also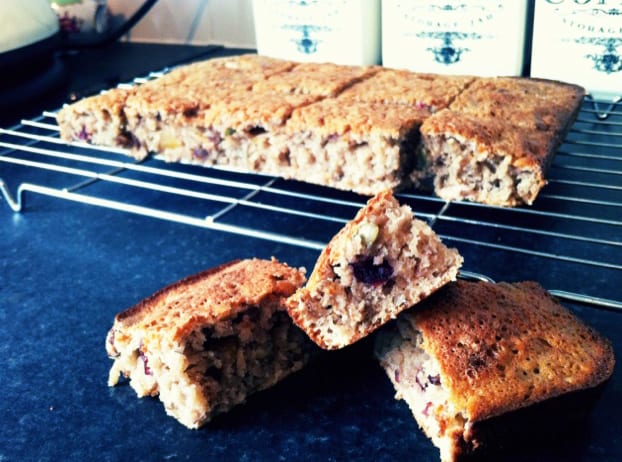 Which way do you roll a Swiss roll?
The way you roll a Swiss roll will determine its shape and, more importantly, the swirl pattern this dessert is so famous for. I personally prefer a shorter and "fatter" Swiss roll with an elaborate swirl pattern.
To achieve this, roll the sponge up along the longer edge (that is: lengthwise). Start with the short edge positioned closest to yourself, then tuck in the short edge to create a small fold. Continue rolling up the sponge by lifting up the baking paper, ensuring you create a tight roll without any gaps.

How do you decorate a Swiss roll?
The options are endless – from a dusting of cocoa powder or powdered sugar, to fancy chocolate shards and swirls of whipped cream. Because I firmly believe that when it comes to chocolate: more is always more, I chose a luxurious chocolate ganache glaze.
This has an added benefit of covering up any cracks and other imperfections. And, of course, it's ridiculously delicious.
How long can a Swiss roll last?
There are two answers to this question.
The theoretical answer: 3 – 4 days in a cool dry space (the fridge works too), wrapped in cling film or in a closer container.
The realistic answer – which will depend on how quickly you can eat (and how many people are joining you): an hour or two? Maybe a day, if you're being extra optimistic and are good at hiding food.
Click HERE for the mascarpone filling recipe.
Print
Homemade Chocolate Swiss Roll
Author:

Kat Cermelj

Prep Time:

30 minutes

Cook Time:

10 minutes

Total Time:

40 minutes

Category:

Cake, Dessert
For gluten free chocolate sponge:
2 oz

60 g dark chocolate, chopped

1/2

stick (57 g unsalted butter)

4

medium eggs (room temperature)

3/4 cup

150 g granulated sugar

3/4 cup

90 g plain gluten free flour blend (I've used a simple shop-bought glu

ten

free flour blend containing only rice, potato and maize flour with no added xanthan gum)

1/4 tsp

xanthan gum

1/4 cup

30 g cocoa powder

1/2 tsp

baking powder

1/2 tsp

baking soda
pinch of salt
For mascarpone whipped cream filling:
Click the link above for the recipe.
For chocolate ganache glaze:
6 oz

175 g 60% dark chocolate, chopped (if you use a higher cocoa percentage chocolate, you will need to increase the amount of cream to reach the right pouring consistency)

1 cup

+ 2 tbsp (

265

mL heavy/double cream)
Instructions
For gluten free chocolate sponge:
Pre-heat the oven to 355 ºF (180 ºC) and line a 10 x 15 inch (25 x 38 cm) baking tray or sheet with baking/greaseproof paper.
In a heat-proof bowl above a pot of simmering water, melt the chocolate and butter together smooth and glossy. Set aside and allow to cool slightly.
In a stand mixer with the whisk attachment, or with a hand mixer with the double beater attachments, whisk together the eggs and sugar until pale, fluffy and about tripled in volume.
Add the melted chocolate and whisk for a few seconds until fully incorporated.
Sift together the dry ingredients (gluten free flour blend, xanthan gum, cocoa powder, baking powder, baking soda and salt), and fold them gently into the fluffy chocolate mixture, until no flour clumps remain.
Transfer to the lined baking tray and bake at 355 ºF (180 ºC) until an inserted toothpick comes out clean (about 10 – 12 minutes).
Once baked, leave the sponge in the baking tray for 2 minutes, then turn it out of the baking tray onto a piece of baking paper generously dusted with powdered sugar. Peel away the top layer of baking paper, and roll up the sponge. Leave it cool completely.
For mascarpone whipped cream filling:
Click the link above for the recipe.
For chocolate ganache glaze:
Place the chopped dark chocolate into a heat-proof bowl.
In a saucepan, bring the heavy/double cream to a boil, then pour it over the chocolate. Allow this to stand for 2 – 3 minutes, then stir until smooth. You should get a smooth runny ganache that's easily pourable.
Assembling the chocolate Swiss roll:
Gently unroll the cooled sponge, and spread the filling into an even layer onto top.
Carefully re-roll the sponge, and chill it in the fridge for about 1/2 hour.
Once chilled, drizzle the Swiss roll with the chocolate ganache glaze. (If the glaze is to firm, reheat it briefly in the microwave or over some simmering water.)
Allow the chocolate ganache glaze to set, and enjoy!
Storage:
The chocolate Swiss roll keeps well for 3 – 4 days in a cool dry space (the fridge works too), wrapped in cling film or in a closer container
Katarina Cermelj
Katarina is a Chemistry PhD student at the University of Oxford. At least by day – by night she transforms into a food blogger, baking up a storm, taking way too many close-up photos, and writing up blog posts for "The Loopy Whisk" (click on 'website' below to take a look!). Her recipe repertoire ranges from buttery, sugary goodness to raw vegan gluten- and refined sugar-free treats. But they are all joined by a common thread – an emphasis on easy and (mostly) quick recipes that are above all else about flavour. Oh, and she talks (writes) a lot.