The story of twins Javier and Sergio is as unique as the dishes they serve in their Barcelona restaurant Cocina Hermanos Torres, where the brothers have brought a life-long dream to reality and turned it into a success. The dream? To translate the feeling of their childhood family kitchen into a Michelin-worthy experience, and not with a traditional dining room but with a kitchen with tables.
Even after a lot of closings and the fall of some of its most iconic star restaurants, Barcelona remains one the world's most exciting food cities. A big part of that is thanks to Cocina Hermanos Torres; an industrial factory turned into a sleak, modern "kitchen with tables" that the Catalan brothers opened in 2018 and directly accumulated two Michelin stars and recently a green Michelin Star for their sustainable approach to fine dining. 
Yes, it's an undeniably fast triumph but none of it happened by coincidence or by a strike of luck. It's the result of a life-long master plan that started in the 80s, in the kitchens where their grandmother Catalina worked as a cook to Catalonia's high society. It was after that time, just at the beginning of their teenage years, that the twins realized what they wanted to do for the rest of their lives and became each other's biggest allies to achieve it. A team of twins with a shared dream.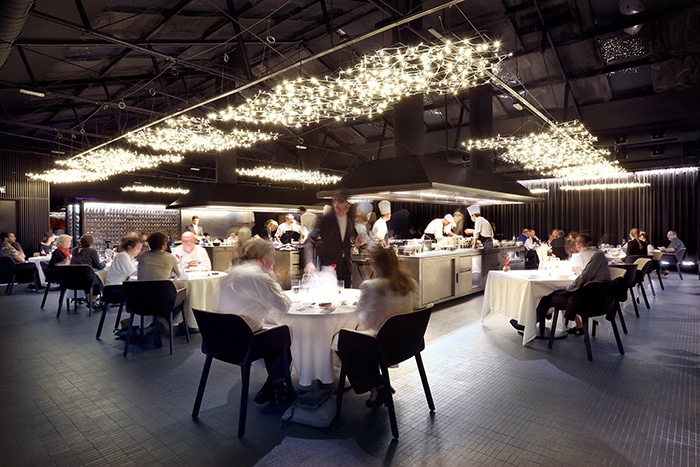 Their Bond and Inspiration
I've always been fascinated by the human dynamic and the deep bond that twins have. It sparks my curiosity and I've often wondered how it would feel to see yourself, or someone so similar to you in front of you. Interviewing the Torres-twins was just as interesting and it only took me two minutes to realize the remarkable relationship between Sergio and Javier. Not because they talk too much about it, but because they organically show it as they answer the same questions, finish each other's sentences and even seem to be 100% sure that they both realized that they belonged in a kitchen at the exact same time. 
Like the slow cooked sauces and broths that give power and flavor to the current dishes at Cocina Hermanos Torres, their grandma Catalina slowly and inadvertently combined all the ingredients to motivate her grandsons. What started as trips to the market and assisting her with cleaning and peeling onions or peas—two ingredients that stand out during the menu that they serve today—became an actual desire to become chefs, and for the twins, that desire meant that they had to team up and convince their family to go to culinary school. They achieved that at 14 years old and so began their professional careers.
"From a very young age we wanted to be cooks and nobody believed in it. But after a lot of insistence they took it seriously. We got to that point thanks to our grandmother Catalina who was a cook in the houses of the Catalan bourgeoisie. In a household of 4 siblings she took great care of us because our parents worked every day. Our grandmother Catalina, without knowing it, planted in us a love of cooking by taking us to the market and asking for our help." explains Sergio with some help from his brother.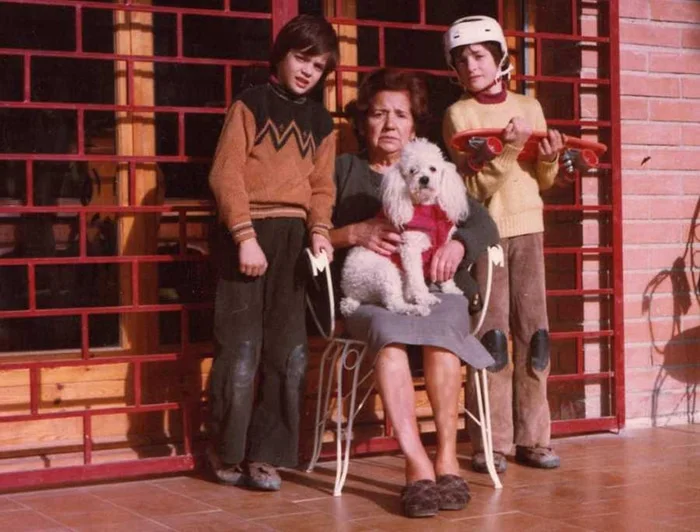 The Master Plan
It shouldn't come as a surprise that Javier and Sergio were at the top of their classes at the Arnadí Cookery School in Barcelona. That drive and determination made them stand out to their teachers who in return helped the young students when the time came to jump into the real world of fine dining restaurants. But that wasn't an experience that they could do together and share, like everything else in their lives up to that point. For the first time they had to separate, and instead of building different paths for themselves, they decided to face the upcoming years with a strategy.
In 1986 Sergio went to Reno de Barcelona* as Javier went to Alicante to work at Girasol de Moraira**. Right from the beginning their plan was clear: They would learn as much as they could from the best restaurants in Spain and Europe to then pass that knowledge to each other. 
"The thing is, it was all a strategy. When we started in the kitchen we told ourselves: you are going to do half of the best restaurants in Spain, Europe or anywhere in the world, and I will do the other half, and then we'll get together and continue learning. Everything was always a part of a bigger plan that we had from a very young age", Javier explains
To keep the plan on track Sergio and Javier communicated constantly and even agreed to experiment in different stations of the kitchen if they had the possibility. If Sergio was working with fish, Javier would try to spend a season working in pastry, if one was working with a grill, the other would work with cold dishes, and from time to time they would meet up, go to dinner, share their experiences and plan the next steps on what ended up becoming more than a decade of training and learning in houses like Le Jardin des Sens, Alain Ducasse, Akelarre, El Racó de Can Fabes, Neichel and Philippe Rochat.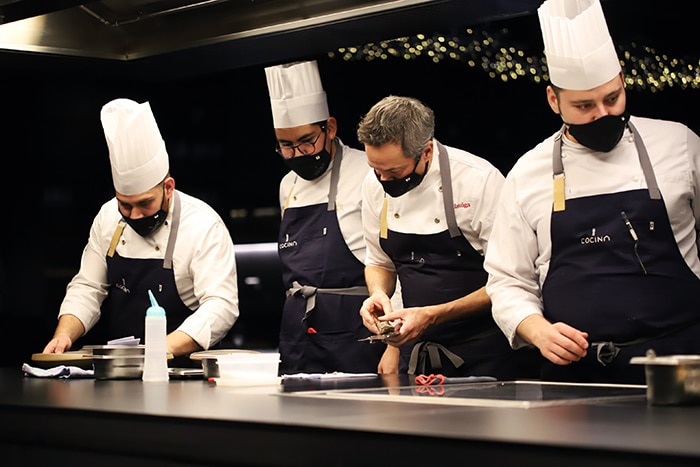 The Dream Restaurant
The Spanish culinary world is like a microclimate filled with talent but in some ways isolated from the rest of the world. A big part of that comes from a language barrier, one that seems to be maintained on purpose and with a safety net of more than half a billion Spanish-speaking people. Sergio and Javier are recognized not only amongst the Spanish and Latin American gourmands and experts but also are a part of a very exclusive group that everyone—from grandmas to little kids— know thanks to a very successful TV career that will continue in 2022. However, this doesn't save the Hermanos Torres from being a part of that disconnected microclimate and for that reason their restaurant is still a culinary gem for surprised international foodies when visiting Barcelona.
One of their intentions when creating "the restaurant of their dreams" was to break this disconnection and to claim a well deserved position on the international culinary scene, not by making noise, but by hard work, quality and an undeniably unique project. A restaurant that elevates the idea of a kitchen as the centre of the experience, as a display of knowledge and a way of opening the doors of their lives to their guests, using the interaction with them as an extra ingredient for a perfect meal. 
To transform an old 800m2 industrial building they hired the famed Office of Architecture in Barcelona, whose main goal was to break down the usual walls and lines that separate the staff from the guests. After bumping into the huge mural in the front of the restaurant painted by Catalan artist Regina Suara, guests enter into an intimate bar separated from the main room by a wine cellar. After a welcome drink it's time to enter the grand kitchen and dining room, where the light clouds created by Pete Sans and the withe tables and staff uniforms stand out of a completely black background. It is then, sitting down in the heart of the restaurant, that guests notice that they also are surrounded by other kitchen sections; pastry section, the research and development section, the chef's office, a cold section and more – five different kitchen stations help to create the magic.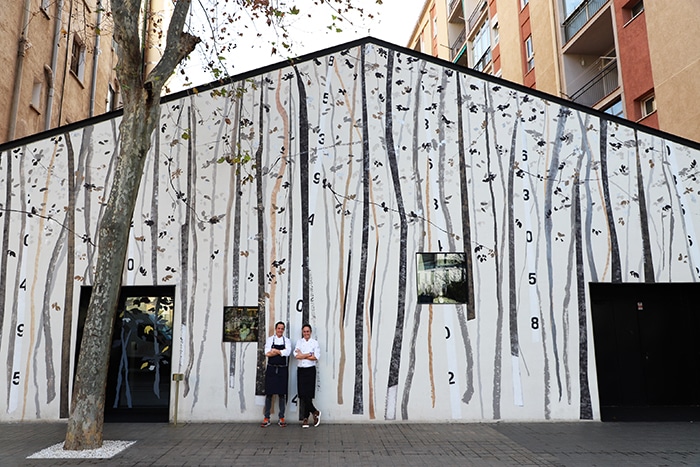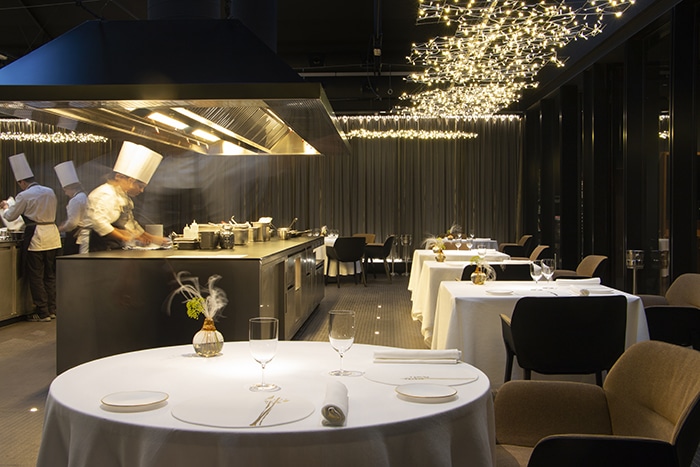 The Torres Flavor 
One of the very first dishes you would get if you sit down at Cocina Hermanos Torres today is a consommé, a clarified broth made out of game meat and seasonal mushrooms. Simple but complex. With that seemingly simple dish the brothers set the tone and summarize their DNA. It's meant to make you feel at home, to remind you of your childhood, to warm you up, to open your appetite and most importantly, to let you know that every single serving will be all about flavor.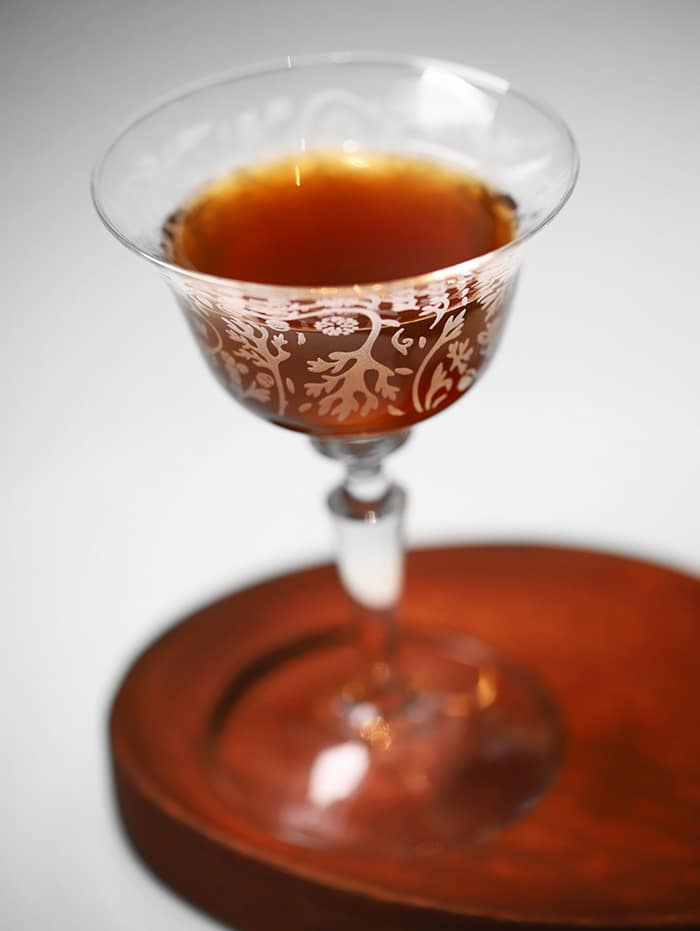 The brothers explain: "Cocina Hermanos Torres represents our memory, our upbringing, our experiences, our traditional flavours but very up-to-date and refined. Very clean and extremely emotional. It is very much a cuisine of flavor and we're very proud of what we've achieved with this menu. The bases and sauces, the timing of every element, the temperatures, the cooking, the seassonings. Everything is very well controlled. This, added to the fact that this is a very grateful season in terms of the product, makes it a very special menu."
Like a compilation of short stories, Sergio and Javier send their personal experiences in the form of amazing dishes to the table, like the cured squid with caviar and poultry broth, inspired by one of their trips to Japan where they first tried a salt cured squid. Or the powerful and creamy mussels "moqueca" with prawns, king crab, saffron and coconut noodles, traditional from Brazil however redone with Mediterranean produce to represent their years and projects in Brazil, where they opened restaurant Eñe in Sao Paulo in 2007 and then in Rio de Janeiro in 2009.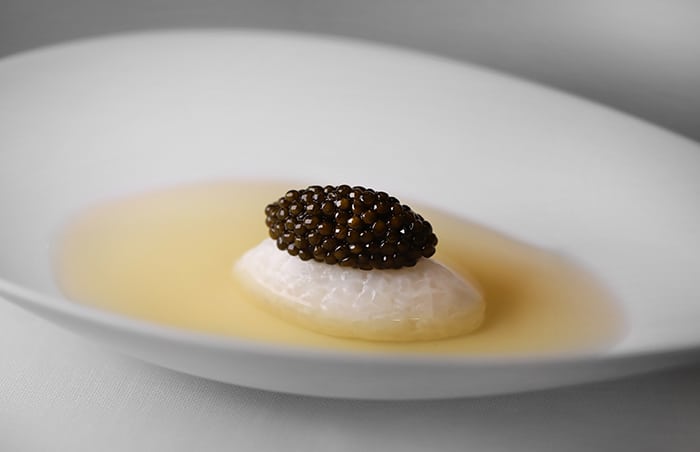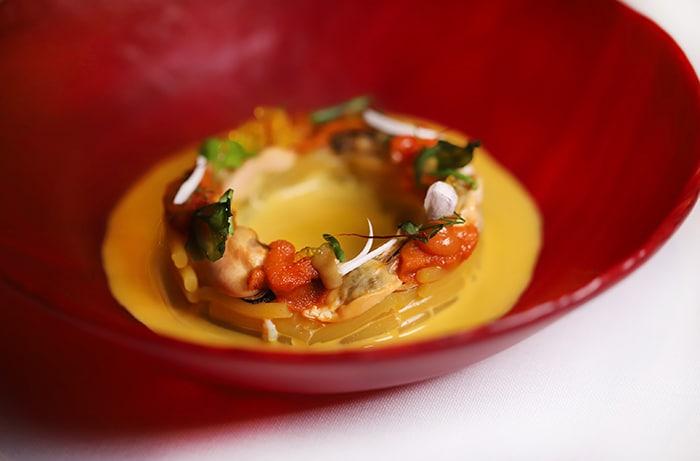 The only time I could get a different answer out of the brothers was when I asked about their favorite dish from the current menu. Javier answered quickly and without hesitation that he loves the peas. Maresme peas with iberian bacon and sagú, a starch extracted from tropical palms that's similar to tapioca. Sergios response was more diplomatic. "From time to time Javier and I try the menu with the team and it is always an interesting exercise, but choosing a favorite dish is like choosing a favorite son. I'd say I like all of them."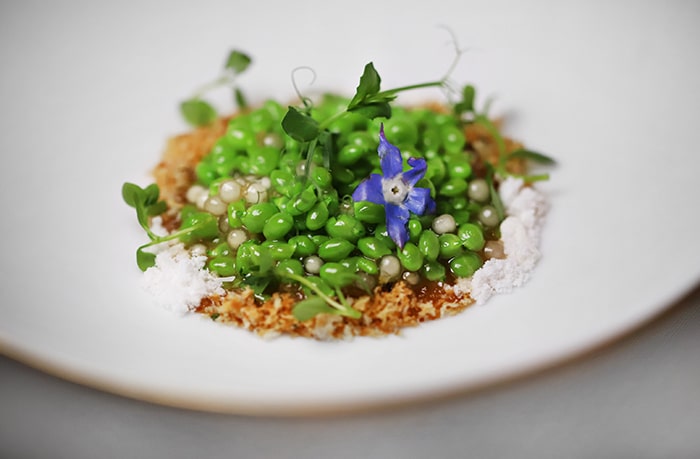 A Dish, A Story
An already classic dish at Cocina Hermanos Torres is the Onion from Fuentes de Ebro, a creamy and rich onion soup created as an homage to the twins' father. It was on a trip to his farm in Zaragoza that Sergio and Javier first tried this special onion, the only one with a Protected Designation of Origen in Spain. It stands out for its quality, its sweetness and balance, qualities that inspired the brothers to take them to Barcelona and create.
Our creative process is complex because we not only have to please ourselves but also the other. Let's say that creating with four hands and two minds will always be a more complex process. An orderly chaos. Javier has a very good base and I have another. We trust that and we know each other very well. It does not matter who brings the seed of that idea, we work as a team to elevate it with no conformism and this makes the final result better.
That's how with no complexes or egos, an onion from their father's farm becomes a soup made out of caramelizing the onions for 18 hours served with bread, black truffles, vinaigrette, truffle water agar and black garlic puré. That is how all the values that represent Cocina Hermanos Torres unify in a spoon; history, memory, family, beauty, refinement and on top of everything; flavor.
Cocina Hermanos Torres, Carrer del Taquígraf Serra 20, Barcelona www.cocinahermanostorres.com