A simple, full of flavor and texture heirloom tomato salad with pine nuts, apple and blue cheese crumbles.
By Julia Mueller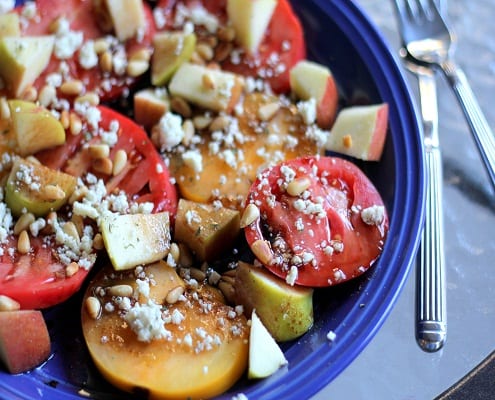 Can we discuss flavors and textures and how they magically combine? The soft and juicy, crunchy and crispy, tangy and sweet, creamy and salty just mmmm together in your mouth. Tomatoes, fruit, nuts, vinegar, cheese, fantastic. If you feel that treating the tomato slices like a tortilla and folding the pine nuts, blue cheese and apple all up in it like a taco is a good method for consumption, you just go right ahead and do so. I did. Oh please, that's malarkey, nobody does that!
The original recipe calls for 1 tablespoon of balsamic vinegar which is just not nearly enough for my vinegar-loving taste. So minus the figs, add in the apple, plus two additional tablespoons of balsamic and we have one heirloomy plate of goooood! I have to give NYT credit – I'd be willing to bet the figs would take this recipe to soaring heights.  So if the stolen figs are anywhere close to you, make the recipe with figs; if not, a nice crisp fugi will do ya.
Heirloom Tomato Salad with Blue Cheese, Apple and Pine Nuts
Ingredients:
2 large heirloom tomatoes, sliced ¼" thick
1 Fugi apple, chopped in ½" chunks
1/8 cup pine nuts, toasted
1 to 2 ounces blue cheese crumbles
¼ cup grapeseed oil or olive oil
3 tablespoons balsamic vinegar
Kosher salt to taste
Ground black pepper to taste
Pinch dried parsley leaves
Adapted from a recipe in the New York Times: http://www.nytimes.com/2012/08/08/dining/tomatoes-are-abundant-and-delicious-this-summer-a-good-appetite.html
To Make:
Lay the sliced tomatoes on a large serving plate. Toast the pine nuts in a small skillet over medium high heat until golden brown, about three minutes. Sprinkle pine nuts on top of the tomato slices along with the hunks of apple and blue cheese crumbles.  In a bowl, whisk together the oil and balsamic vinegar until well combined. Drizzle the oil/vinegar over the tomato slices (you may have some leftover oil and vinegar, which you can use for salad dressing later). Sprinkle salt and ground black pepper over the sliced tomatoes to taste and garnish with fresh or dried parsley.
Julia Mueller
As a fitness and nutrition enthusiast, Julia writes a food blog called The Roasted Root, where she share recipes that are mostly vegetable and meat based along with stories of her travels and day-to-day activities. Julia loves enjoying fresh home cooked meals with her friends and family, and the process of developing recipes, photographing, and sharing them.