Ripe Heirloom Tomatoes from North Carolina are best in Chef David Moore's delicious Gallery Restaurant, Tomato and Mozzarella Salad
By Michelle Tchea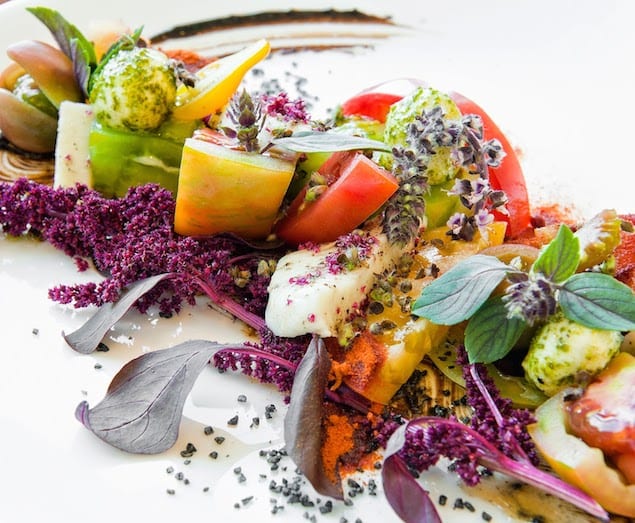 Ripe Heirloom Tomatoes from North Carolina are best in Chef David Moore's delicious Gallery Restaurant, Tomato and Mozzarella Salad
Starting in the Kitchen at the ripe old age of fifteen, Chef David Moore is now preparing for life as a father and gourmet baby food may be part of his repertoire in the next nine months. But for lucky golfers and gourmets within driving distance to The Ballantyne Hotel in North Carolina, indulge in a little Contemporary American cuisine between Golfing on the Green.

Heirloom Tomato and Mozzarella Salad by Chef David Moore of Gallery Restaurant, NC
Ingredients
For the Plate:
2.5lbs NC heirloom tomatoes – cut to varying sizes
1.5lbs Fresh mozzarella – cubed & seasoned with
1 C Black garlic-balsamic emulsion – see recipe below
NC grown flowering basil – for garnish
Basil infused olive oil – for garnish
Tomato powder – for garnish
Crystalized basil sugar – for garnish
Kosher salt and black pepper – to taste
For the Black garlic – Balsamic emulsion::
2 Bulbs black garlic – clean and reserve peels
1 C Olive oil
2 C Balsamic vinegar
1 Bay leaf
1 Sprig thyme
4 Black peppercorns – toasted
.5 t Fennel seed – toasted
Instructions
Make the black garlic oil:
Place the reserved garlic peels and olive oil in to a small pot and bring to 180F. Remove from direct heat and allow too steep for twenty minutes. Strain, chill and reserve for later use.
Make the black garlic puree:
Place cleaned garlic cloves into a food processor and puree while slowly adding the chilled black garlic oil. Scrape down the sides of the food processor bowl several times to make sure all of the ingredients are incorporated.
Make the balsamic reduction:
Place the balsamic vinegar and all toasted seeds and aromatics in a medium size pot and reduce over low heat by 70%. Strain, chill and reserve for later use.
Make the emulsion:
Whisk together the finished black garlic puree and the balsamic reduction to form a smooth paste. Season to taste with salt and white pepper.
Method for assembly:
On chilled plates swipe the emulsion to create a base for the other ingredients. Arrange the seasoned tomatoes, mozzarella and flowering basil. Use the remaining four garnishes sparingly to balance the flavor and design of the dish….enjoy!
Michelle Tchea
Michelle Tchea is a 4-time bestselling author. Her books include, Building a Perfect Meal, My Little SoHo Kitchen, Signature Dishes (Australia's Best) and Chefs Collective. Her work can be found in other leading luxury travel and food magazines including Travel+Leisure Asia, SMILE, NUVO Magazine and The Telegraph