Enjoy this filling stew filled with a beautiful array of veggies, herbs, and marbled beef.
By Kimberly Killebrew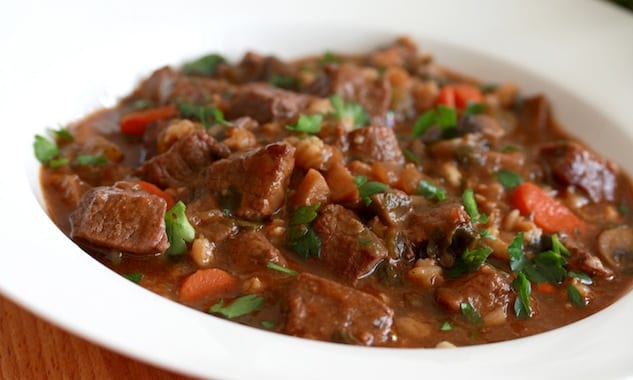 Hearty Beef and Barley Stew
Enjoy this filling stew filled with a beautiful array of veggies, herbs, and marbled beef.
Author:
Kimberly Killebrew
Ingredients
2½ pounds Certified Angus Beef® sirloin tip, cut into ¾ inch cubes
1 pound crimini or button mushrooms, cleaned and quartered
2 cups fresh spinach, chopped
3 cloves garlic, minced
1 tablespoon tomato paste
2 teaspoons fresh thyme or 1 teaspoon dried
2 teaspoons fresh oregano or 1 teaspoon dried
2 tablespoons extra virgin olive oil, divided
1 large onion, diced
1 large carrot, diced
1 stalk celery, diced
1 cup pinot noir
3½ cups beef stock
1 large bay leaf
1 teaspoon salt
½ cup quick cooking barley
½ cup flat leaf parsley, chopped
Instructions
Pat the beef cubes dry with a paper towel and season with salt.
Heat one tablespoon of the oil in a large Dutch oven over medium-high heat and sear the beef cubes on all sides, working in batches so as to not overcrowd. Use a slotted spoon to remove the beef and set aside.
Heat the remaining tablespoons of olive oil and add the onion, carrot and celery to the Dutch oven. Cook for 5 minutes. Add the mushrooms, spinach, garlic and herbs and cook for another minute. Add the wine, beef broth, tomato paste, bay leaf, salt and stir to combine.
Two cooking methods: Preheat the oven to 450 degrees F. Cover the Dutch oven and cook on the lowest rack for 40 minutes OR bring to a boil on the stove top, cover, reduce the heat to low, and simmer for an hour.
While the stew is cooking, add the barley to the water in a medium pot, bring to a boil, reduce the heat to medium, and cook for 10 minutes or until tender. Drain.
Add the barley to the stew and continue to cook for at least 10 more minutes, preferably up to an hour. The longer the stew cooks the more tender the beef and flavorful the stew will be. Add salt and pepper to taste.
Serve the stew garnished with fresh parsley.
Kimberly Killebrew
Raised in Western Europe, widely traveled, and currently residing near Seattle with her husband and children, Kimberly loves preparing and experimenting with a large range of flavors and cuisines. This is reflected in her food blog, The Daring Gourmet, where she invites all to "tour the world through your taste buds." Passionate cook, recipe developer and photo enthusiast, her culinary repertoire includes everything from gourmet to simple comfort food, and, as she puts it, "simply downright good eats."