With a drizzle of black olive oil this is the perfect Sunday winter supper – a warm, hearty, flavorful soup.
By Laura Loesch-Quintin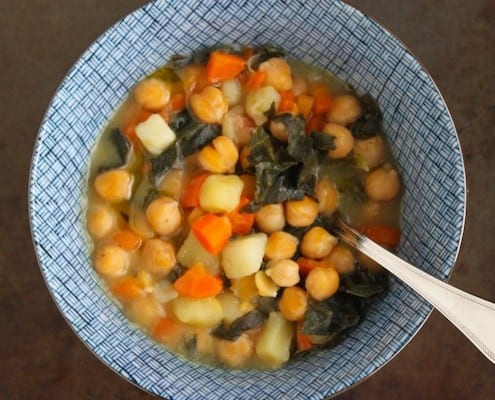 I am a chickpea fiend. I toss them into salads, puree them into hummus, and bake them until nice and crispy. And, recently, after a lovely dinner at Telepan on New York's Upper West Side, I was inspired to incorporate chickpeas into soups and stews.
It was their hearty chickpea soup with winter root vegetables which inspired me to do so. The soup was warm, comforting, and full of flavor – the flavor that comes from sweet carrots, starchy potatoes, nutty chickpeas, and likely a rich chunk of bacon. It was precisely the sort of dish I would prepare in my own galley kitchen. And so, I set out to replicate it in my own fashion.
See Also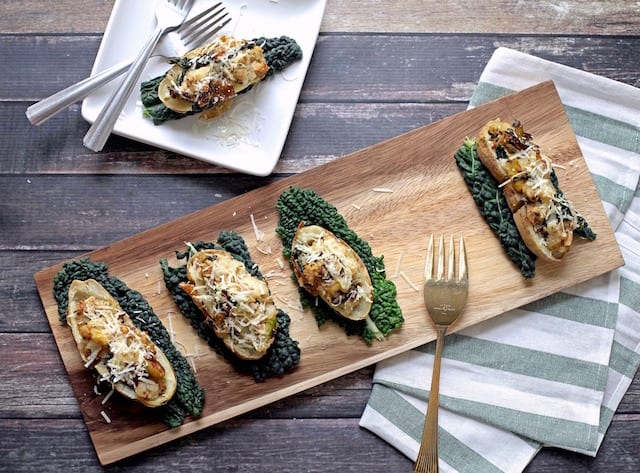 With a bowl of dried chickpeas soaking on the counter top, I began chopping, dicing, and slicing the ingredients, until soon the flavors were melting together in my large stainless steel soup pot.  To deepen the flavors, I threw in a bay leaf and the leftover rind from a salty hunk of Parmigiano. And, I sprinkled a touch of ground cumin and a pinch of cayenne pepper. With a drizzle of the black olive oil my parents brought home from Corsica, it was the perfect Sunday supper – a warm, hearty, flavorful soup savored in the comfort of my tiny New York City studio.

A hearty chickpea and winter vegetable soup
Author:
Laura Loesch-Quintin
Recipe Type:
Entree, Main
Ingredients
3 tbsp extra virgin olive oil
1 leek, thinly sliced
1 shallot, finely chopped
2 cloves garlic, finely chopped
1 cup (240 g) dried chickpeas, soaked for four hours and drained
8 cups (2 l) water
1 bay leaf
5 carrots, diced
4 yukon gold potatoes, diced
Parmigiano-Reggiano rind
4 cups (950 g) kale, sliced thinly
¼ tsp ground cumin
Pinch of cayenne pepper
Salt and pepper to taste
Instructions
In a large pot over medium-high heat, sauté leek, shallot, and garlic in olive oil until softened and almost translucent, about 3 minutes.
Add chickpeas, water, and bay leaf, bringing heat down to medium-low. Simmer for 1 hour.
Add carrots, potatoes, and Parmigiano-Reggiano rind. Simmer for another hour.
Discard bay leaf and Parmigiano-Reggiano rind. Add kale, stirring to incorporate. Season with cumin, cayenne pepper, and salt and pepper to taste. Simmer for another 15 minutes, or until kale is tender.
Divide soup among bowls, drizzle with good quality extra virgin olive oil, and sprinkle with freshly ground black pepper.
Laura Loesch-Quintin
Laura Loesch-Quintin is a food writer and photographer, as well as the voice behind the recipe blog gourmette•nyc. When not cooking, writing, or photographing, she can be found exploring the food markets of New York City.