Enjoy a healthy and super easy to make kale and brussels sprout salad recipe from Taylor Kadlec.
By Taylor Kadlec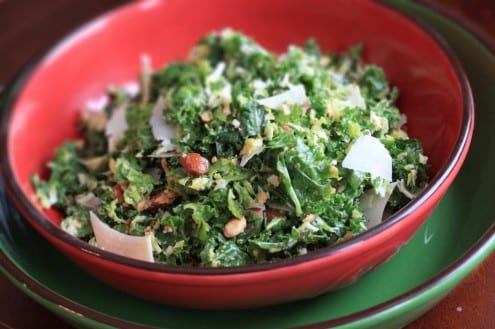 I love the look of this salad because the kale and brussels sprouts are chopped up super duper finely. I actually used my food processor to do this because I was lazy and didn't want to do a bunch of chopping. It ended up working out perfectly, getting the pieces really tiny.  The almonds added a yummy crunch to the salad and the Parmesan cheese rounded out all of the flavors really nicely.  My only regret with this salad is that I didn't make more – I barely had any leftovers.
Healthy Kale and Brussels Sprout Salad
Enjoy a healthy and super easy to make kale and brussels sprout salad recipe.
Ingredients
¼ cup fresh lemon juice
2 tablespoons dijon mustard
1 tablespoon minced shallot
1 small garlic clove, minced
½ teaspoon kosher salt plus more for seasoning
2 large bunches of kale (about 1½ lb. total), center stem discarded
12 ounces brussels sprouts, trimmed
½ cup extra-virgin olive oil
⅓ cup almonds with skins, coarsely chopped
1 cup finely grated Parmesan cheese
Instructions
Combine the lemon juice, dijon mustard, shallot, garlic, and salt. Stir to blend and set aside.
Place kale in large food processor and pulse 3-4 times until finely chopped. You can also do this with a knife, I just found it easier to get little pieces in the food processor. Place in large bowl.
Place brussels sprouts in food processor and pulse until shredded. I had to do this in batches and like the kale, you can also just chop finely with a knife if you don't have a food processor. Add to brussels sprouts.
Add almonds to food processor and pulse until finely chopped. Add to brussels sprouts and kale.
Add cheese to salad mixture.
Pour dressing over salad and toss to coat.
Season with salt and pepper, to taste.
Enjoy!
Taylor Kadlec
Taylor Kadlec is a lover of all things food including baking, cooking, and of course, eating. She is a self-taught baker and cook, and she shares her kitchen adventures on her blog Greens & Chocolate, where healthy cooking meets sinful indulgence.