Healthy Green Mango Drink: Aam Panna
Don't sidestep green mangoes next time you're visiting your fruit pusher. They're not only good – but good for you.
By Sonia Mangla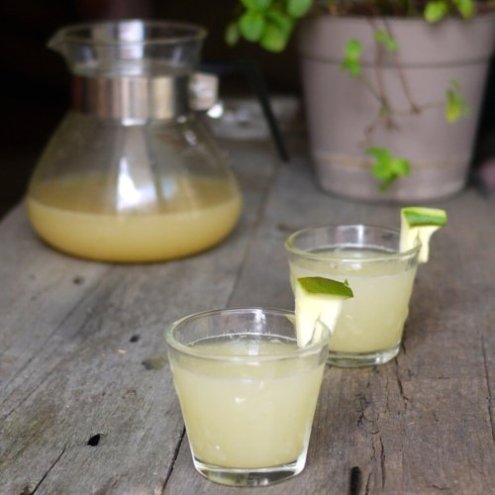 Not many people realize that Raw Green Mangoes are abundant in flavors & goodness. As summers arrive you can see a lot of varieties of mangoes in market. Aam panna, is a very famous Indian drink known for its cooling properties sure to beat this summer heat. It is made from Raw green mangoes, some fresh mint and topped with roasted cumin. This is a very simple recipe from our home and is surely going to chill you inside out.  Take a big chilled bottle at the beach with you or enjoy it after a rigorous workout, as this is rich in Vitamin B1, B2 and C, it will be all yours forever.
A Drink from Green Mangoes - Aam Panna
A healthy drink made from green mango
Ingredients
Raw Green Mangoes: 2
Sugar: ¼ cup
Salt: 1 tsp or to taste
Roasted Cumin Powder: ½ tsp
A few Sprigs of fresh Mint
Instructions
Wash and peel the mangoes, chop in to small chunks.
Boil in ½ cup of water till the chunks are soft and tender.
Let it cool down and blend it in a mixture to make a smooth puree.
Strain it through a sieve, if desired.
Add sugar, salt and cumin to taste.
Transfer the mango concentrate in a glass or stone ware bowl.
Prepare a drink by Putting 2 tsp of this concentrate in a glass and add water, mint leaves and ice.
Sonia Mangla
Sonia Mangla is a passionate Food Blogger & Photographer. She creates Fusion of Indian flavors and loves cooking for her guests. Her work is featured on some popular sites like FoodGawker,Tastespotting, Tasteologie & Foodbuzz.