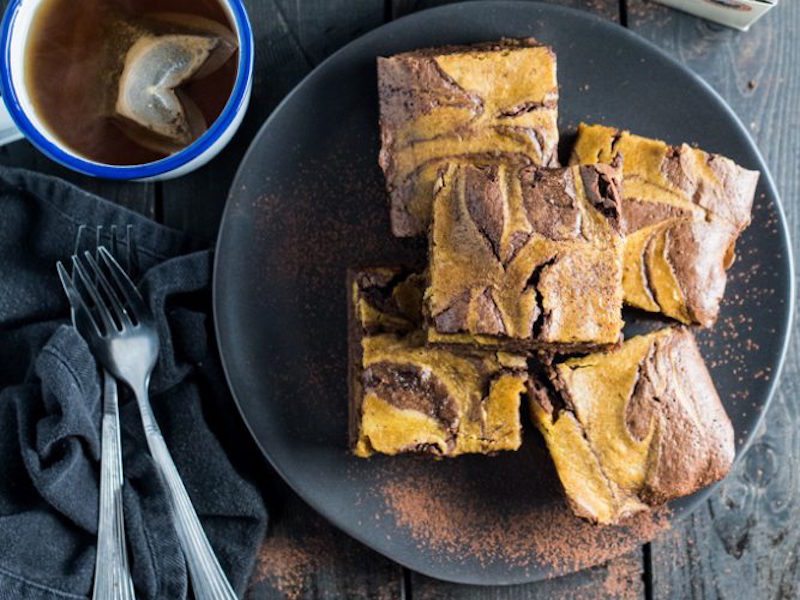 PARTNER POST: Discover new ways to incorporate seasonal teas into your holiday cooking and desserts with Celestial Seasonings.
Harvest pumpkin brownies are made with a delicious ingredient, tea, for the ultimate autumn treat. Dark chocolate and pumpkin batters are swirled for a simple and stunning sweet.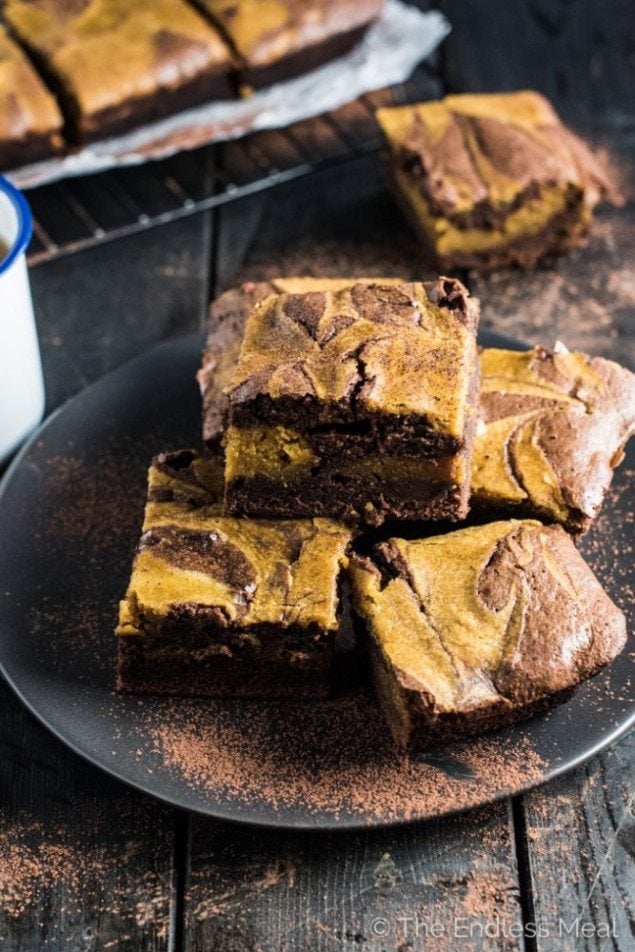 Now that it's officially autumn, all I want to do is eat pumpkin every day in every possible way.
I'm fighting this whole transition into fall and winter thing, as I do every year as though I think it will stop it from happening. I *might* have mentioned that I'm not a big fan of the getting cold and totally cold seasons. I'm sipping on hot tea wrapped in a blanket as I write this.
You see those magical swirly chocolate pumpkin brownies? There's a secret ingredient in there.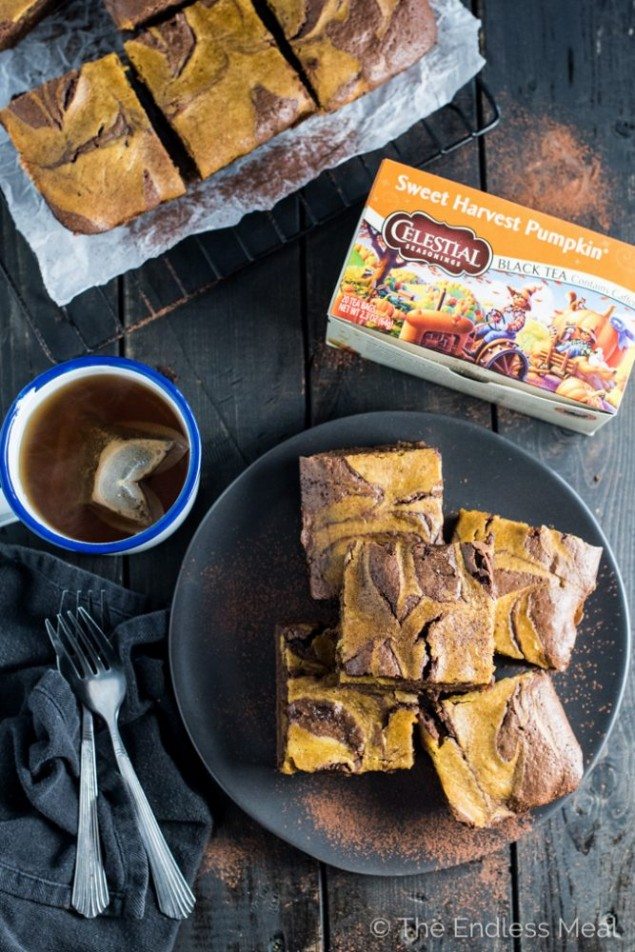 Ok ok, I won't make you guess. I've snuck in my newest favorite tea. That's right, there is tea in these brownies. Sweet Harvest Pumpkin tea, to be exact. It tastes like pumpkin pie. Swoon.
Brownies often have boiling water mixed into the batter to bring out the flavor of the cocoa and help it dissolve. I've swapped the water with a cup of tasty hot tea for extra sweet pumpkin flavor.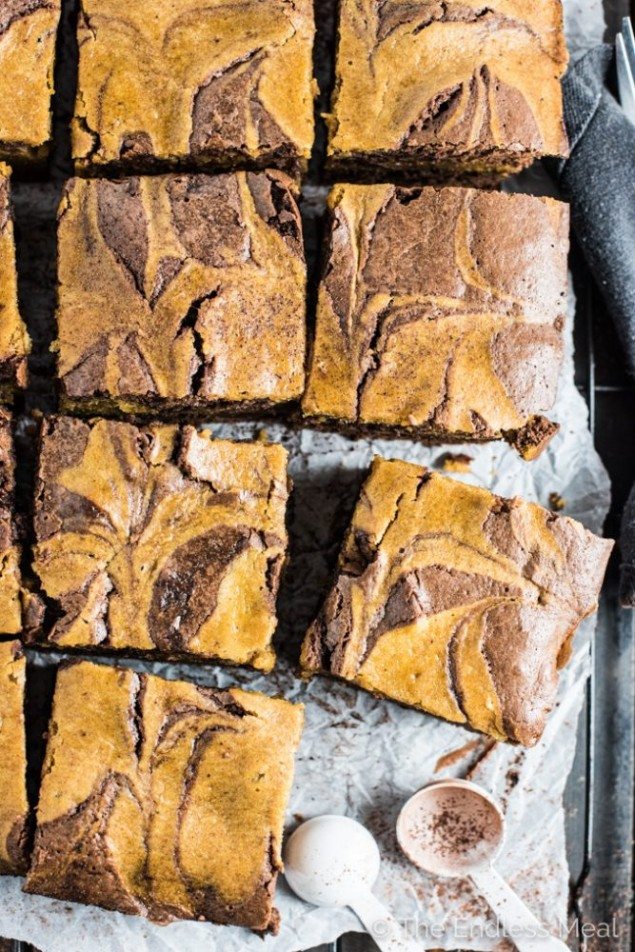 Want to try another fun recipe for the season? Check out these Sugar Cookie Sleigh Ride Scones! Recipe here.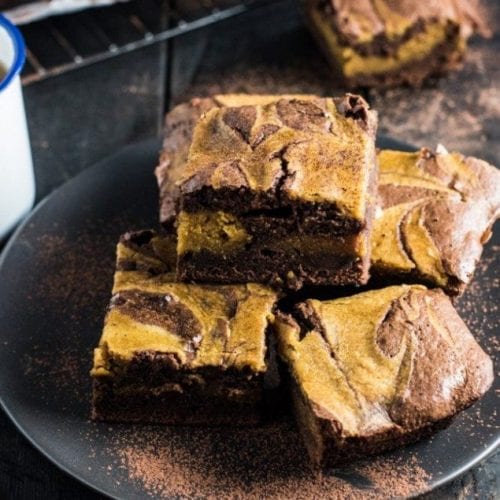 Kristen Stevens
Ingredients
1

bag of Sweet Harvest Pumpkin Tea

¾

cup

6 ounces dark chocolate chips

11

tablespoons

butter

divided

2

cups

all-purpose flour

1½

teaspoons

baking powder

½

teaspoon

sea salt

2

large eggs

1½

cups

granulated sugar

1

teaspoon

vanilla

1

cup

canned pumpkin

NOT pumpkin pie filling

1

teaspoon

cinnamon

¼

teaspoon

each: ground ginger and cloves
Instructions
Preheat your oven to 350 degrees. Grease and flour a 9x11 inch baking dish. Bring 1½ cups of water to a boil then pour over 1 bag of Sweet Harvest Pumpkin Tea in a large tea mug.

Melt the chocolate chips with 3 tablespoons of the butter in a small pan over medium-low heat. Melt the remaining 8 tablespoons of butter in another small pan.

Whisk the flour, baking powder, and sea salt in a medium sized bowl. In a large bowl, beat the eggs with the sugar for 1 minute. Add the 8 tablespoons of melted butter, 1 cup of the brewed tea (drink the rest!), and vanilla and beat well. Add the bowl of flour all at once and beat until just combined.

Divide the batter evenly between 2 bowls. Stir the melted chocolate into one of the bowls. Add the pumpkin, cinnamon, ginger, and cloves to the other bowl and mix well.

Pour ¾ of the chocolate batter into the prepared baking dish and smooth the top. Add ¾ of the pumpkin batter and gently smooth the top, trying not to mix the batters. Dot the remaining chocolate and pumpkin batters on top then take a knife and run it through the batter 3 or 4 times lengthwise and across the pan to create a marbled effect.

Bake the pumpkin brownies in the preheated oven for 35-40 minutes, or until a toothpick inserted into the middle comes out clean. Let the brownies cool for 30 minutes, then flip the pan to remove them and slice them into 12-16 pieces.
Kristen Stevens
Kristen is a Vancouver based chef, recipe developer and founder of The Endless Meal. She's passionate about creating and sharing healthy, whole-food recipes made from local and in-season ingredients.She's also the owner of a small underground restaurant where she gets to cook and share her food with local foodies every weekend.Her favourite things are her camera, bourbon sours, sailing the waters of BC's beautiful coast and anything super spicy.