This recipe for Peanut Butter Banana Pudding produces something a lot like a cross between a banana cream and a peanut butter pie.
It's a bit softer than pie filling, and there is no crust – or I guess you could think of it as having soft, internal, crustesque "stripes." It's about as easy as it gets without using a pudding or pie filling mix. The peanut flavor is muted, and the overall effect is simple and homey.
Lasts for several days, but best fresh. Travels well in a cooler.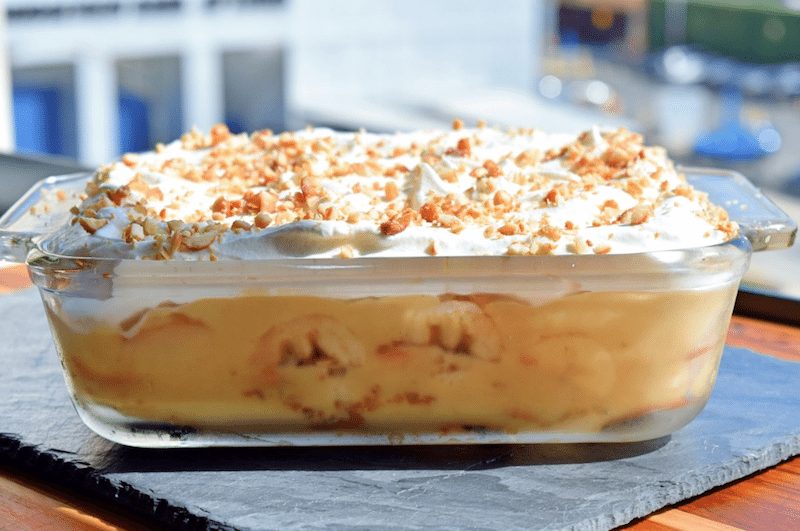 Decadent Peanut Butter Banana Pudding
Ingredients
⅓ cups all-purpose flour
¼ tsp salt
⅔ cup + 3 Tbs sugar
1¾ cups whole milk
4 egg yolks
1¾ cups heavy cream, divided
⅓ cup creamy peanut butter
3 tsp pure vanilla extract, divided
50 vanilla wafers
4 med. ripe bananas, sliced into ¼- to ⅓-inch rounds
¾ cups chopped, roasted and salted peanuts, divided
Instructions
MAKE PUDDING
Whisk together flour, salt, and ⅔-cup sugar in medium saucepan. Whisk in milk, egg yolks, and ½-cup cream. Cook over medium heat, whisking constantly, until thickened, 7 to 9 minutes. Remove from heat and whisk in peanut butter and 2 tsp vanilla.
ASSEMBLE DESSERT
Arrange 25 wafers in the bottom of an 8-by-8-inch glass baking pan. Pour in ⅓ of the pudding, covering the cookies as completely as possible. Top with half of banana slices, ¼-cup peanuts, and remaining cookies. Check for evenness, gently pushing down on cookies as necessary. Whisk the pudding, making sure that any skin that may have formed on the top is fully incorporated back into the pudding, and that there are no lumps. Add another ⅓ of the pudding to the baking pan. Lay in remaining banana slices in a single layer – you'll have some slices leftover. Slice the leftover banana slices into half-moons and snuggle them sideways along the perimeter of the pan, gently pushing them down so they don't interfere with the evenness of the overall top layer. Add another ¼ cup of nuts. Cover with remaining pudding. (If it has become too cool to pour, reheat it gently while whisking constantly.) Cover with plastic wrap, pushing the wrap right onto the surface of the pudding. Chill 4 hours or overnight.
Whisk remaining 3 Tbs sugar, 1¼-cups cream, and 1 tsp vanilla on medium-high with an electric mixer just until stiff peaks form, 2 to 3 minutes. Spread over top. Sprinkle with remaining ¼-cup peanuts.