Christina Soong-Kroeger visited Hamilton Island for Hamilton Island Race Week. She shares three dining experiences: Shannon Bennet (Vue de Monde) dinner, Kylie Kwong Lunch and Wild Oats Ladies Lunch.

With blue, sparkling waters, acres of unspoilt, uninhabited land, calm beaches and plenty of dining options, Hamilton Island in the Whitsundays is a gorgeous vacation spot. I visited the Island for a family holiday a few years ago and have great memories of long, happy days spent swimming, sunbathing and nipping around the island in a little golf buggy.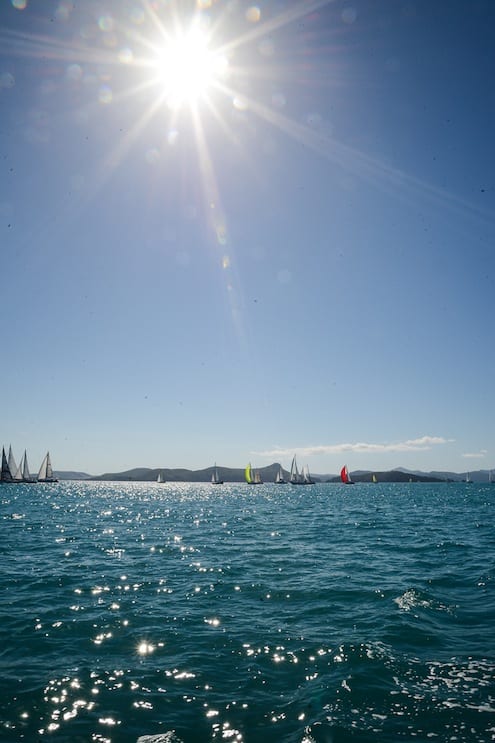 However, my recent visit during Audi Hamilton Island Race Week, Australia's largest offshore yachting regatta, was an opportunity to experience Hamilton Island at its busiest and best. Here's a little of what I got up to.
Wild Oats Ladies Lunch with Adriano Zumbo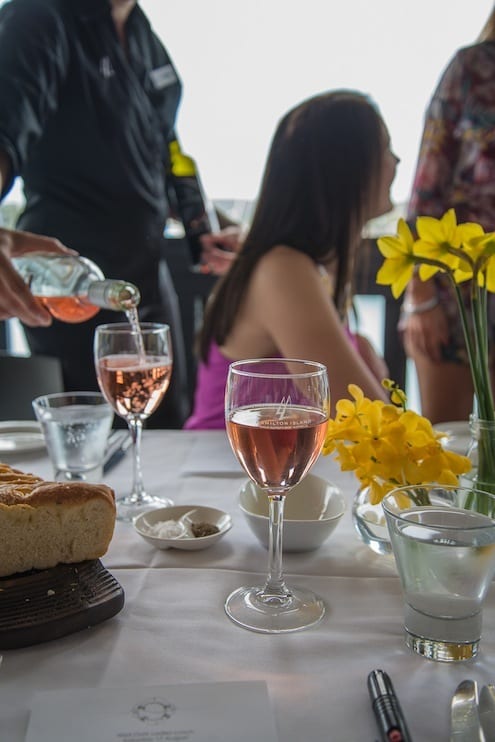 Each year Hamilton Island hosts the Wild Oats Ladies Lunch the day before the racing kicks off. The Lunch is an opportunity for female visitors and island dwellers alike to frock up and enjoy some lovely food and company.
The appetiser is an antipasti plate comprising freshly shucked oysters, garlicky king prawns, tender squid, green and Kalamatta olives, marinated artichokes, proscuitto, melon, wagyu beef bresola, salami and the most amazingly crisp Sadrinian flat bread.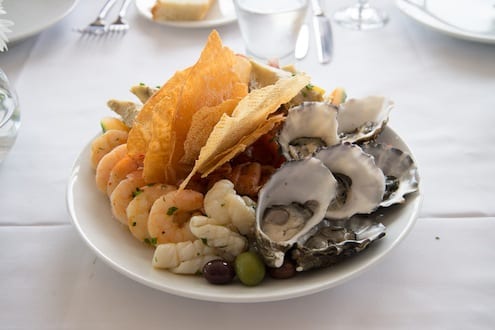 This is the kind of food I could happily eat for lunch every day – the quality of the different ingredients is top-notch, the flavours are strong and clean, everything tastes so fresh and the there's enough salt and fat to satisfy me. Presentation-wise, a larger platter would have been better — here everything seems piled on top of each other — but this is a minor point.
Next, the main courses start to appear. First up is a yellow bean salad with pancetta and roasted garlic. Any kind of bean tends to be enhanced by a smoked meat and this salad is no exception. It's full of flavour, the beans are cooked perfectly and I love the roasted garlic cloves scattered throughout.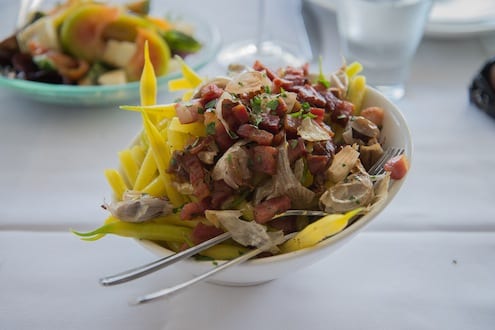 In the background is a heirloom tomato salad. I'd have liked a little more onion or shallots but tomatoes, soft cheese and fresh basil leaves are a classic combination for good reason.
Next, we're served some lamb cutlets, almost hidden under a layer of greens.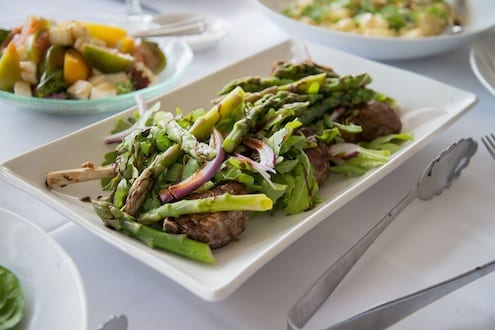 The lamb is succulent and tender and goes perfectly with the just cooked asparagus, fresh rocket, slivered red onions and aged balsamic vinegar.
Next up is a colourful roasted vegetable, poppy seed and baby spinach salad.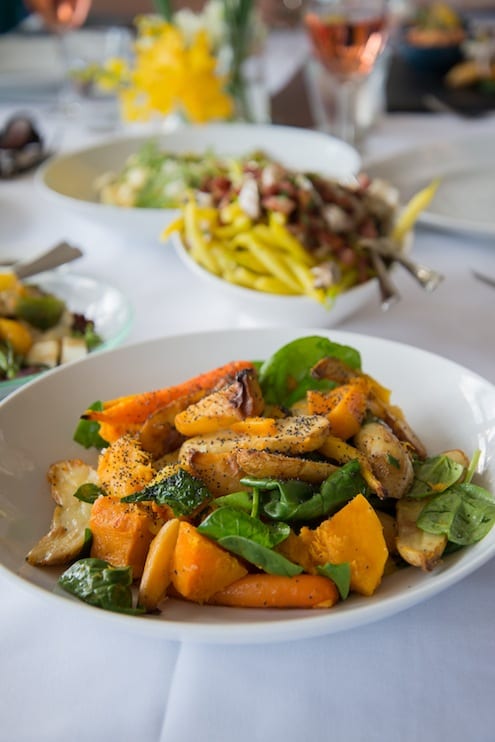 This salad is delicious – so simple and yet so tasty. This is something you could easily throw together at home. Roast some pumpkin, carrots and potatoes with olive oil and salt and when they're cool, toss them with baby spinach, poppy seeds and a light vinaigrette.
Next, we have gnocchi in a creamy pumpkin sauce with scattered blue cheese, walnuts and rockets.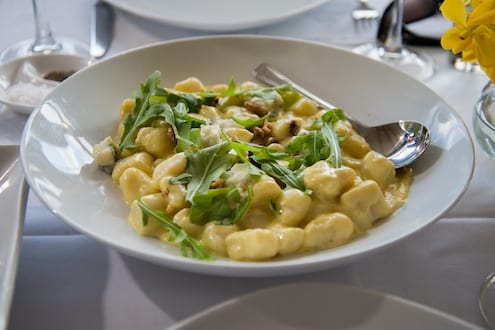 This is probably my least favourite dish – I like all the individual ingredients but together, this dish just doesn't hit any strong notes for me.
The risotto with salmon, on the other hand, is creamy, rich and full of flavour. Everyone knows that risotto is all about achieving that delightfully creamy texture. But risotto is also about working flavour into the dish via a good stock and carefully selected ingredients. Here the salmon has been simply cooked and leeks have been julienned and deep-fried to add an interesting texture and additional onion flavour to the dish. It's extremely good.
To accompany each course we are offered a selection of Wild Oats wines. I'm not a big drinker so am satisfied with a sip or three of each kind. Wild Oats is one of the labels created by Robert Oatley, owner of Hamilton Island, and founder of Rosemount winery in the Hunter Valley.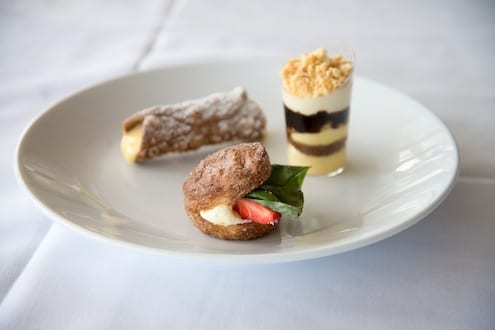 Dessert today is by Adriano Zumbo, Sydney patissier extraordinare. On the menu we have cannoli with olive oil and lemon custard, mini tiramisu and mini 'panini' with rice pudding, fresh basil and berries.
The cannolo is so crisp and brittle it shatters under my teeth while the lemon and oil custard is creamy, rich and intensely flavoured. Gorgeous stuff. I don't usually like tiramisu but I happily eat this one and am intrigued by the use of pine nuts in the crumb topping. The stand-out, for me, however, is the mini 'panini' with rice pudding, fresh basil & berries. The 'panini' tastes like a sugared, deep-fried croissant and it's topped by a wholly delectable spoonful of vanilla rice pudding, fresh basil leaf and strawberry. It doesn't sound like much when it's written down like this but believe me when I tell you it's sheer genius. In fact, it's so good I eat three of them.
Cantonese Style Banquet by Kylie Kwong (Billy Kwong)
The deck at the Hamilton Island Yacht Club is the scenic setting for today's Cantonese style lunch by Kylie Kwong, which is being hosted by Audi, major sponsor of Race Week. 
Sydney chef Kylie Kwong made her name with her popular restaurant Billy Kwong in Sydney's Surrey Hills. Since then she's gone onto host her own TV series and publish numerous cookbooks.
First up, some pickled vegetables.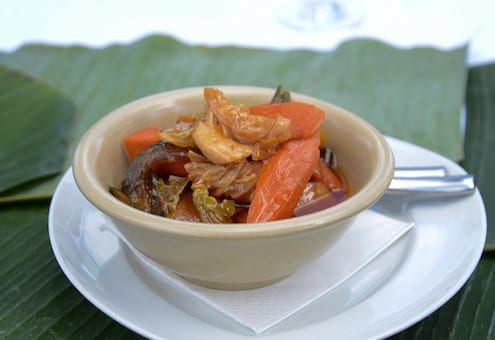 Now I've eaten a lot of Chinese pickles over the years but I have to say that these are hands down the best pickles I've ever had. The quality of the produce was outstanding and the team at Billy Kwong had brought out the flavours with a subtle yet flavourful mix of vinegar and oil.
Next up were Mini tarts roasted pumpkin and black bean vinaigrette.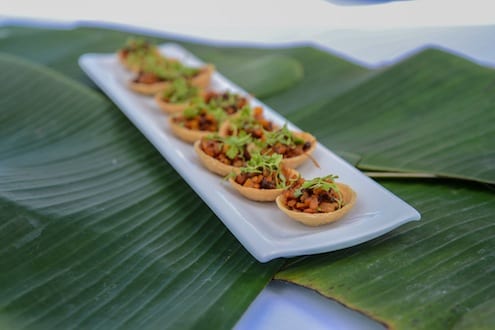 I'd never seen pumpkin served like this anywhere in China before but Kylie assures me afterwards that pumpkin and black bean are often paired together. These tarts were fantastic, with a great balance of flavours between the sweetness of the pumpkin and saltiness of the black bean. I had three and would have have happily eaten four.
Vegetable dumplings are served next and they're bursting with the goodness of greens.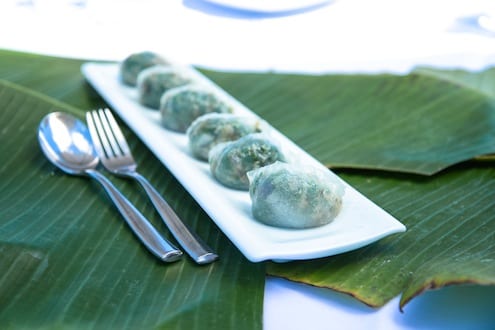 The wrapper is perfect – thin but sturdy enough to keep the substantial filling contained. The dumplings are served with a thin hoisin-y sauce.
Next we are served some shrimp wontons with a mildly tangy dipping sauce.
Crispy and piping hot, they are full of shrimpy goodness.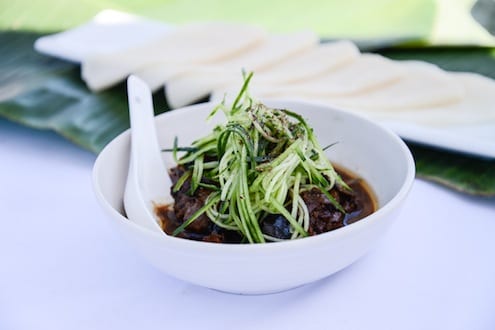 Next, stewed eggplant or pork is served with pancakes so people can make their own wraps a la Peking Duck. The eggplant is rich and flavourful if a trifle sloppy in the pancake.
The next dish is mini crispy salt bush cakes with home-made chilli sauce.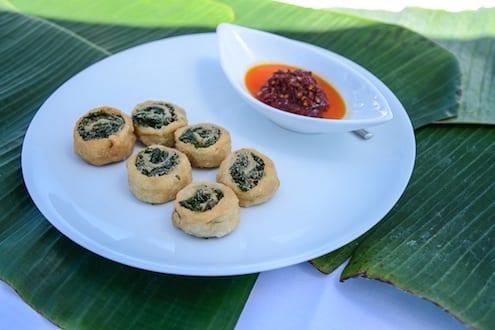 I like the juxtaposition of native Australian ingredients — saltbush — into a Chinese style pastry and the pastry has a a marvellously crispy texture. The chilli sauce is outstanding – rich, flavourful and a perfect blend of hot, salty, sweet and savoury.
For the last course, Kylie has put an Australian spin on a Chinese classic.
Zhongzi — or steamed rice parcels — are boiled rice parcels traditionally made with pork, chinese sausage, chestnut, mushrooms and soy sauce wrapped in lotus leaves. Kylie's take on zhongi features organic macadamias, goji berries and salted radish. This is fusion food executed with style and flair.
With all the dishes being made using organic, sustainably harvested produce, today's lunch was like an upmarket version of yum cha (dim sum), traditionally served for brunch at Cantonese restaurants. I didn't think anything could top my usual, beloved yum cha experience — catching up with family and friends, bamboo steamers crowed on a lazy susan, noisy restaurant, messy kids, and pot after pot of steaming hot tea — but today's lunch comes pretty darn close.
'30' Dinner by Shannon Bennet (Vue de Monde) and 4 of his protégés
Freshly shaved truffle? Don't mind if I do.
My final night on Hamilton Island is one of unabashed, push-the-boat-out glamour. To celebrate 30 years of Race Week, Audi host a '30' dinner in the grounds of Qualia, voted Best Resort in the Word in 2012. The '30' dinners features Shannon Bennet (Vue de Monde) and four of his protégés, who are all under 30 years old.
The courses will proceed as follows:
Canapés by Jim McDougall, previously Vue de Monde's Sous Chef and Café Vue 401's Head Chef and now part-owner and Head Chef at two-hatted Stefano's),
1st course by Josh Lewis, previously of Vue de Monde and most recently at Loam;
2nd course by Cory Campbell previously of Copenhagen's Noma and now Vue de Monde's Head Chef;
3rd course by Shannon Bennett & Cory Campbell; and
4th course by Darren Purchese, pastry chef at Vue de Monde, and now owner of Burch & Purchese Sweet Studio.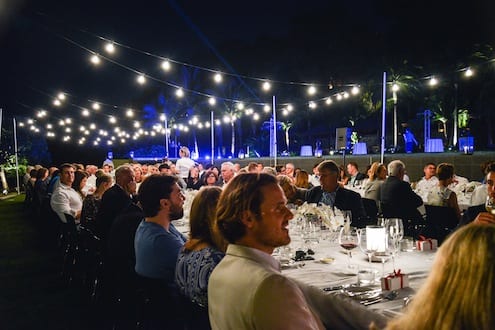 Owing to a mixup — I was working off an old itinerary — I arrive at the '30' dinner just when everyone is sitting down to eat, having missed a synchronised swimming display featuring Colette Dinnigan swimwear and pre-dinner snacks by Jim McDougall. Damn.
The first course is by Josh Lewis and consists of raw local fish, raw nori, bone marrow and sea lettuce.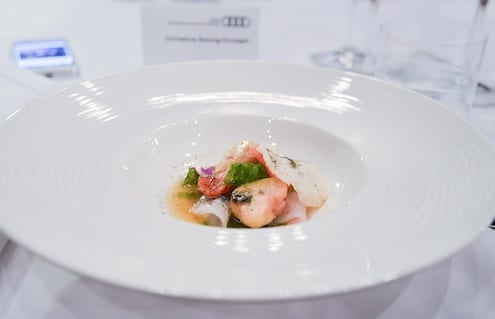 On the plate it looks interesting but not overly striking. Once in the mouth though, this dish is absolutely stunning. I'm a big fan of marrowbone — its flavour and texture is exquisite — and here it has been daintily cooked and plated alongside raw fish, nori powder and just cooked sea lettuce. It's so simple and yet so beautifully executed.
The next course by Cory Campbell proves to be more challenging for some at the table.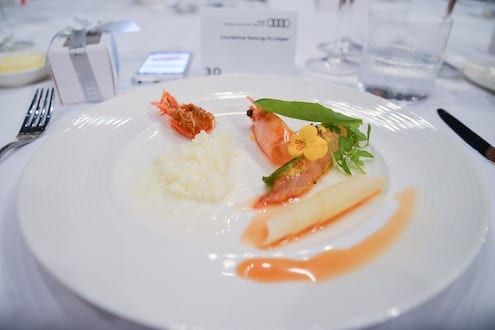 For his dish Cory has used a whole prawn in three different ways: the shelled body is served raw — sashimi style — the head is steamed and the shell and legs have been fried.  A mound of wasabi sorbet slowly melts away on the plate while a sauce replete with fragrant prawn stock and the richness of seaweed salted duck yolk has been gently spooned over a furl of mustard greens.
There are a lot of different elements going on in this ambitious dish – as someone who happily boils prawn heads and shells to make prawn stock I can appreciate where he's going with this but other people seated near me are a little underwhelmed.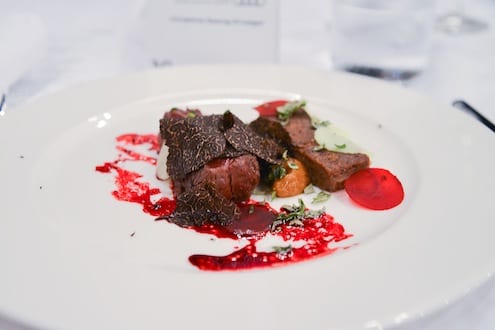 The third course is by Cory and Shannon and is a dish of barbecued beef, beetroot, saltbush and truffle. Beef is served two ways: medium-rare steak fillet and pressed crispy beef (the beef is slow-cooked, shredded, moulded and then pan-fried so the outer layer develops a crispy crust).
Fresh truffle is grated on the plate table-side by Chef, and the fragrance is incredible. I really like this rather bloody looking dish but I can't help wishing that some green vegetables or salad leaves were served with it as it's quite a rich dish. But this is a minor point.
The next course is dessert by Darren Burch and my seat mates are presented with passionfruit sago pudding.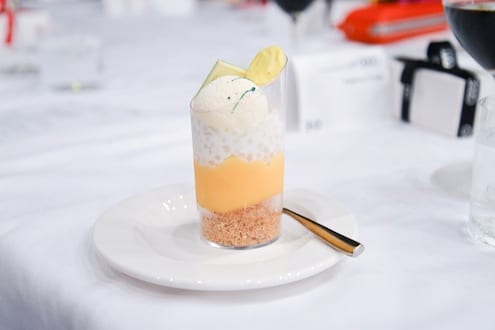 I love a good sago dessert and this one looks pretty as a picture. Back home, it inspires me to make my own (much simpler) sago dessert: Passionfruit Sago Pudding.
I'm offered the dairy-free dessert option – berries in jelly.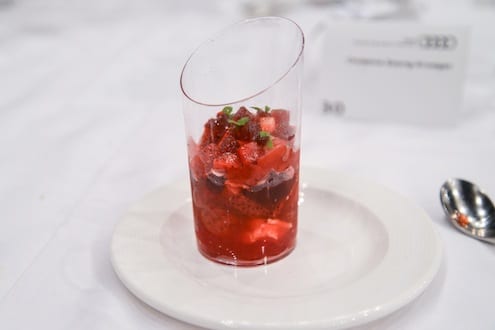 Berry jelly, berry gels and fresh strawberries prove to be a winning combination. The contrast of textures is sublime while the tartness of the berries nicely balances the sweetness of the jelly.
We're then invited to visit the  magnificent dessert buffet set up by Burch & Purchese featuring cake pops, truffles, French mendiants, chocolates, chocolate bark, and lemon curd tarts. I pop half a dozen in my mouth — not all at once — and the quality is outstanding. Thoughtfully, 'doggy bags' are provided for guests to take some desserts home with them.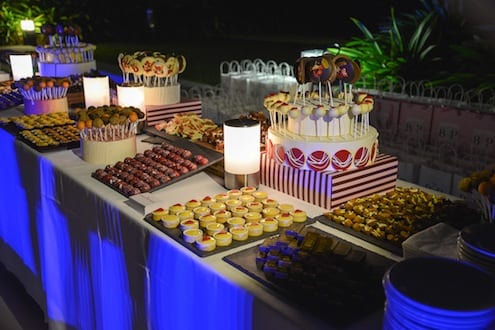 It's been a fantastic night executed with nary a hitch. The collaborative nature of this dinner — five Chefs and colleagues coming together to create a special dinner — really appeals to me and I can only be thankful that I was able to experience it.
Hamilton Island: you sure do know how to show a girl a good time. I guess it just proves the old saying: too much of good thing can be wonderful.
Address book
Audi Hamilton Island Race Week: Held every July on Hamilton Island, Whitsundays.
Wild Oats Ladies Lunch: $140 per person included a three course luncheon, a glass of Piper-Heidsieck on arrival and matching Wild Oats Wines
Romanos, Front Street, Hamilton Island. Tel: (07) 4946 8212.
Hamilton Island Yacht Club: bookings can be made at the Bommie Restaurant and Deck for meals or drinks. Telephone: +61 7 4948 9433.
Billy Kwong: Shop 3, 355 Crown Street, Surry Hills, NSW. Tel: +61 2 9332 3300 or email: enquiries@kyliekwong.org.
Vue de Monde: Level 55, Rialto, 525 Collins Street, Melbourne, VIC. Tel: +61 3 9691 3888 or email: vuedemonde@vuedemonde.com.au. You can book a table here.
Stefano's: Cellars of the Grand Hotel, Langtree Avenue, Mildura, VIC. Tel: +61 (3) 5022 0881 or email: info@stefano.com.au
Burch & Purchese: 647 Chapel Street, South Yarra, VIC. Tel: +613 9827 7060 or email: info@burchandpurchese.com
Qualia: Hamilton Island. For reservations email: reservations@qualia.com.au or check out reservations.
Christina Soong-Kroeger travelled to Hamilton Island as a guest of the island. 
Christina Soong-Kroeger
Christina publishes The Hungry Australian - a collection of recipes, reviews and stories about food - and is a regular contributor to Sumptuous. Her writing has appeared in the China Daily and That's Shanghai while her photography regularly appears on Foodgawker, Tasteologie and Photograzing. After eating her way around Shanghai, London, Hong Kong, Leeds and Melbourne, she now calls Adelaide, South Australia, home again.