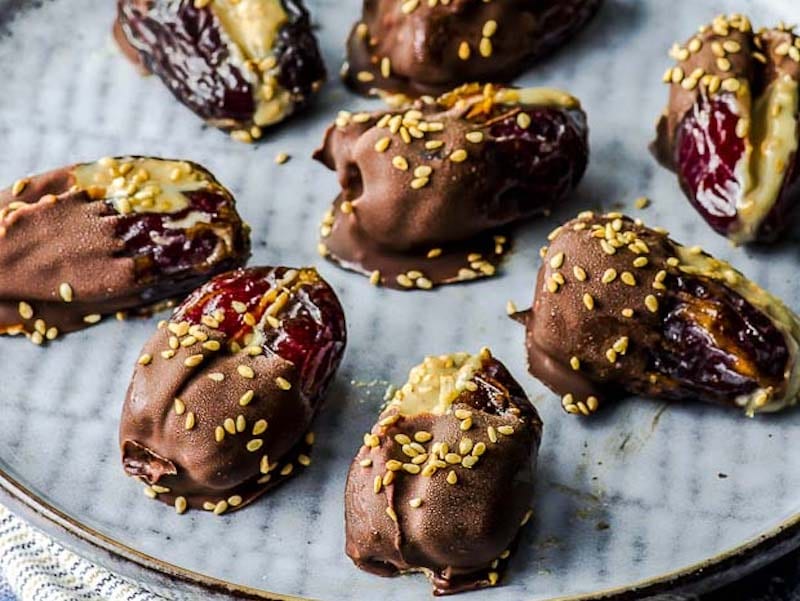 This delicious and oh-so-easy Halva-Stuffed Date recipe can be served with afternoon tea, as a side dish, or as a special holiday treat.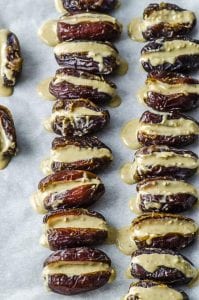 We love stuffed dates for the incredible punch of sweet and fabulous flavor that they deliver in bite-size portions. Plus, we love the fact that whenever we serve our Halva Stuffed Dates, a chorus of oh's and ah's emanate from the table right after the very first bite.
You'll have the same effect on your guests with these chewy, chocolate-covered stuffed dates that take minutes to prepare with just a simple handful of ingredients.
Our Halva Stuffed Date recipe features tahini, powdered sugar, and roasted sesame seeds blended into a delicious cream filling. Once the halva mixture is blended and the dates are stuffed, we freeze them before dipping half in dark chocolate and a sprinkling of sesame seeds. We then return the dates to the freezer until ready to serve.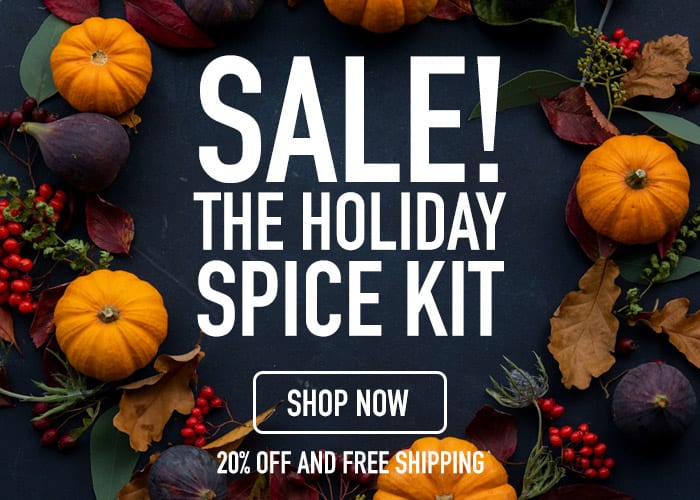 Freezing gives the stuffed dates a wonderfully chewy texture because the natural sugars in the fruit prevent them from hardening when frozen. What's great is that you can always have a batch on hand for easy meal planning or last-minute special occasions!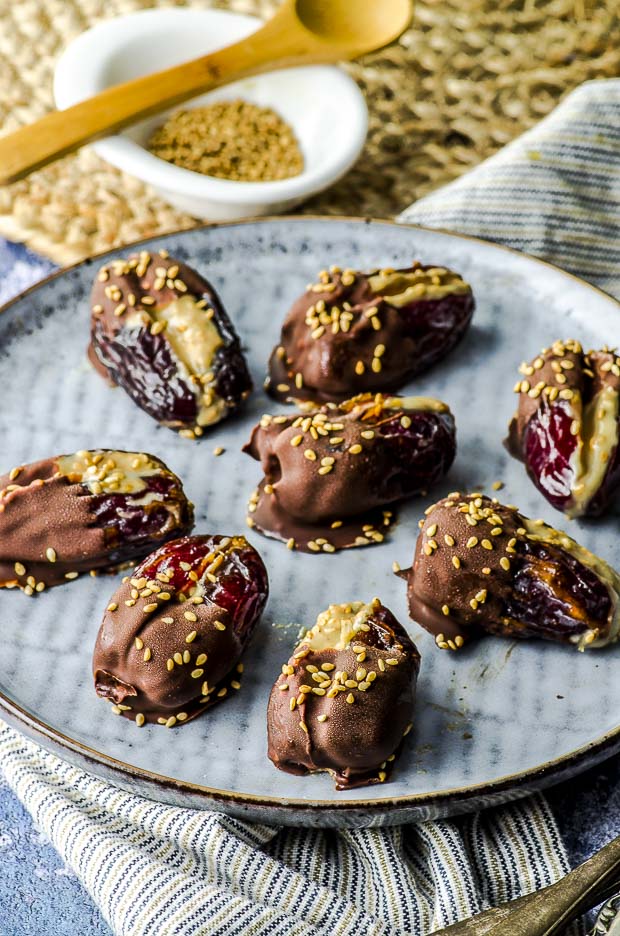 Easy Variations for Every Palate
This recipe is so quick and easy, you'll want to experiment with other flavors. Try stuffing the dates with a blend of:
Pistachios and Maple Syrup
Almond flour, Sugar, and Orange Blossom Water
Walnuts (you can find the recipe in our cookbook TAHINI & TUMERIC: 101 Middle Eastern Classics Made Irresistibly Vegan )
Cashews
We have collected a great variety of Middle Eastern-style gold-leafed glass dishes that make a beautiful serving tray for the Stuffed Dates. Any serving piece will do, though, and we encourage you to serve the dates alongside rows of plain dried fruit like apricots, figs, pears, or apples; a small dish of pistachios, and a pot of mint tea.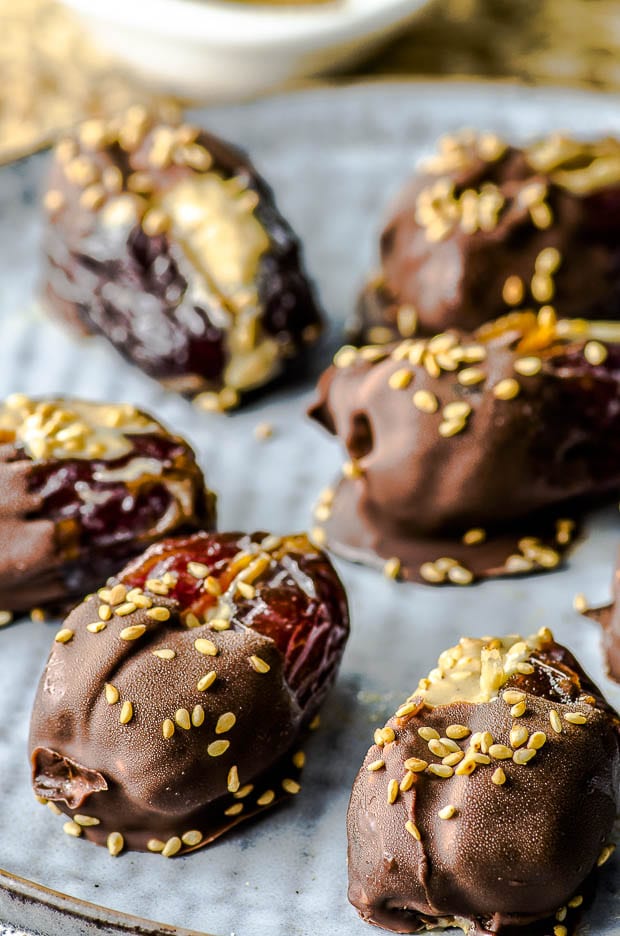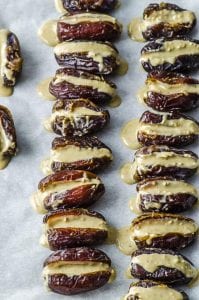 Halva-Stuffed Dates
Vicky Cohen and Ruth Fox
Ingredients
22-24

Medjool Dates

2/3

cup

Tahini

1/4

cup

plus 1 tbsp powdered sugar

1/8 -1/4

tsp

cardamom

optional, see Note 1

3

tbsp

toasted sesame seeds

plus more for sprinkling
FOR THE CHOCOLATE COATING
1/2

cup

chocolate chips

2

tsp

refined coconut oil
Instructions
Line a large baking sheet with wax or parchment paper. Set aside

Using a sharp paring knife, carefully score the dates vertically, open them and carefully remove the pit and any hard end, if present

Whisk the tahini and sugar in a medium bowl. Stir in the cardamom, if using, and toasted sesame seeds

Stuff each date with about 1 to 1 1/4 tsp of tahini mixture and place the on the lined baking sheet

Place baking sheet in the freezer for 15 – 20 minutes (or longer, if you need to)

Combine the chocolate chips and coconut oil in a heat proof bowl, and melt (you can use a microwave in 20 second increments or on the stove on a double boiler)

Remove the dates from the freezer. Dip each date halfway through in the melted chocolate and place them back on the baking sheet. Sprinkle some sesame seeds over the chocolate and return to freezer until ready to eat
Vicky Cohen and Ruth Fox
We are two sisters born and raised in Barcelona, Spain, with Sephardic and Middle Eastern roots. We grew up eating the best, most flavorful, comforting home-cooked meals prepared by our mom, who taught us everything we know about cooking. When we moved here to the U.S. we felt it was really important to keep our traditions and background alive, and we've done so by sharing it with everyone we've met throughout the years. After all, what better way to make new friends and share our love and culture than through food, right? Our friends have come to enjoy our food and gatherings so much that are always asking us for our recipes. That inspired us to start a cooking blog called "May I have that recipe" where we share recipes we've created inspired by our multicultural background.