As Halloween gets closer, these minty chocolates are suitably creepy to bring to parties. And delicious.
By Jane Lyons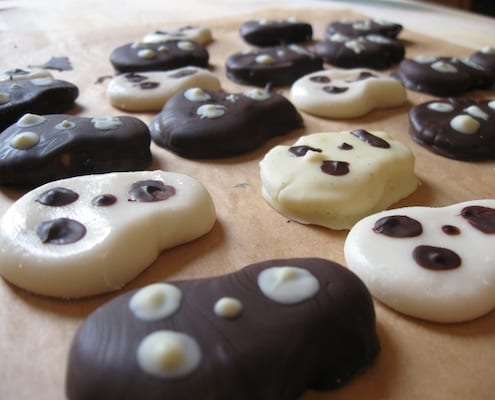 As Halloween gets closer I start to think about something suitably creepy to bring to parties, these minty chocolates make the perfect gift.  Peppermint Creams are an old school classic in Britain – our answer to the Peppermint Patty.  They're great for kids to make as there's no cooking involved (except for melting the chocolate in the microwave).    If you're really crafty and have a steady hand (clearly I do not, hence some seriously wonky eyes and mouths here) you could try to recreate some traditional and beautiful Mexican sugar skull designs.
Print
Halloween Peppermint Creams
---
Author:

Jane Lyons

Total Time:

15 minutes

Yield:

1

2

1

x
10oz

/ 2.5 cups icing / confectioners sugar

4 oz

/ 4 tablespoons evaporated milk

1/4 teaspoon

or

8

–

10

drops of peppermint oil

2oz

good quality dark chocolate broken in to small squares (I used Green and Blacks 70% cocoa)

2oz

good quality white chocolate broken in to small squares (again, I used Green and Blacks)
---
Instructions
Mix the sugar, milk and peppermint oil in a bowl until you have a firm-ish dough (you may need to sprinkle a little extra sugar on to make it dry enough to handle).
Pull off little bits of dough and roll in your hands to make little balls, flatten out a bit and shape in to skulls.
Place the skulls on to some grease proof paper on a tray and refrigerate for an hour or so.
Place the white and and dark chocolate in to two small separate bowls, place each one in the microwave for bursts of 30 seconds, stirring between each burst to help it melt. Remove it before it's totally melted to avoid overheating and getting grainy, it should only take about a minute and a half or less.
Using two forks dip the skulls in the chocolate and put back on the greaseproof paper, let the chocolate set a bit before doing the eyes, nose and mouth (you can use any small pointed implement to do this, I used the end of a whisk attachment to do mine!).
Place back in the fridge to let them set completely. I store mine permanently in the fridge as I think they taste better that way.
Notes
Lots of recipes for peppermint patties and peppermint creams call for peppermint extract, not oil. Well I like my mint flavor strong – I'm talking Altoid strong here. For that, you need the peppermint oil. It's hard to find but worth it. Also, it's very potent, a little goes a long way: I used 10 drops here which resulted in a reasonably strong minty flavor (I could have gone stronger, but not everyone shares my mint addiction, so I kept it tame)
I've covered these in dark chocolate, white chocolate and some I've left plain except for the eye, nose and mouth decoration.  Personally, I think the dark chocolate ones are the best – the bitterness is a nice counterpoint to the very sweet interior.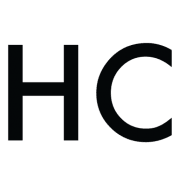 Jane Lyons
Jane Lyons is the writer behind Cooklyn Veg.  She lives in Brooklyn, NY but is originally from London, England and has been a vegetarian for nearly 30 years. Though life in London and New York is similar in many ways, the one thing that always reminds her she's in a foreign land is food. The sweetness of American bread, the blandness of the cheese, and the chocolate – don't get her started on the chocolate. On the flipside, there are many culinary treats that make her love living in the USA, For instance: the amazing array of fruits that a proper hot summer can yield, pecan pie at Thanksgiving and actual authentic Mexican food.