Habanero Porcini Mac and Cheese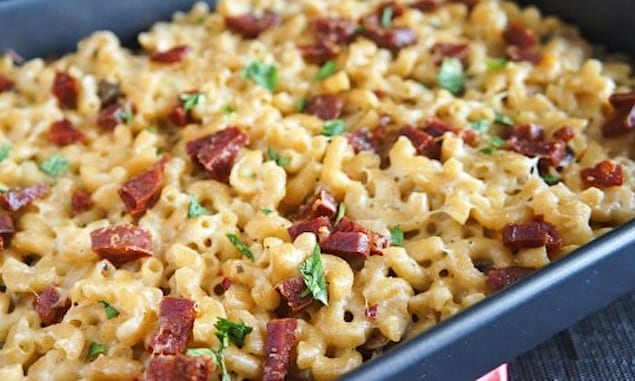 Habanero Porcini Macaroni and Cheese is full of flavor with earthy roasted mushrooms, spicy habanero pepper jack cheese and flavorful smoked chorizo sprinkled on top. It's cheesy, spicy, smokey, and hearty.
By Carolyng Gomes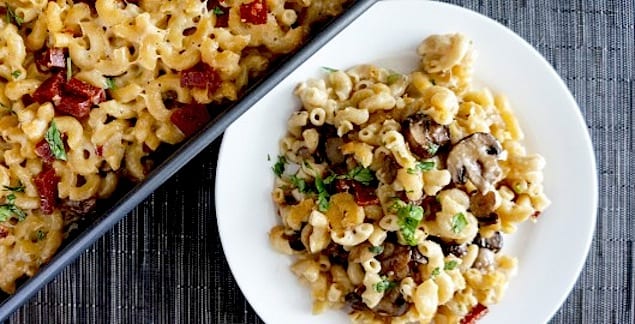 This stuff is the bomb. It is cheesy, spicy, smokey, salty and hearty. Who knew a mac and cheese could be so many things? My favorite part of it is all that smokey chorizo. I have been known to go through the pot and eat as many bits of chorizo I can before serving my guests, including the hubs. I can't help it. I am addicted. A vegetarian that eats smoked chorizo and crispy bacon whenever it's available may seen taboo, but that's ok. I mean, it's not like I convinced you I was this die hard vegetarian or anything… right?

Habanero Porcini Mac and Cheese
Habanero Porcini Macaroni and Cheese is full of flavor with earthy roasted mushrooms, spicy habanero pepper jack cheese and flavorful smoked chorizo sprinkled on top. It's cheesy, spicy, smokey, and hearty.
Ingredients
1 lb macaroni, whole wheat
16 oz porcini mushrooms, sliced
3 tbsp olive oil
¼ cup butter
¼ cup flour, all-purpose
2 cups almond milk, unsweetened
¼ cup whipping cream
8 oz habanero pepper jack cheese
8 oz mozzarella cheese
½ cup smoked chorizo, diced
Instructions
Preheat oven to 400 F.
In a sheet pan combine porcini mushrooms and olive oil. Toss to coat each mushroom evenly. Transfer to oven and bake for 25 minutes, or until mushrooms are caramelized and reduced in size. Set aside.
In a large saucepan on medium heat add butter and flour. Allow to cook for 3 minutes, whisking continuously until thick.
Pour in almond milk, whisking continuously until the sauce thickens and bubbles. Let stand, whisking occasionally to prevent sticking, for 5 minutes.
Add whipping cream to roux and whisk until fully incorporated.
In a large pot boil water and cook macaroni according to manufacturer's directions. Drain and set aside.
Meanwhile, add habanero jack and mozzarella cheese into roux, whisking vigorously until incorporated.
Pour macaroni into roux and mix until each macaroni is covered.
In an oiled oven safe baking pan or dish, add half of the macaroni. Top macaroni with mushrooms.
Mix ¼ cup chorizo into remaining macaroni and spoon over mushroom layer.
Sprinkle remaining chorizo on top of final macaroni layer.
Transfer dish to oven and bake for 20 minutes, until chorizo is crisp and top is golden.
Carolyng Gomes
Carolyng loves to eat, loves to cook and loves to eat more. To her a recipe is more a list of suggestions, saving time doesn't mean sacrificing on flavor and when in doubt, a splash or two (well, a nice pour) of wine never hurts. Welcome to her Cocina Latina, where South American and Latin fusion dishes are always on the menu.