Add a crunch to a basic smooth guacamole with red onions and grated carrots. Enjoy bursts of flavor from your choice of toasted spices and garlic.
By Rinku Bhattacharya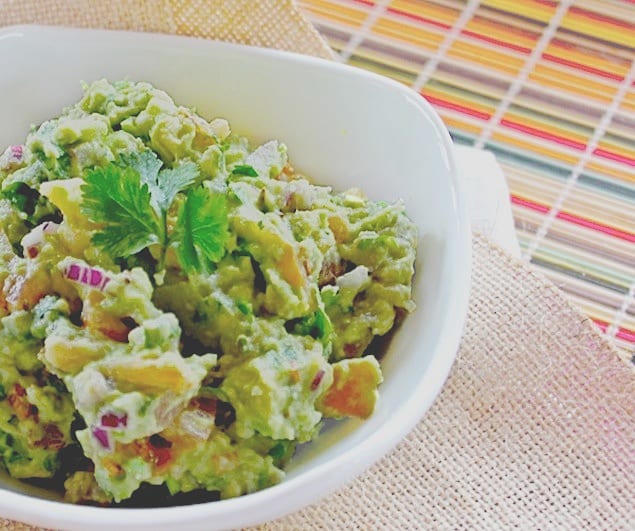 Guacamole with Toasted Cumin and Garlic
Add a crunch to a basic smooth guacamole with red onions and grated carrots. Enjoy bursts of flavor from your choice of toasted spices and garlic.
Author:
Rinku Bhattacharya
Ingredients
2 Haas avocados (peeled and pitted)
½ teaspoon salt or to taste
1 lime, halved
1 medium sized ripe tomato, diced
½ teaspoon salt or to taste
3 tablespoons finely diced red onion
1 jalapeno, diced
2 tablespoons chopped cilantro
1 teaspoon olive oil
½ teaspoon cumin
1 large clove garlic, minced
Instructions
Place the avocado in a mixing bowl and mash the flesh.
Add in the salt and squeeze in the lime juice, you would want about 2 tablespoons of lime juice, so if your lime is very juicy you may not want the entire lime.
Mix in the tomato, salt, onion and the diced jalapeno and mix well.
Stir in the cilantro.
Heat the oil and add in the cumin and the garlic and cook for about 2 minutes until the cumin is all toasty and the garlic is fragrant and a pale toffee color.
Add in the mixture to the guacamole mixture and let the mixture rest for at least 15 minutes before serving.