Resident coffee addict Mike Crimmins with a java inspired tip for grilling season.
By Mike Crimmins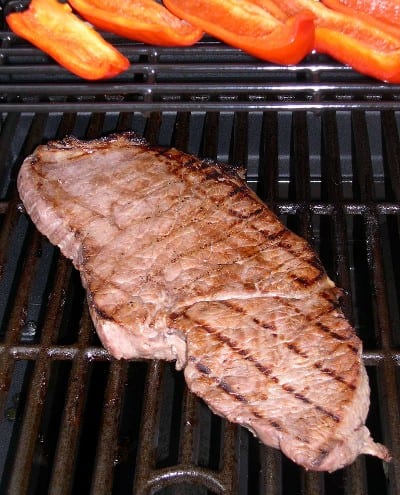 While I'm trying to eat less red meat and more green vegetables, it's about that time of year when all I can think about is grilling outside every evening. Of course, being a certified coffee addict, my favorite recipes include java in one way or another.
One of my favorites is caffeinated London Broil. The coffee flavor isn't overwhelming, the flavors of the marinade came out stronger, but it's hard to miss the hints of coffee. It adds a slightly woody, somewhat nutty flavor to make this recipe one hundred percent delicious.
Ingredients
Approximately two pounds of London broil steak
½ cup of coffee. Use a dark roast for best results.
1/3 cup of light corn syrup
¼ cup of Worcestershire sauce
3 tablespoons of ketchup
4 tablespoons of brown sugar
4 tablespoons of butter
¼ to ½ teaspoon of freshly ground black pepper
olive oil
kosher salt
Instructions
Combine the marinade ingredients (everything except the steak, olive oil and salt) into a saucepan and cook slowly over medium heat until the brown sugar is dissolved and the marinade is completely mixed together.
Take out a ¼ cup of the marinade and put it in a separate covered bowl in the fridge.
Place the London broil in a ziploc bag and carefully pour in the marinade. Extra emphasis on the carefully or it can get messy.
As your closing the bag, try to force out as much air as possible. Let it refrigerate for up to 24 hours.
Turn the grill to medium-high heat.
Drain the marinade from the bag.
Pat the steak dry with paper towels.
Rub the meat with the olive oil and season it with the salt.
Cook the meat on the grill. Cook it to your preference, but I suggest medium-rare. It brought out the flavors of the marinade perfectly.
Take the meat off the grill and put it on a cutting board. I know you're going to want to eat it right then, but cover it loosely with foil and let the juices settle for five minutes.
Slice thinly against the grain.
Season if needed. Warm the marinade from the fridge. Serve and enjoy.
Twelve steps seems like a lot, but when you break it down between the creating the marinade and cooking the steak, it's pretty simple overall.
There is more in the works. Right now in the Daily Shot Of Coffee lab, we're testing more coffee influenced recipes so keep an eye out for more recipes on Honest Cooking in the future.
Photo courtesy of Burger Baroness via Flickr/CC.
Looking for the perfect mushroom sauce for steaks? Check this lovely recipe out.