A perfect bit of summer, this pizza is made on a grilled crust with salty prosciutto, grilled peach slices, arugula, and sweet caramelized onions. Bliss!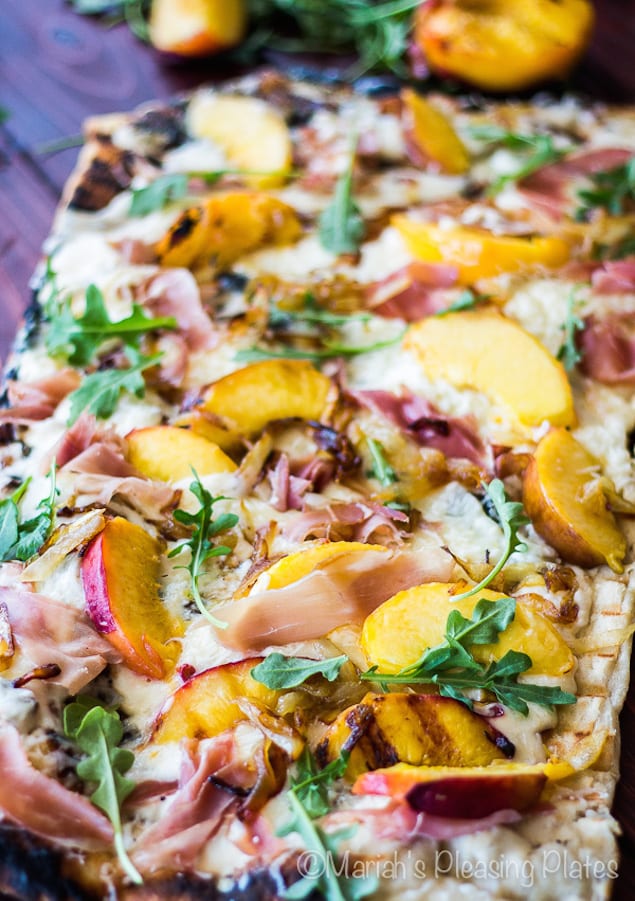 Have you had pizza on the grill yet? Its all the rage. I have been hearing about it for a while now but it took me till this summer to actually get around to trying it. We absolutely loved it and now my husband is requesting grilled pizza every night of the week!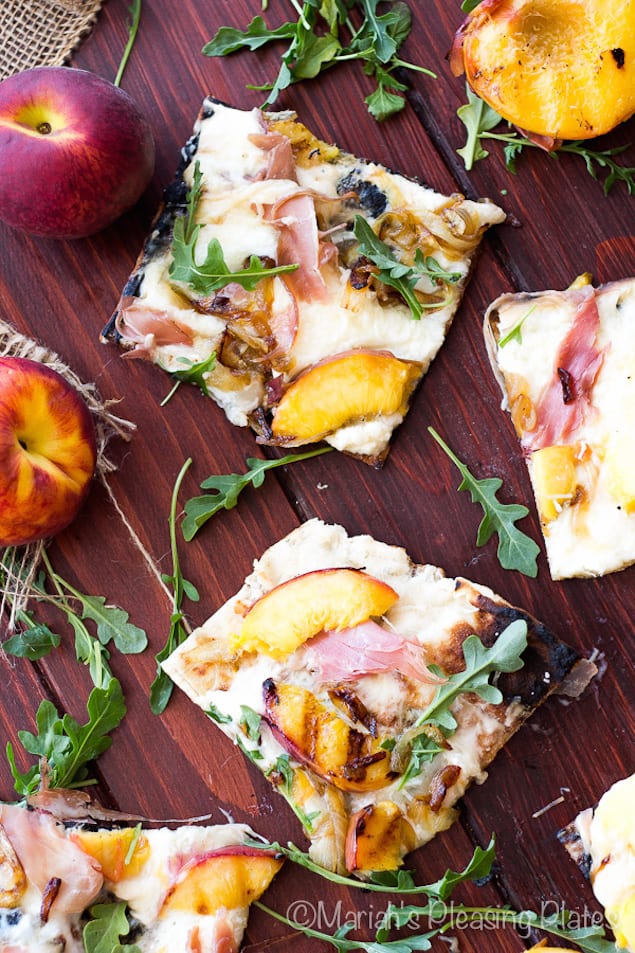 One of my favorite summer combinations is melons and prosciutto. The sweet and salty flavor is everything I could want and more. But melons just don't seem right for a pizza so I decided to substitute with peaches. You just brush them with a little bit of butter, pop them on the grill for a couple minutes and from there you can slice them up and put them on a pizza.
The other two components to this pizza are simple. Rocket lettuce or what is commonly known as arugula. It adds a spicy component. But its the caramelized onions that really make this pizza!
Here are a few tips for grilling Pizza: First off, start with a clean grill or use a grill cover to put on top of the grates. The most important step is making sure that the grill is very hot. You want it to reach around 500°. I have come to find that using a thin crust is a little more difficult to work with because it burns easily. Medium crusts worked best for me. The cooking process goes very quickly so you will need to have all of your toppings and sauces ready before you even put the crust on the grill or else you may run the risk of burning the whole pizza before you even get the toppings ready.
I put my crust in the freezer for 15 minutes before putting it on the grill. This made it a little firmer and easier to put on the grill. Before putting it on the grill, brush the side you are going to put down first with olive oil. Cook for 1-2 minutes on one side and then flip with a long spatula. From there you quickly top that side with your sauce and toppings. Cook for 3-4 minutes or until the cheese is melted and the crust is golden brown.
Find the recipe for the caramelized onions here.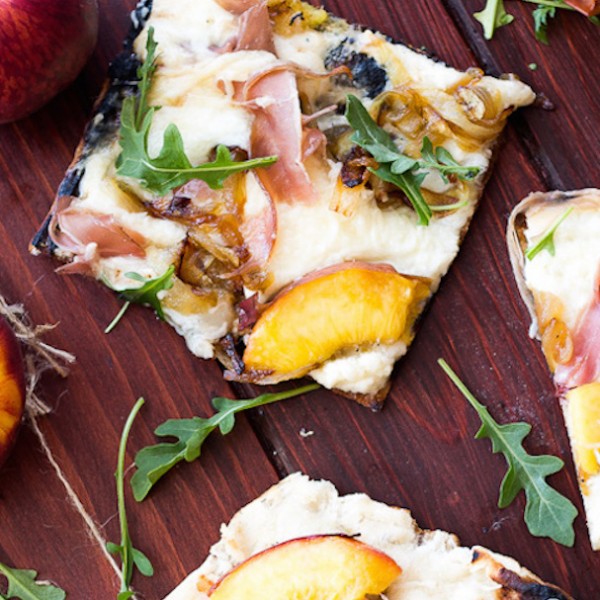 Mariah Mercurio
Course
Main, Pizza, Primi
Ingredients
Grilled Peach and Prosciutto Pizza:
Pizza Dough

Olive Oil for Brushing

2

Cups

Shredded Mozzarella Cheese

1

Cup

Caramelized Onions

see link above for recipe

½

Cup

Reduced Fat Alfredo Sauce

2

Peaches

grilled and sliced

10-12

Prosciutto Pieces

sliced very thin

1

Cup

Arugula

Salt and Pepper for sprinkling
Caramelized Onions:
See link above for recipe
Instructions
Preheat your grill to 550°. Make sure the grill is very clean or use a grill cover. Roll pizza dough out into a circular or rectangular shape to medium thickness. Do not use thin crust as it will burn too easily! Place dough in the freezer for 15-30 minutes to firm up while you prepare the toppings. Bring all the toppings out to the grill with you before starting. Be sure that your grill is brushed well with olive oil. Brush one side of the pizza with olive oil and place that side down on the grill. The dough will puff up. Close the lid and cook for 1-2 minutes. The dough should start to set but should not change color. With a long spatula, carefully flip the pizza dough. Immediately brush the other side with olive oil, spread with sauce and all toppings minus the arugula.Close the grill lid and cook until the cheese is melted and your crust is a golden brown color (about 3-4 minutes). Remove from the grill with a long spatula. Top with arugula, salt and pepper. Cut into slices and serve!
Mariah Mercurio
Hi! I am Mariah. Wife, mommy, and food addict. In my kitchen you will find that everything is made with love and creativity. I am a lover of all carbs and anything white chocolate or raspberry. I am still trying to find my balance of healthy dishes and sweet eats!