PARTNER POST: Dive into the 120 days of summer with Santa Rita wines that pair perfectly with the foods of the season, straight off the grill.
Grill up some flank steak wrapped easily around gooey cheese, mushrooms, prosciutto and arugula. Serve with a light pasta salad and red summer wine.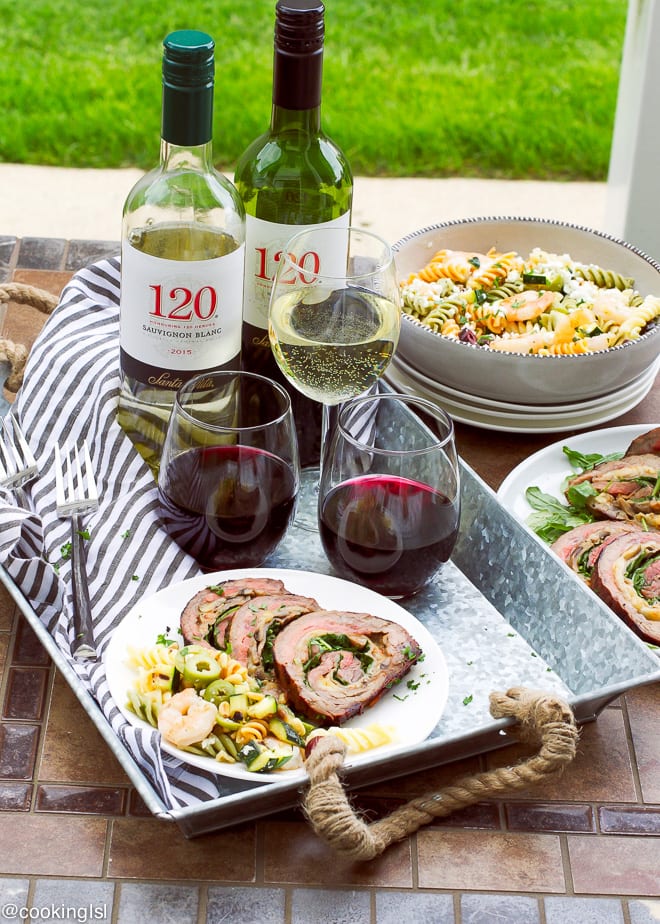 Make this delicious steak, stuffed with cheese, mushrooms, prosciutto and arugula. Easy to make, fancy and elegant. Served with tri-color pasta salad and Santa Rita Wines.
To be honest, I've made stuffed chicken many times, but when I first tried to make stuffed steak, it was a failure. The cut of meat was so thick, so it didn't cook properly.
But I decided to try it again and it worked this time.
This steak is surprisingly very easy to make and perfect for summer entertaining. It tastes delicious, too! Serve it with a salad or vegetables of your choice.
It could be made in the oven, but since the weather has been nice and it is grilling season, I had to grill it.
I grilled this stuffed flank steak, but on a ribbed grill safe cast iron skillet. This way there was no melted cheese, dripping over the burners and the steak got a nice glaze. If you don't own a ribbed skillet, you can still grill it directly on the grill, just keep in mind, you might create a tiny mess.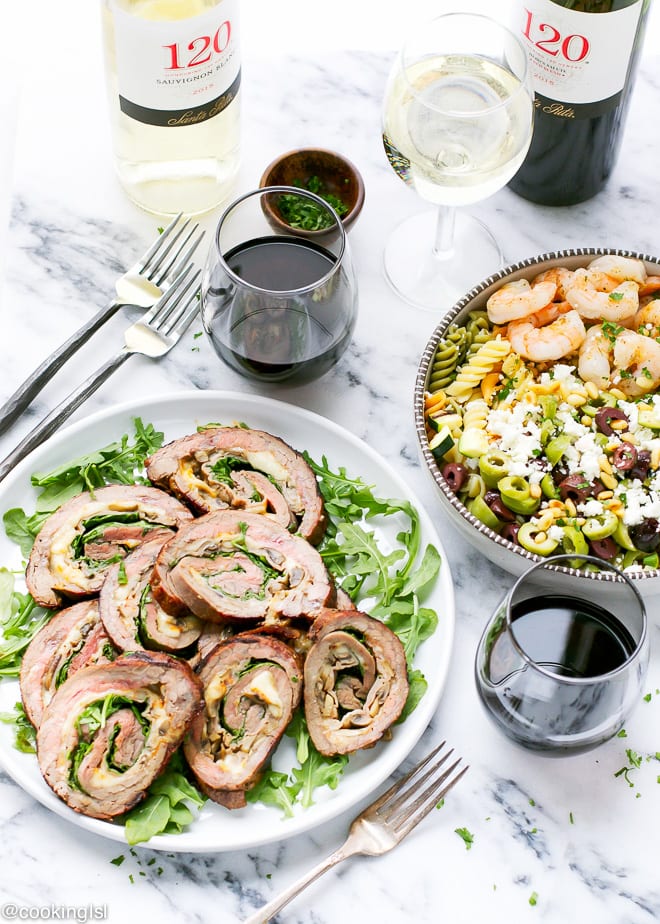 Did I mention, that this grilled steak goes well with a glass of nice wine?
I got a couple bottles of Santa Rita Wine – a Hero's Salute Red Blend and a Sauvignon Blanc.
The red blend paired perfectly with the stuffed grilled flank steak, but for the white wine lovers I made a shrimp pasta salad, to pair with the Sauvignon Blanc.
I also got to try Badia's complete seasoning, which is has a bright flavor reminiscent of Latin cooking and is perfect for seasoning fish, meat, poultry, vegetables and stews. I'll definitely use it again in a recipe this summer.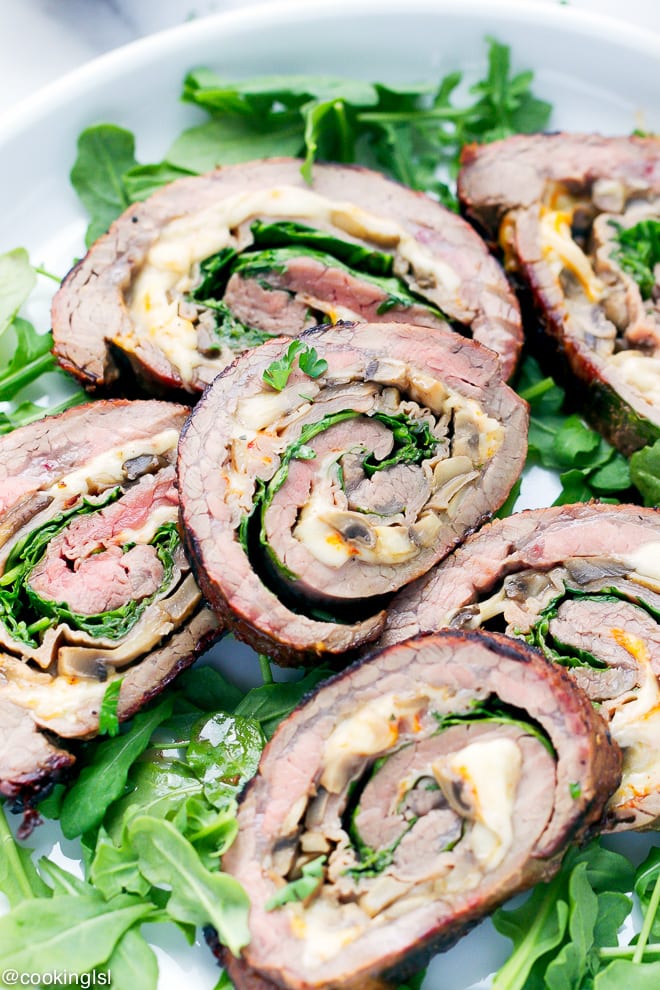 This tri-color shrimp pasta salad is really quick and easy to make. With light olive oil and white balsamic vinegar, it tastes very light, but it could even make a meal of its own. Made with shrimp, grilled zucchini, olives, feta and some toasted pine nuts for extra crunch and flavor.
To me, summer is the perfect time for outdoor entertaining, grilling, enjoying nice food and drinks. And food should be easy to make, so you can enjoy yourself, not get overwhelmed with cooking.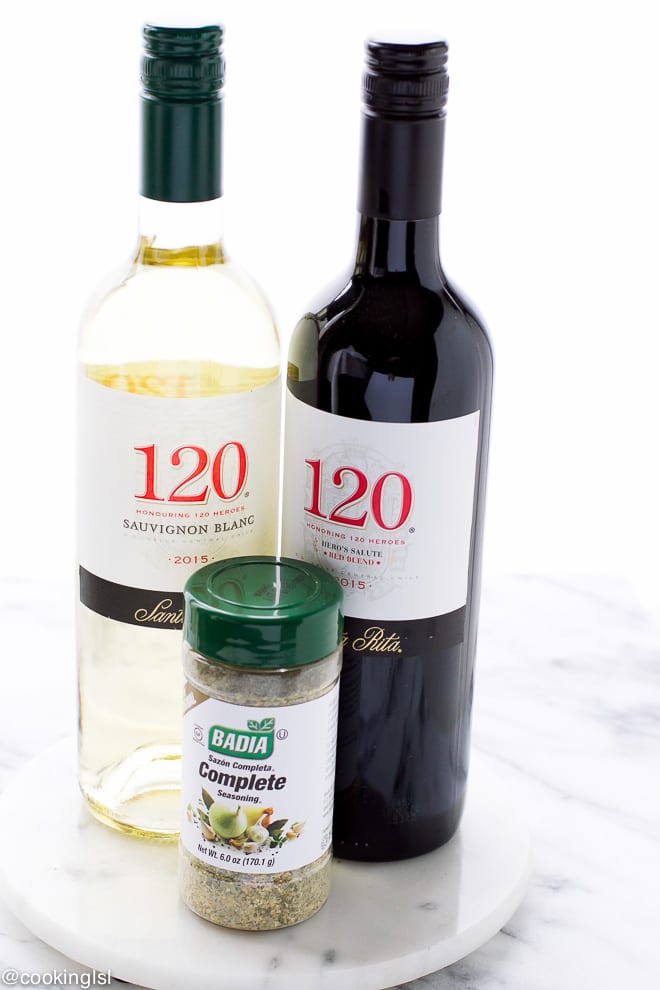 For more grilling inspiration with Santa Rita, check out this grilled Chilean chicken and pebre sauce.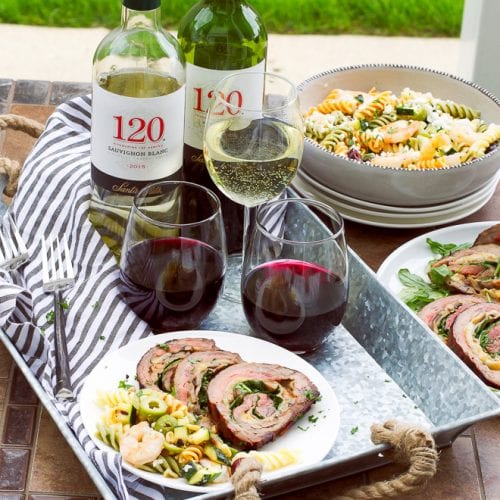 Lyubomira Lsl
Ingredients
For the flank steak:
1

pound

flank steak

2

tbsp

Badia Complete Seasoning

alternatively use seasoning of your choice, divided

2

tbsp

olive oil

1

tsp

Dijon Mustard

1

tbsp

balsamic vinegar

6

slices

Muenster cheese

Provolone could be substituted

4

oz

mushrooms

sliced and sauteed for 7-10 minutes

8-10

thin slices prosciutto

1

cup

arugula
For the pasta salad:
8

oz

pasta of your choice

cooked al dente (according to the instructions on the package)

1

pound

medium shrimp

seasoned with salt and pepper and cooked for 2 minutes per side in 1 tbsp vegetable oil in a skillet on the stove top over medium-high heat

1

medium zucchini

cut lengthwise into ¼ inch slices, drizzled with olive oil and grilled over medium-high heat for 3 minutes on each side

¼

cup

feta cheese

1

cup

olives of your choice

2

tbsp

toasted pine nuts
Dressing:
½

cup

olive oil

4

tbsp

white balsamic vinegar

½

tsp

Italian seasoning

salt and pepper to taste
Other:
baker's twine

ribbed cast iron skillet

Santa Rita Wine For Serving
Instructions
For the pasta salad:
Cut grilled zucchini into ¼ inch cubes.

In a bowl, combine cooked pasta, zucchini, shrimp, olives feta cheese and pine nuts. Add olive oil and white balsamic vinegar. Add Italian seasoning. Season with salt and pepper.
For the stuffed flank steak:
Wash and pat dry steak. Using a sharp knife, carefully butterfly the steak. (It took me a few tries to get it perfect!).

Season one side with 1 tbsp Badia Complete Seasoning.

Add cheese over the seasoned side, leaving about 1 inch on each side.

Add mushrooms, spread over the cheese.

Add prosciutto over mushrooms, covering the cheese, but still leaving 1 inch of steak on each side.

Add arugula.

Starting from the wider side, roll steak.

Tie using baker's twine.

In a small bowl, mix together olive oil, 1 tbsp Badia Complete Seasoning, balsamic vinegar and dijon mustard. Brush steak on the outside with the mixture.

To cook the steak, place a ribbed cast iron skillet inside a gas grill. Cover and preheat grill to medium-high heat. Let the grill preheat for at least 15 minutes.

Place steak on the skillet. Sear for 2 minutes for side (4 sides total).

Reduce heat to medium (medium-low).

Cook steak for 10-12 more minutes, flipping once. A meat thermometer should administer a temperature of 125 F in the middle.

Remove from heat and transfer to a cutting board. Cover with foil and let it rest for 10-15 minutes. Slice into ½ inch thick slices.

Alternatively, you can cook steak in the oven:

Preheat oven to 350F.

Heat 1 tbsp olive oil in a skillet over medium-high heat. Add steak and sear for 2 minutes per side (4 sides).

Transfer to the oven and cook for 10-12 minutes, until meat thermometer reads 125 F.

Transfer to a cutting board, cover with foil and let it rest for 15 minutes. Slice.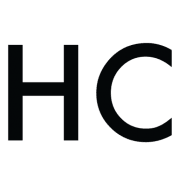 Lyubomira Lsl
Hi, I'm Lyubomira (people call me Mira). I have background in construction engineering and design, but recently discovered my new passion – cooking and food photography.I try to share simple, straightforward recipes, fast to prepare with widely available ingredients.