Juicy grilled flank steak tacos are packed with fresh cilantro, lime juice, avocado, and homemade pico de gallo. Perfect for any summer evening that calls for a fresh fiesta.
By Courtney Rowland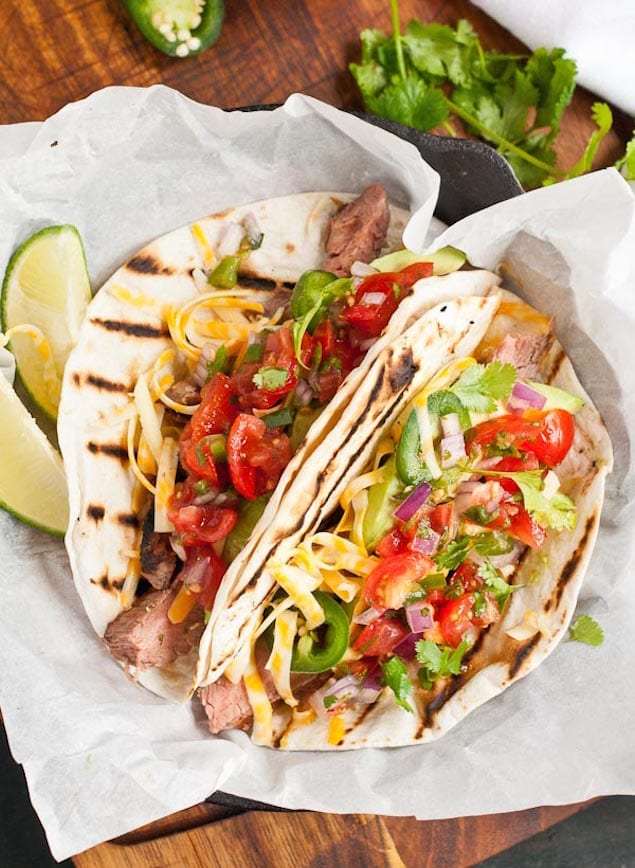 It starts with the smells. No, seriously, the smells! This recipe involves quite a lot of chopping, but don't think of it as a chore. Instead, think of it as an air freshener for your house, a natural and free sinus cleansing. You see, the moment your knife hits the cutting board your house will be filled with the bright scent of limes and the zesty aroma of chopped jalapeño. You'll be transported to a patio far, far away, with visions of margaritas dancing in your head.
Then there are the colors. Bright reds and greens, a hint of purple, and a blush of pink in the steak, these tacos are almost too pretty to eat. Of course, you know I'm never making anything that's actually too pretty to eat, because as fun as it is too look at these tacos, eating them is 1000 times better.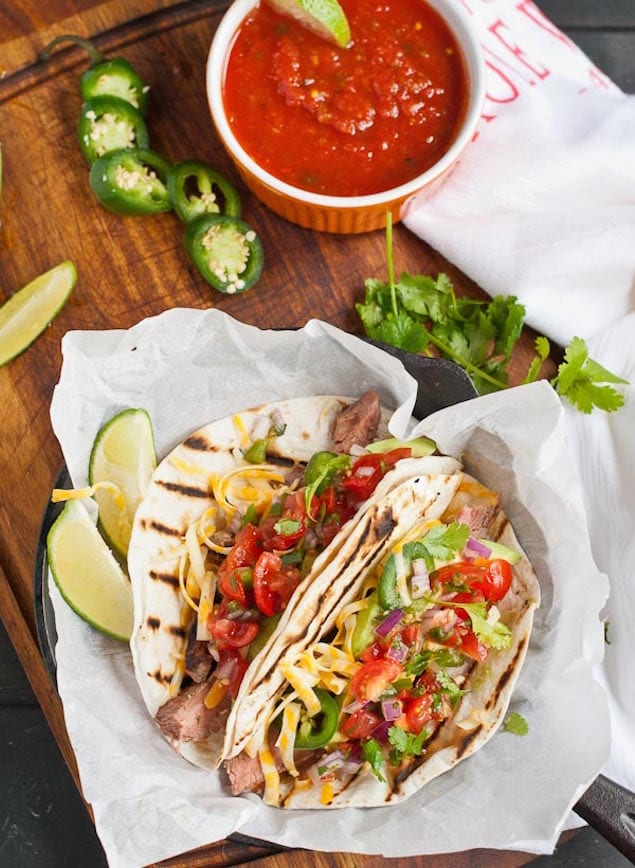 See Also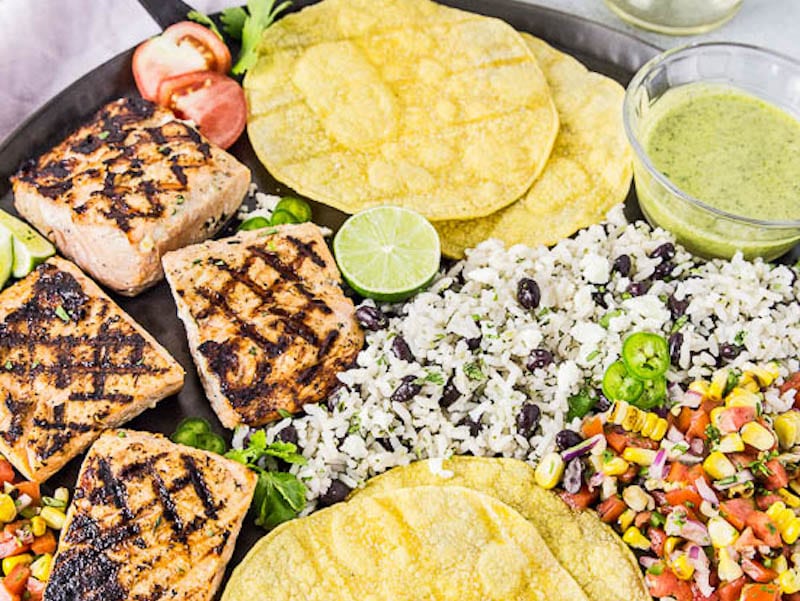 Oh my goodness, this steak. The marinade is a combination of garlic, jalapeño, cilantro, lime juice, and orange juice. It's bright, it's sassy, it's spicy, it's AMAZING. And of course, grilling the tacos, making your own quick pico de gallo, and covering the whole thing with cheese tips the flavor scales from good to EPIC TACO status.
Grilling steak is always a tricky process, and we've had our fair share of tough, overdone steak, but I think we've finally got it down with the flank steak. The key is to grill this thin cut of steak for 7-8 minutes a side, flipping only once. The result is steak that is nicely charred on the outside and a perfect medium pink in the center.

Grilled Steak Tacos with Fresh Pico de Gallo
Juicy flank steak tacos are packed with cilantro, lime, avocado, and homemade pico de gallo. Perfect for any summer evening that calls for a fresh dish. Adapted from the Food Network
Ingredients
For the steak marinade:
2 lbs. flank steak
4 minced garlic cloves
1 jalapeno, minced
1 handful cilantro, chopped
1 teaspoon Kosher salt
½ teaspoon black pepper
Juice of 2 limes
Juice of 1 orange
¼ cup olive oil
For the pico de gallo:
4 tomatoes, chopped
½ small red onion, chopped
1 jalapeno, chopped (I remove half the seeds to keep the heat at medium)
1 large handful cilantro, chopped
Juice of 1 lime
Salt and pepper, to taste
For the tacos:
8 flour tortillas
Shredded jack cheese
Sliced avocado
Lime wedges
Instructions
For the marinade:
Add all of the ingredients to a jam or jelly jar with a tightly sealing lid. Seal then shake until well combined. Place the steak in a large ziplock bag or casserole dish. Pour the marinade over the steak, then seal or cover and allow to marinate for 2-8 hours.
For the pico:
In the meantime, prepare the pico de gallo. Mix together all ingredients in a medium sized bowl. The pico can be serve fresh, but is best if refrigerated for a few hours to let the flavors meld together.
For the tacos:
Preheat a grill to medium high heat. Lightly oil the grates to keep the steak from sticking. Remove the steak from the marinade and place it on the grill. Grill for 7-9 minutes a side, flipping once. This will yield a medium cooked steak. I don't recommend cooking flank steak above medium. Remove the steak from the grill and allow it to rest for five minutes before slicing thinly across the grain.
If desired, toss the tortillas on the grill for a few seconds to warm and char them slightly. To serve, place steak in the tacos then top with cheese, avocado, pico, and a squeeze of fresh lime juice. Eat immediately.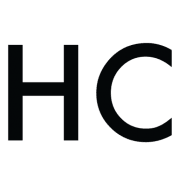 Courtney Rowland
Courtney is the author, photographer, and flour dusted girl behind the blog NeighborFood. She believes in using real butter, in season produce, and mismatched plates. She loves gathering people at the table and sharing stories, spills, and the occasional corny jokes.