Grilled Steak and Vegetable Rice Bowls with Chimichurri Sauce are a fun and flavorful way to make grilled steak for dinner. A bright and zippy chimichurri sauce brightens up grilled steak, along with spiced grilled veggies and fluffy rice.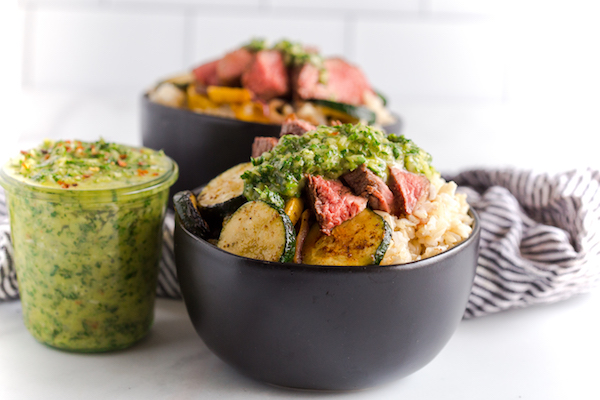 It's no secret that I'm a fan of meals that involve bowls and sauces. I love creating different combinations of grains, vegetables, and meats with fun flavors and of course – sauces. I mean, the sauces are the best part of bowls, right?!
Some of my all-time favorite bowl recipes on my blog are my Thai Peanut Turkey Rice Bowls, Indian Curry Vegetable Bowls, Korean Beef Burrito Bowls, and Shrimp Burrito Bowls with Creamy Cilantro Sauce, and I think it's safe to say that these Chimichurri Grilled Steak and Vegetable Rice Bowls are going to make that list, too!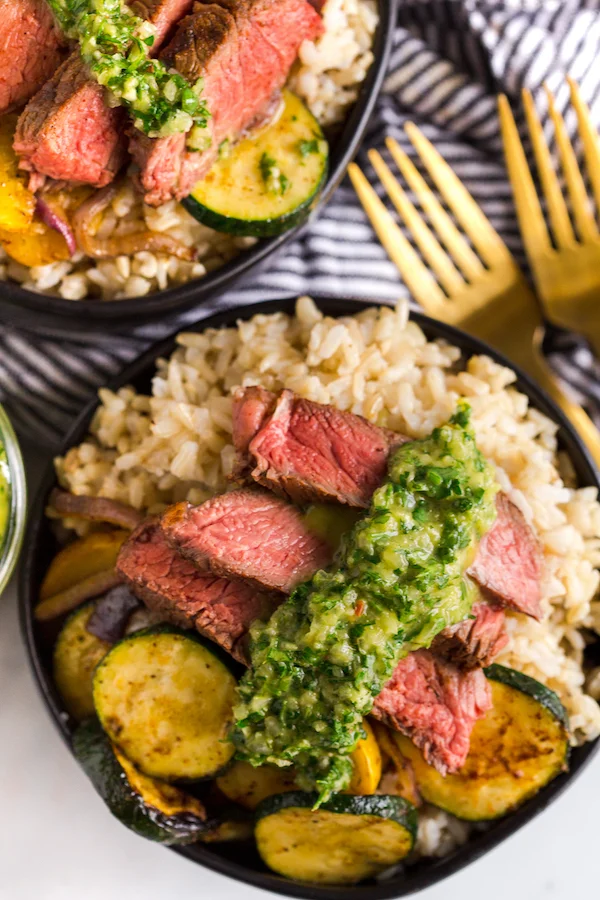 This recipe starts by making a super flavorful chimichurri sauce which is my newest obsession. This sauce is SO good on these steak and veggie bowls but not only that – we put it on chicken, fish, and even dipped tortilla chips in it!
Chimichurri sauce is a combination of parsley, cilantro, red wine vinegar, garlic, onion, and some olive oil. There's a pinch of red pepper flakes for a little bit of heat – but that's up to your discretion!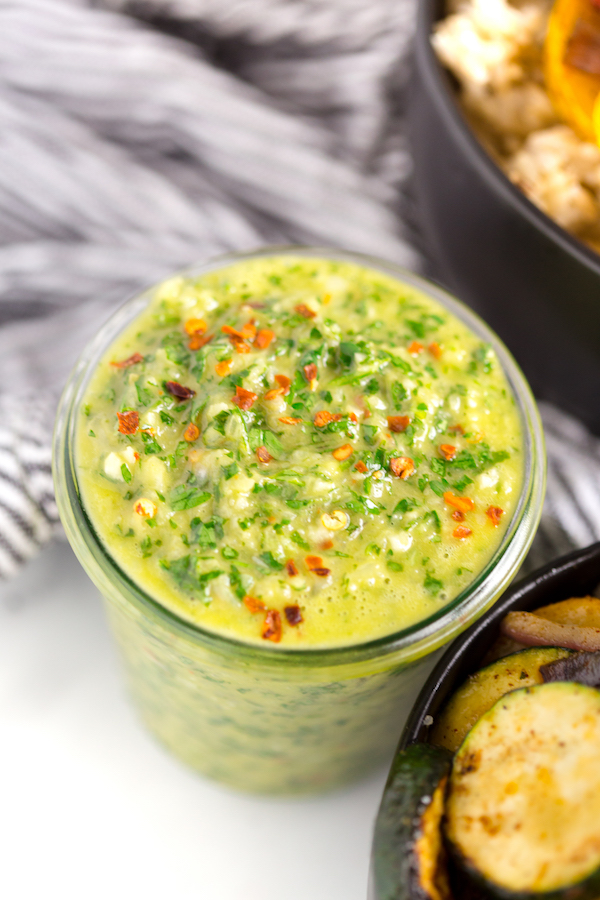 The grilled veggies in these bowls are spiced with chili powder, cumin, and salt and pepper, and grilled using a grill pan. If you don't have one, it's an absolute MUST for grilling season. You can also use some aluminum foil to make a pan, but you just won't get those crispy bits that are so good.
The steak is also marinated in an easy and delicious combination of olive oil, red wine vinegar, dijon mustard, garlic powder, salt, and pepper. Then they are grilled to perfection and thinly sliced to top off all the bowls. YUM!
These are such a fun and delicious summer grilling recipe – your family will love them!
Click HERE for the chimichurri sauce recipe.
Print

Grilled Steak and Vegetable Rice Bowls with Chimichurri Sauce
---
For the steak:
1

–

1.5

lbs steak – your preference of cut

2 tablespoons

olive oil

1 tablespoon

red wine vinegar

1 tablespoon

dijon mustard

1/2 teaspoon

garlic powder

1/2 teaspoon

sea salt

1/4 teaspoon

pepper
For the chimichurri:
For the vegetables:
1

large zucchini (sliced into bite-sized pieces)

1

large yellow summer squash (sliced into bite-sized pieces)

1

red onion (cut in half and then sliced into half-moon pieces)

2 tablespoons

olive oil

1 teaspoon

chili powder

1 teaspoon

cumin

1/2 teaspoon

salt

2 cups

uncooked rice (cooked according to package directions)
---
Instructions
For the steaks, combine olive oil, red wine vinegar, dijon, garlic powder, sea salt, and pepper and whisk well to combine.
Pour over steaks and let sit at room temperature for 20 minutes.
Place all chimichurri ingredients in a small food processor and pulse to combine. You don't want it completely blended like a pesto, but rather still a little bit of texture from the herbs and onion.
Season vegetables with spices, salt, and olive oil.
Place vegetables in a grill pan. If you don't have a grill pan, you can make a little packet with aluminum foil.
Preheat grill
Place veggies onto grill and close lid. Grill for 20-25 minutes, until veggies are cooked. I like some parts of mine a little crispy on the edges, so I tend more towards 25 minutes.
For the last 15 minutes of grilling time for the vegetables, grill the steak.
Place the steaks on pre-heated grill and cook for 5 minutes on the first side, until slightly charred.
Flip and cook an additional 3-5 minutes for medium rare (internal temperature of 135 degrees F), 5-7 minutes for medium (140 degrees F), or 8-10 minutes for medium-well (150 degrees F). Let steak rest for a few minutes before thinly slicing.
To serve, evenly distribute rice, veggies, and steak between bowls and top with chimichurri sauce.
Enjoy!
Taylor Kadlec
Taylor Kadlec is a lover of all things food including baking, cooking, and of course, eating. She is a self-taught baker and cook, and she shares her kitchen adventures on her blog Greens & Chocolate, where healthy cooking meets sinful indulgence.