Grilled Potato Salad and Feta Dressing
PARTNER POST: Reinvent potato recipes to be fresher and lighter in the new year. Make it your resolution to try these dishes as nutritious packed lunch ideas.
Warm or cold, this grilled potato salad can be prepared inside all winter long or enjoyed on a warm day. Serve with a feta vinaigrette and take it on the go for a fun packed lunch.
By Lyubomira Lsl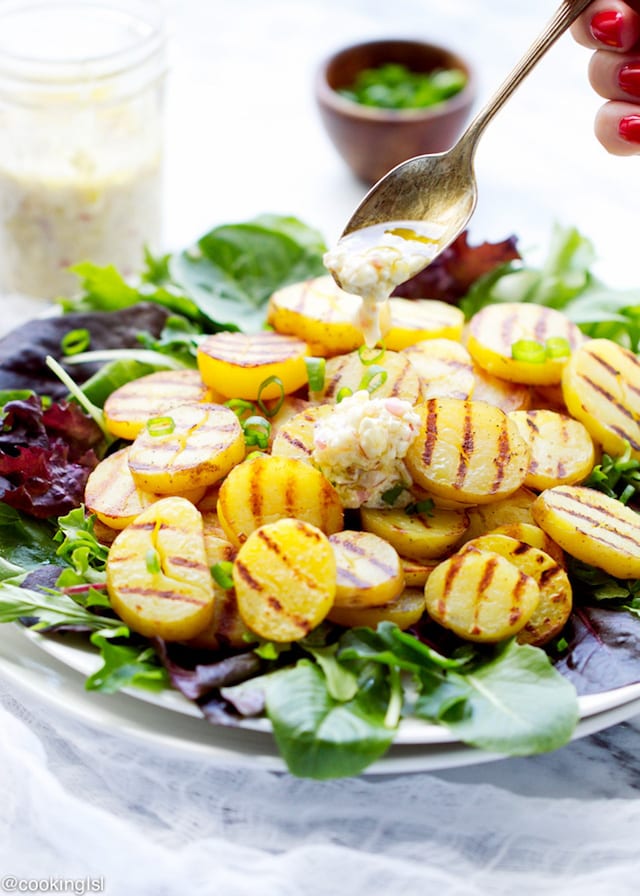 For this year again, some of my resolutions are – following healthier lifestyle, eating more at home and cooking easy, cook more healthy dishes.
If you happened to work out of the house, you might have like to bring your lunch to work rather than eat out for lunch. I used to always bring lunch to work when I went to work. It is so convenient, less expensive and you can bring your favorite light and fresh meals.
If your New Year's Resolution is: Bring Your Lunch to Work I got you covered with this convenient recipe – Grilled Potato Salad With Feta Vinaigrette.
My family loves potatoes and I'm always looking for new ways to use them in recipes. I like experimenting with potato salads and today I'm sharing with you my most recent creation.
I used Yukon Gold Potatoes for this salad. What I did, because it is winter around here, I grilled them in a ribbed skillet on the stove top. If you feel like using your grill, you can definitely do so.
Yukon Gold potatoes are a great source of potassium, vitamin C, B6 and they contain 3-4 grams of fiber per serving. I prefer using them is potato salads, mashed potato and soups.
This Grilled Potato Salad With Feta Vinaigrette does require some prep work because the potatoes need to be parboiled before they are grilled. But once you grill them, you can store them in an air-tight container in the fridge for up to a week. The feta vinaigrette is also good for up to a week in the fridge.
Here's another fun recipe to try for packed lunch: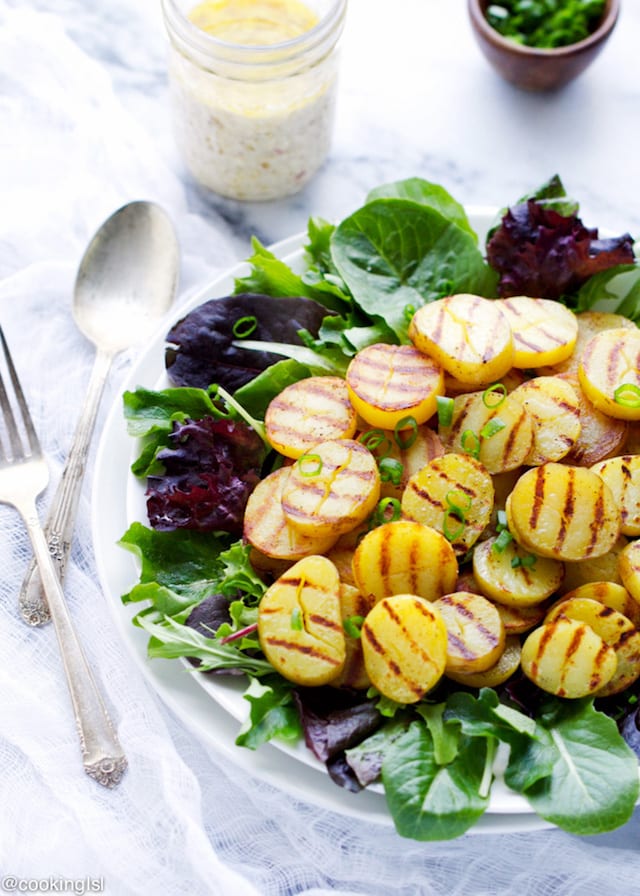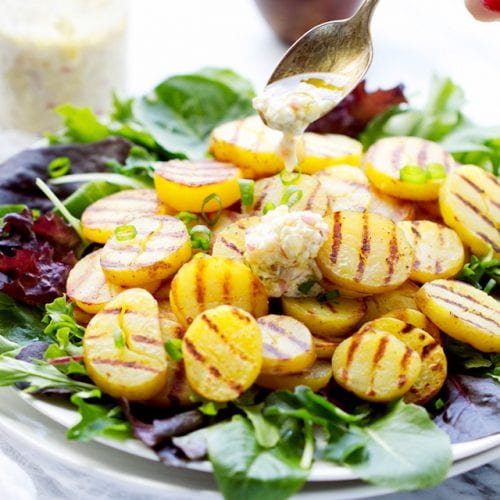 Grilled Potato Salad and Feta Dressing
Lyubomira Lsl
Warm or cold, this grilled potato salad can be prepared inside all winter long or enjoyed on a warm day. Serve with a feta vinaigrette and take it on the go for a fun packed lunch.
Ingredients
3

pounds

Yukon gold potatoes

salt and black pepper to taste

vegetable oil for pan-grilling the potatoes

2

cups

mixed greens
For the dressing:
¼

cup

raw apple cider vinegar

1

shallot

chopped

2

tsp

Dijon mustard

½

cup

feta cheese

1/3

cup

olive oil

green onions and parsley for garnishing
Instructions
Place potatoes in a large pot and fill with enough water to cover them. Add 1 tbsp salt. Bring to a boil, then reduce heat to medium-low. Cook for 15-20 minutes, until potatoes are cooked, but not too soft. Drain potatoes. Let them cool down. Peel potatoes, if you'd like, I prefer them peeled.

Slice potatoes into ? inch rounds. Season with salt and pepper to taste. Brush or spray with vegetable oil.

Prepare a ribbed skillet, spray lightly with vegetable oil. Heat skillet to medium heat.

Grill potatoes for 4-5 minutes per side, until browned, turning once. (Alternatively grill potatoes on the grill).
For the dressing:
Add all ingredients for the dressing in a bowl and whisk to combine.
To assemble:
Place mixed greens on a the bottom of a large plate. Add potatoes over it (they should not be too-hot!). Pour dressing on top. Garnish with chopped scallions and parsley.
Lyubomira Lsl
Hi, I'm Lyubomira (people call me Mira). I have background in construction engineering and design, but recently discovered my new passion – cooking and food photography.I try to share simple, straightforward recipes, fast to prepare with widely available ingredients.