Grilled Korean Steak Skewers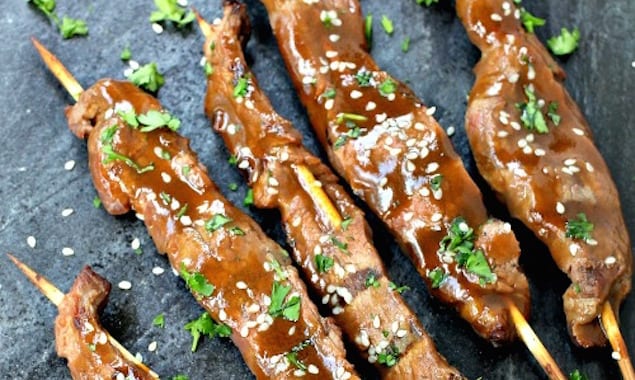 Marinate the steak in the morning and by dinner it takes less than a half hour to slice thinly, grill and serve this flavorful Korean-spiced meat over rice.
By Dan George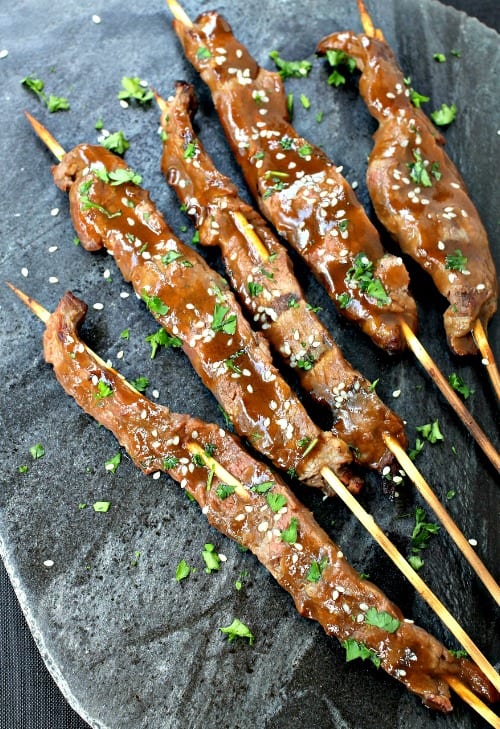 Everything's better on a stick, right? I can tell you that flank steak is definitely better on a stick.
I know it seems like a lot of work to put all those slices of steak onto skewers but I did this recipe twice. It takes 15 minutes – tops. And because the steak is marinated for hours and sliced thin it cooks up in five minutes.
One of the quickest dinners that we make is Korean Beef over rice. It literally is done in 15 minutes, the rice probably takes longer than the beef, but it's so good we seems to make it a couple of times a month. So we took that simple recipe and turned it into a filling for Korean Beef Quesadillas.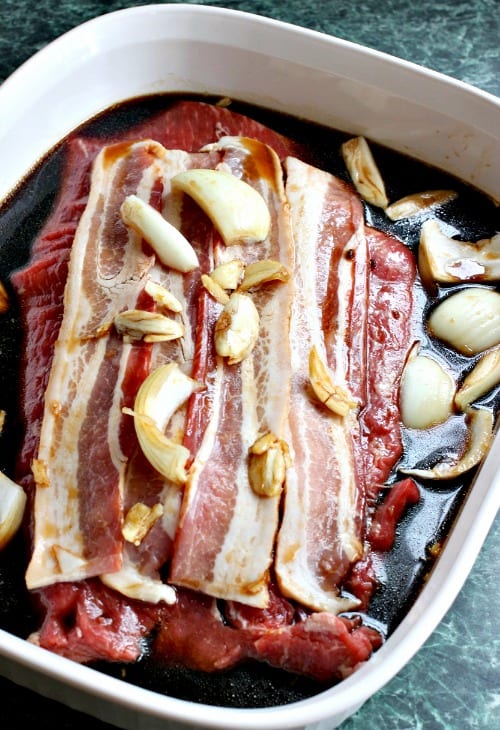 Take those same Korean Beef flavors and turn it into a marinade for a flank steak. The marinade for this steak alone is worth taking down the recipe.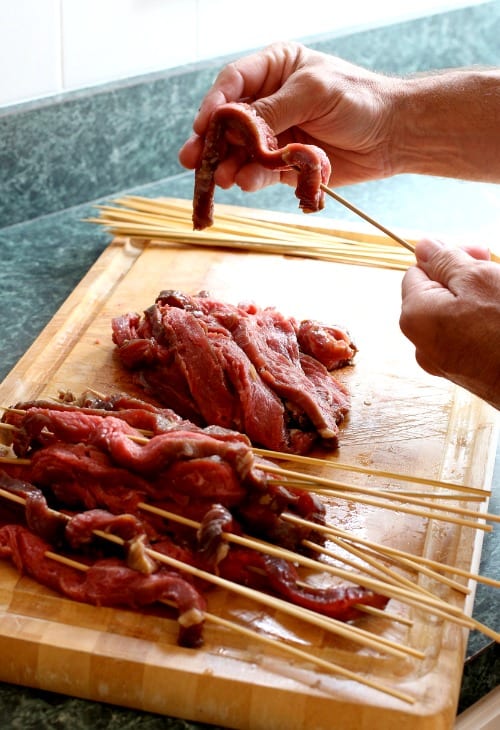 Start a good few hours ahead of time – overnight is best but a good 6 hours at least. Get your flank steak in the marinade – bacon, garlic, soy sauce brown sugar onions and root beer. Not just any root beer of course, I used a hard root beer for this. It's called Not Your Father's Root Beer and it's so good. So good I made sure not to use more than one bottle for the recipe so I could drink the rest.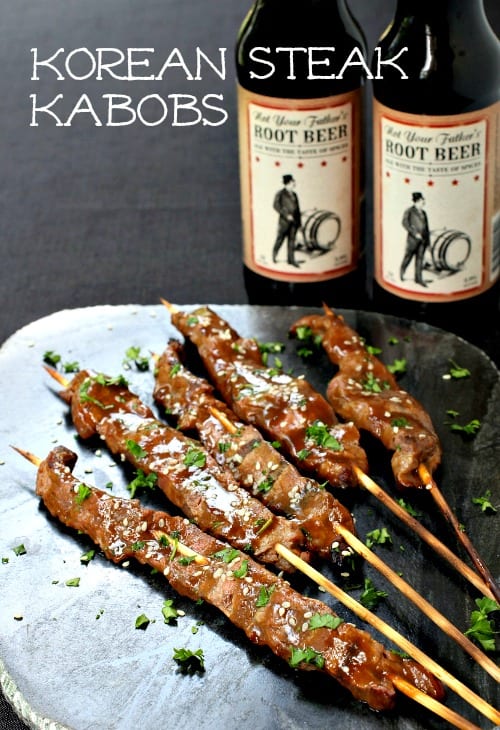 Take the Korean Steak Kabobs off the grill and pour the reduced marinade all over the top. Garnish with sesame seeds and chopped parsley – dinner is done.

Grilled Korean Steak Skewers
Marinate the steak in the morning and by dinner it takes less than a half hour to slice thinly, grill and serve this flavorful Korean-spiced meat over rice.
Ingredients
2 lb. flank steak
3 tablespoons sesame seeds
4 garlic cloves, smashed
¼ cup soy sauce
1 cup Not Your Father's Root Beer (drink the rest)
¼ cup packed brown sugar
¼ cup toasted sesame oil
salt and pepper
4 slices of bacon
2 teaspoons Wondra® flour
extra sesame seeds and chopped parsley for garnish
Instructions
Place the flank steak in a baking dish.
Mix all the ingredients for the marinade except the bacon in a bowl and then pour over the steak.
Layer the bacon slices on top, cover and refrigerate for at least 6 hours or overnight.
Slice the steak into quarter inch thick slices and thread each slice onto a skewer.
Grill on medium-high heat for 2 minutes per side and remove to a plate.
While the kabobs are grilling, pour the marinade into a sauce pan, bring to a boil and add in 2 teaspoons of Wondra® flour. Bring back to a boil and let reduce for 15 minutes.
Pour the reduced marinade over the kabobs, garnish with sesame seeds and chopped parsley and serve.
Notes
If you can't find Not Your Father's Root Beer you can substitute regular root beer instead.
Dan George
Born and raised in New Jersey, Dan started the web site Mantitlement as a way to learn how to cook for the first time from his wife, Christie. Christie has always been the primary cook in the household and Dan got used to having her three-course, restaurant quality meals for dinner every night. Well, it was time he learned how to do some cooking on his own, and that's how Mantitlement got started. Dan believes that everyone is entitled to having great food and drinks at home...and he can show you how to make them with his collection of recipes!