Similar to a Mediterranean-spiced meatball these grilled delights are made with a combination of lamb, beef, mint and cumin that can easily be tucked into a pita or served over a bed of greens.
By Ann Kaufman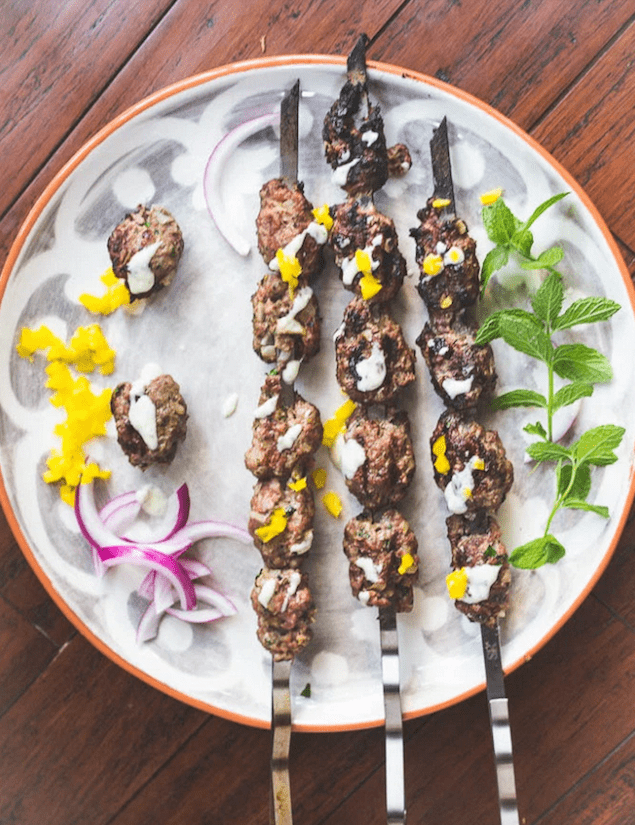 Kofta can be a little intimidating if you've never had it. In its simplest form, kofta is just a meatball, yet it seems like a frequently forgotten meat dish, pushed aside for more glamorous Mediterranean proteins such as kebabs or gyros. Today I'm going to show you how these little balls of meaty delight are very easy to make, especially on the grill. Grilled koftas have chin-dribbling juiciness and high impact flavor, since you can add all sorts of spices to punch up the meat.
I made grilled kofta out of lamb and beef a couple of weeks ago and quickly discovered that they can serve as a foundation of an easy weeknight meal with pita, salad, and lots of fresh garnishes.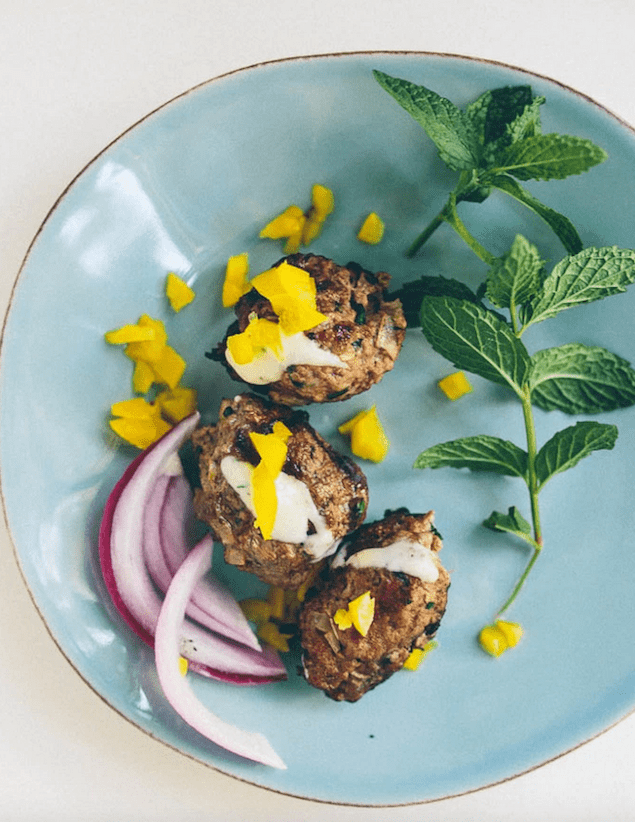 The key to a good kofta is really, really cold meat, as I've discovered. After forming oval-shaped meatballs, it's important to chill them in the refrigerator on a baking sheet for at least two hours. Doing so lets the fats in the ground meat to congeal so that it doesn't crumble and fall apart on the grill while cooking. My first batch of kofta didn't get a chance to really get nice and firm in the 'fridge, and I truly regretted it the second I placed those suckers on the grill.
This kofta recipe, derived from a Martha Stewart recipe I recently found, uses ground lamb combined with mint, cinnamon, parsley and cumin seeds for a sweet yet mildly spiced meatball. Before I grilled the kofta, I set out chopped tomatoes, springs of mint, onions, cucumber, feta cheese, hummus and pickled peppers and toasted pita in the oven. Then, when everything was already set out on the table, I fired up my grill and had all six skewers of kofta finished within ten minutes. The kids loved smashing their kofta into the warm pita along with fetal, cucumber, hummus and tomatoes, making for a juicy, fresh sandwich of sorts. I paired my kofta with a fresh spring green salad, pickled peppers, cucumbers, tomatoes, red onions and a minty aioli I made from scratch. The aioli melted on top of my kofta, and I felt like a million bucks after dinner — full but not stuffed.
Print
Grilled Kofta Skewers with Mint Sauce
Like a Mediterranean-spiced meatball, these grilled delights are made with lamb and beef and can easily be tucked into pita or served over a bed of greens.
Author:

Ann Kaufman

Yield:

4

to

6

servings

1

x
Category:

Main

Cuisine:

Mediterranean
1

pound ground lamb

1

pound ground beef

1

medium onion, minced

1 cup

packed fresh flat-leaf parsley, minced

2 tablespoons

extra-virgin olive oil, plus more for grilling

2 teaspoons

cumin seeds

¾ teaspoon

ground cinnamon

1½ teaspoons

coarse salt

½ teaspoon

freshly ground pepper
Pita Bread, sliced cucumbers, tomatoes, and red onion; mint sprigs and minty aioli (recipe below)
Mint Aioli
1

egg
juice from

½

lemon

1 cup

plus ¼ cup light olive oil, divided

1 cup

fresh mint, roughly chopped
salt and pepper to taste
Instructions
Kofta
In a dry saucepan over medium-low heat, gently toast cumin seeds until just golden-brown and fragrant. Pour seeds into a spice mill or grinder (I use a re-purposed old coffee grinder) and pulse 3-4 times until just coarsely ground.
Mix together onion, parsley, oil, cumin seeds, cinnamon, salt and pepper in a medium-sized bowl. Pour half of the mixture into another empty medium-sized bowl. Add ground lamb to one bowl and ground beef to the other. Mix contents of each bowl gently, being careful not to overmix (I gently fold the mixture together with my hands).
Form 2.5 inch ovals of ground beef and ground lamb and place on a baking sheet brushed with oil. Cover lightly with plastic wrap and refrigerate at least two hours and up to 12.
Heat grill for direct heat (for a gas grill, heat to 350-400 degrees). Put each meatball on a skewer, packing them fairly tightly to help them stick together. Brush grill grid/grates with oil.
Grill kebabs, turning as needed until cooked through and a thermometer inserted in middles (avoiding skewers) registers 140 degrees (for medium-rare), 6 to 8 minutes.
Serve with pitas and accompaniments.
Mint Aioli
In a small food processor bowl, add egg, lemon juice and ¼ cup olive oil. Cover food processor bowl with lid and mix thoroughly, approximately 30 seconds.
With the food processor running, add the remaining 1 cup of olive oil in a steady stream so that it emulsifies (i.e., turns white and thick like mayo). Add mint, salt and pepper and pulse a few more times to incorporate.
Serve immediately or store in an airtight plastic container in the refrigerator up to 5 days.
Ann Kaufman
Ann Kaufman is an emotional food enthusiast who writes about food at Grits & Chopsticks. When she's not writing about food, she's caring for her two young children, lawyering and thinking about her next meal.