PARTNER POST: Get ready for the months ahead with new potato recipes that will inspire your spring and summer cooking.
As the weather warms, throw these mini hasselback potatoes studded with cheese on the grill for quick and easy cooking. Top with bacon, sour cream and more for an extra special bite.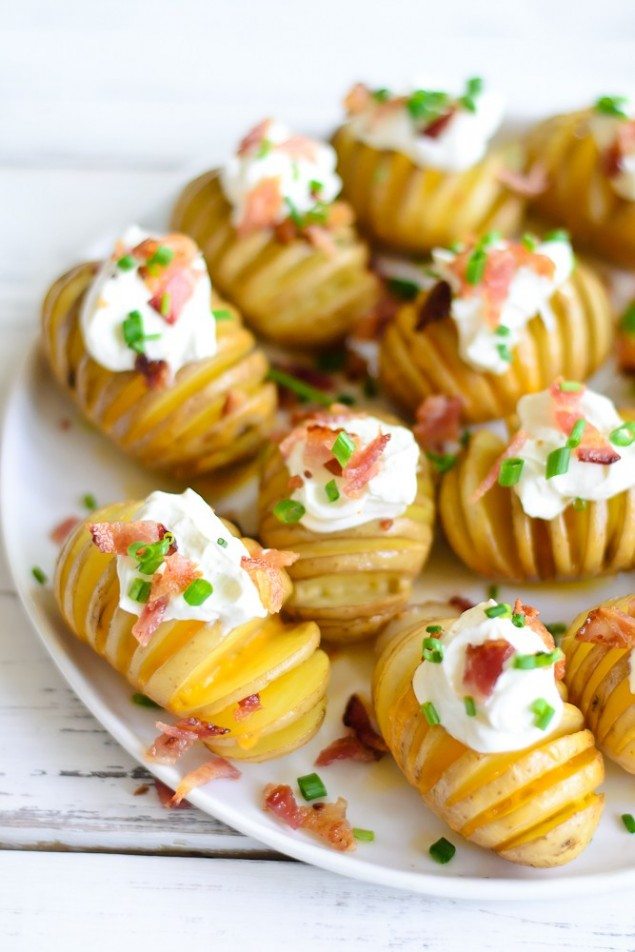 Summer will be here before we know it! Summer is all about grilling and outdoor dining, so I'm hoping we get to eat as many meals outside as possible and grill as many things as possible.
Starting with another batch of these mini grilled hasselback potatoes, stat.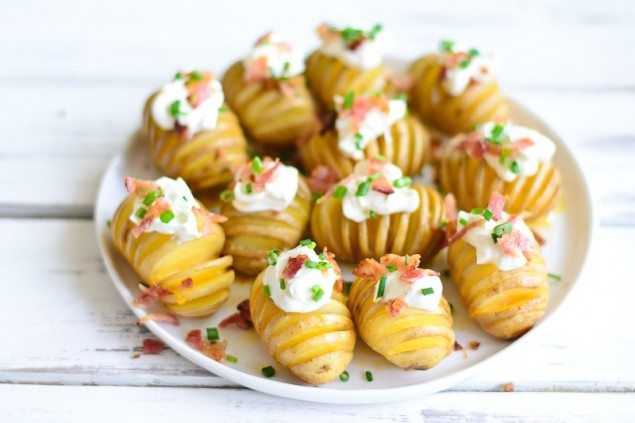 Remember when baked hasselback potatoes were all the rage a year or two ago? My Pinterest feed was full of close up shots of crisp-looking whole potatoes sliced like an accordion and oozing with melted cheese. "Make hasselback potatoes" was at the top of my blog to-do list for ages, but I never got around to it somehow – too lazy or too easily distracted by other recipes, probably…

So when the Potatoes USA asked me to come up with an easy, summer-y recipe to showcase the deliciousness and versatility of the humble potato, I jumped at the chance to check hasselback potatoes off my list.
Grilled instead of baked, teeny tiny instead of large, but still stuffed with cheese and served loaded with sour cream and crispy bacon. Basically, the perfect summer appetizer/party/finger food.
If you're looking for an easy and delicious alternative to potato salad for your BBQs this summer, I highly recommend these mini grilled hasselbacks. They don't take that long to prep, and you can throw them right on the grill with the other stuff you're cooking (steaks, burgers, brats…mmmm). Low fuss, less clean-up.
After they're done cooking, you can pre-load these babies with fixings, or set up a station with toppings that your guests can customize each bite themselves. No matter how you eat it, the end result will be crisp on the outside, soft on the inside, full of melt-y cheese, and generally irresistible.
And, did you know that potatoes are an excellent source of vitamin C, potassium, dietary fiber and other important nutrients? Now that I'm expecting, I'm told it's important to pay attention to these kinds of things, so, you know, I should probably make these mini hasselbacks a few more times…right?
Click the banner below for more delicious potato recipes.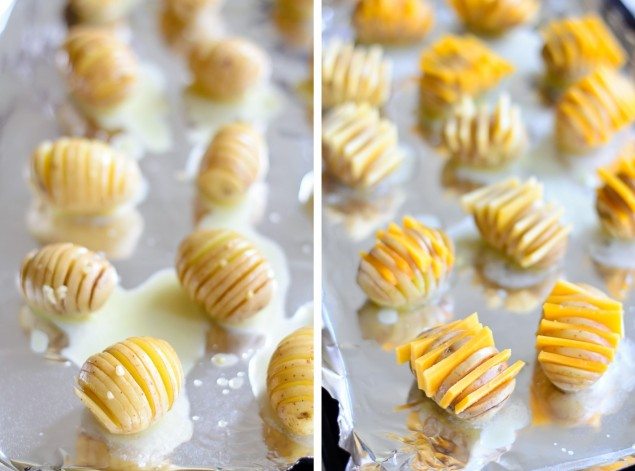 For another unique way to use potatoes, check out these truffles and find the recipe here.
Grilled Hasselback Potatoes
As the weather warms, throw these mini hasselback potatoes studded with cheese on the grill for quick and easy cooking. Top with bacon, sour cream and more for an extra special bite.
Recipe Type:
Side, Appetizer
Ingredients
Hasselback potatoes:
1 lb baby yellow potatoes, rinsed and dried
3 tablespoons butter, melted
1 tsp minced garlic
Salt/pepper to taste
5-6 slices cheese of choice, cut into bite-sized pieces (I used cheddar)
Garnish:
Sour cream
Bacon bits
Chives
Instructions
Heat grill to high heat.
Rest each baby potato between two chopsticks (to act as a stop for the knife) and carefully cut vertical slits in each potato, about every ?-inch.
Place sliced potatoes on a plate and microwave at high on one side for 2 minutes. Flip potatoes over and microwave again for an additional 2 minutes.
Arrange potatoes on a large piece of aluminum foil. Set aside.
In a small bowl, mix together melted butter and minced garlic. Season with salt/pepper to taste.
Brush garlic butter mixture over each potato, making sure the butter drips into each cut.
Tuck pieces of cheese into the slits in the potatoes (does not have to be in every single slit).
Loosely cover/tent the potatoes with a second sheet of aluminum foil, crimping the two pieces of foil together along the edges to create a seal.
Place foil packet in your grill and cook for 20-25 minutes.
Remove foil packet from the grill and open the sealed edges. Some of your cheese will have melted into a puddle at the bottom of the foil - scoop that onto your potatoes (a lot of it should drip down into the slits).
Place grilled potatoes onto a serving dish.
To serve:
Serve immediately, garnished with a dollop of sour cream, crumbled bacon, and chives.
Enjoy!