SPONSORED POST: Be inspired to make a delicious and easy weeknight dinner that even your pickiest eaters will adore with artisanal cheeses from Goat Cheeses of France.
This grilled Bûcherondin French goat cheese sandwich can be a quick and easy dinner ready in minutes, plus it's loaded with protein and veggies thanks to the chicken and spinach.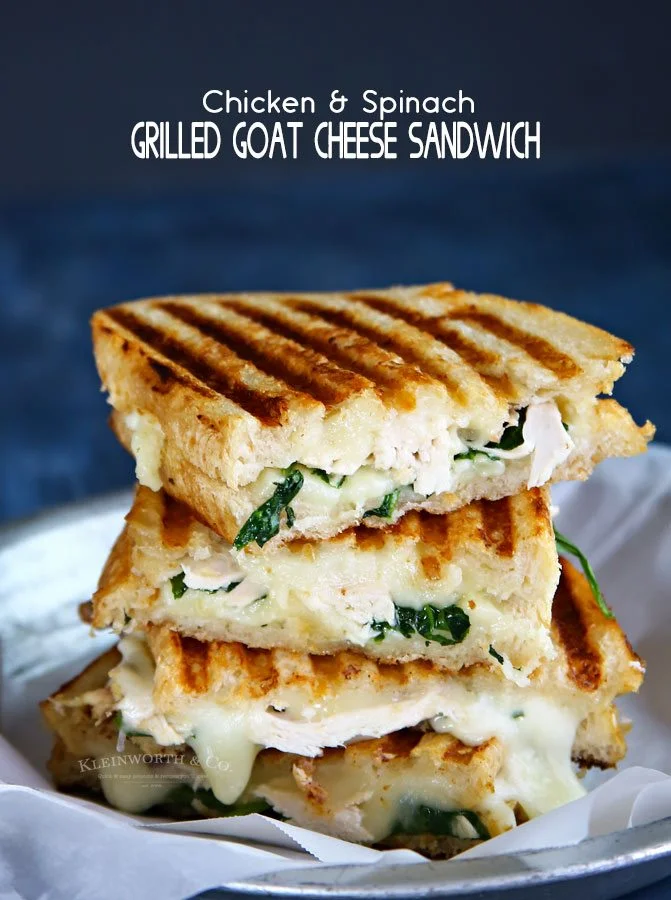 Looking for quick & easy dinner ideas? I know that with all the things happening with back to school and activities and sports & so many demands on the schedule it can be hard to get dinner on the table. I know that after a long day in the office the last thing I feel like doing is making a huge elaborate dinner that makes a ton of dishes. Which is why I love creating quick dinners like this Chicken and Spinach Grilled Goat Cheese Sandwich that everyone loves.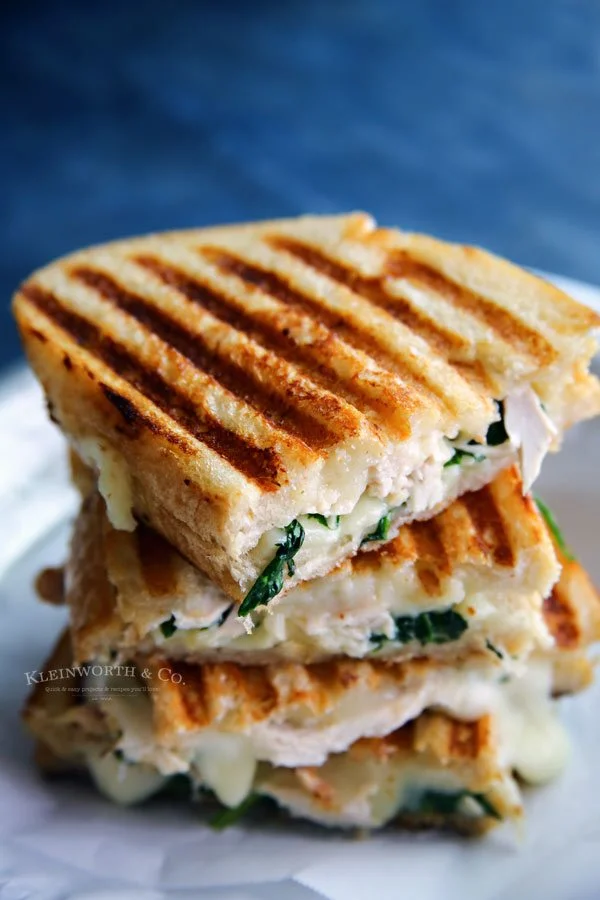 Just look at all those flavors in there. I mean, spinach, chicken, goat cheese on deliciously grilled sourdough. It's absolutely amazing. The kids just love it. I often pair this with a bowl of soup, which makes for a hearty meal for my super hungry teens. To make it super easy I grab a rotisserie chicken or use leftovers to add to the sandwiches. I also like to use my indoor grill/ panini maker so I don't have to flip these. Plus it gives great grill marks on there too.
I love using goat cheese like this Bucheron because of its mild flavor and how well it pairs with the chicken and spinach. Did you know that Bucheron was one of the first French goat cheeses exported to the U.S? That's pretty interesting!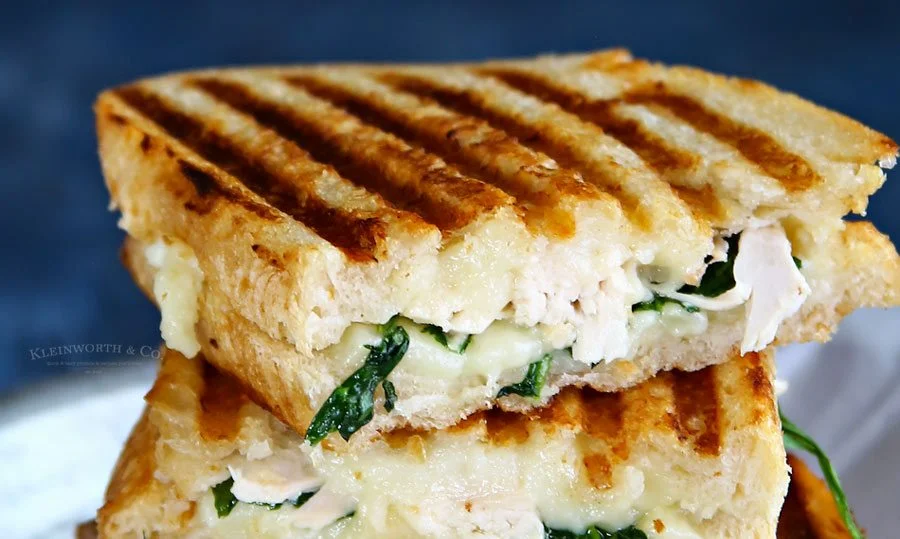 France is the number one producer of goat's milk cheese in Europe and even the world. I was shocked to find out that France produced about 265 million pounds of goat cheese in 2016 (120,000 tons). They have 6,000 producers of goat's milk including 3,000 who produce their own goat cheese and 3,000 who sell their milk to one of the 60 dairy companies that produce goat cheese. That is impressive! I love the variety & the quality that you can truly taste in every bite.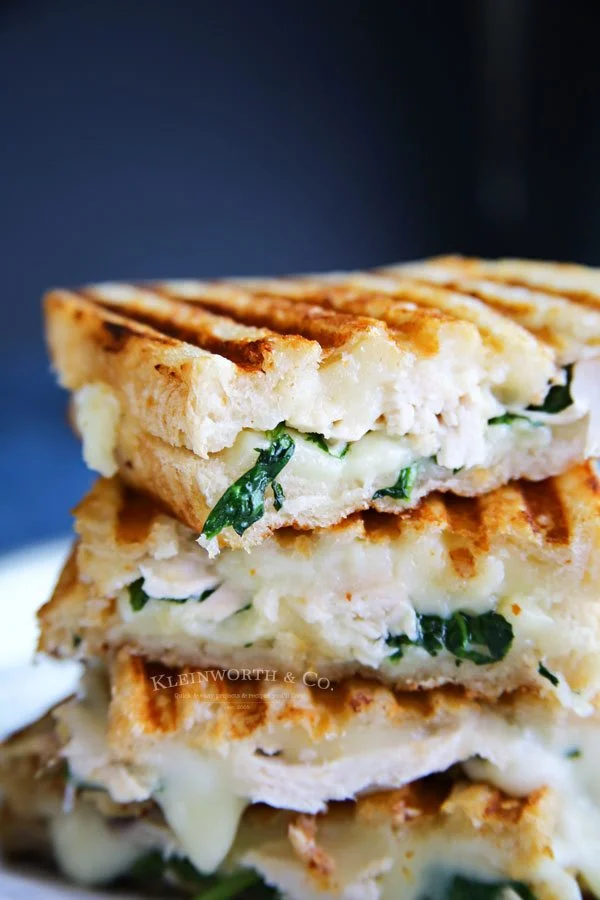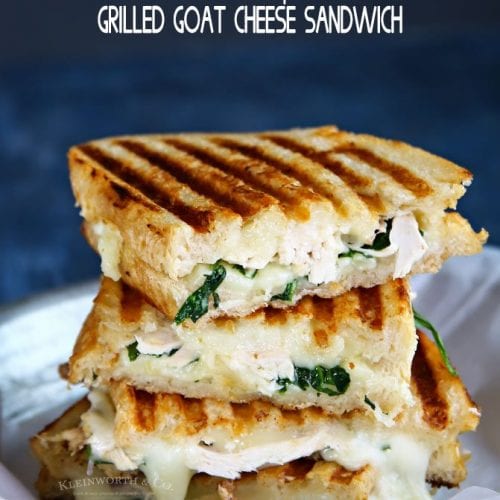 Grilled Goat Cheese Sandwich with Chicken and Spinach
Gina Kleinworth
This grilled goat cheese sandwich can be a quick and easy dinner ready in minutes, plus it's loaded with protein and veggies thanks to the chicken and spinach.
Ingredients
1-2

small blocks Bûcherondin French goat cheese - sliced

1

large handful of baby spinach - per sandwich

½

cup

chopped

cooked chicken - per sandwich

sourdough bread

mayonnaise
Instructions
Set indoor grill to sear to get the plates really hot

Spread mayonnaise on the outsides of the sandwich

Lay one slice on the hot grill- mayo side down

Add several slices of goat cheese, followed by spinach and chicken

Add top of sandwich and close the lid of the grill to sear the top too

Wait several minutes to allow all the flavors to melt together & the bread to turn golden

Remove from grill and enjoy
Gina Kleinworth
Gina is the author & photographer behind Kleinworth & Co. She is a homeschooling mom to 3 and devoted wife with a passion for all things creative. Gina lives in Northern Idaho but is a So Cal native & spent 12 years living in various parts of the Nevada desert. Kleinworth & Co is a creative blog where Gina shares recipes, gift ideas, crafts, simple & cost effective ways to decorate your home, creative & fun projects for the kids & photography tips. Come visit to learn, share & get inspired on a budget.