Sponsored Post: We're celebrating Vinho Verde wines this season. These Portuguese bottles are young, fresh, vibrant, and affordable. It's the perfect wine for all your favorite summer recipes, beach trips, and vacations. It truly is like no other wine in the world.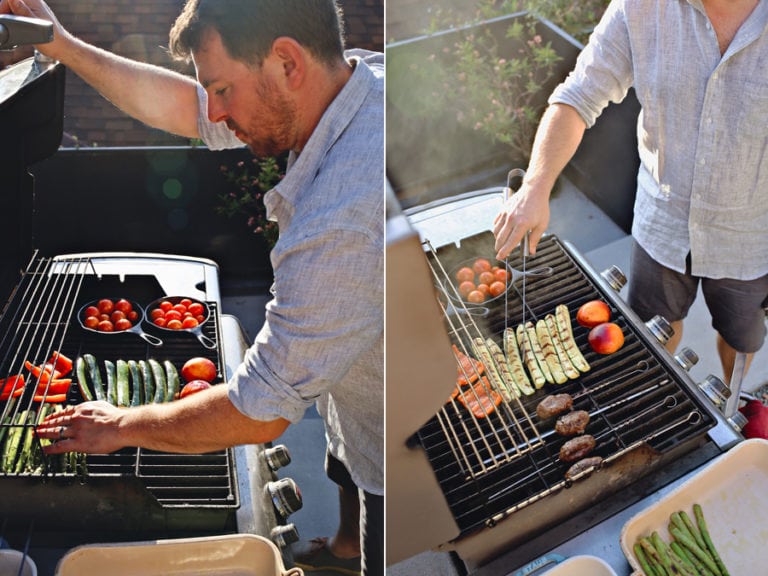 Summer patio sessions are in full swing (and so is my never ending battle with fighting off mosquitoes – help!). Where it's been pretty much blazing degrees everywhere this month, it's still nice to get outside once the sun has set lower into the sky and the evening breeze kicks in for relief.
We've been doing A LOT of grilling. Mostly because the idea of turning on an oven on a 100+ day sounds well…awful. And breaking out the BBQ doesn't always have to mean burgers and hotdogs – I'd say the one recipe that has consistently been on rotation this summer is my Grilled Fattoush Salad. Half grilled, half fresh and 100 percent packed with flavor that is most refreshing, light and yet incredibly satisfying on a warm summer evening.
You can play around with any ingredients that you'd like and proportions that sound good to you – but the key is to mix up your seasonal produce favorites and enjoy it whenever…grilling doesn't have to be enjoyed hot, FYI. In fact, it's a little more enjoyable to get the grilling job done and then relax with a glass of wine with friends before getting your grub on. Which makes this recipe the perfect "do it in advance" for summer get togethers – spend time with your friends, not over the fire!
PS: There's a wine pairing and some BBQ basics in here as well – you know, just to inspire your perfect patio hang for this weekend.
Let's go!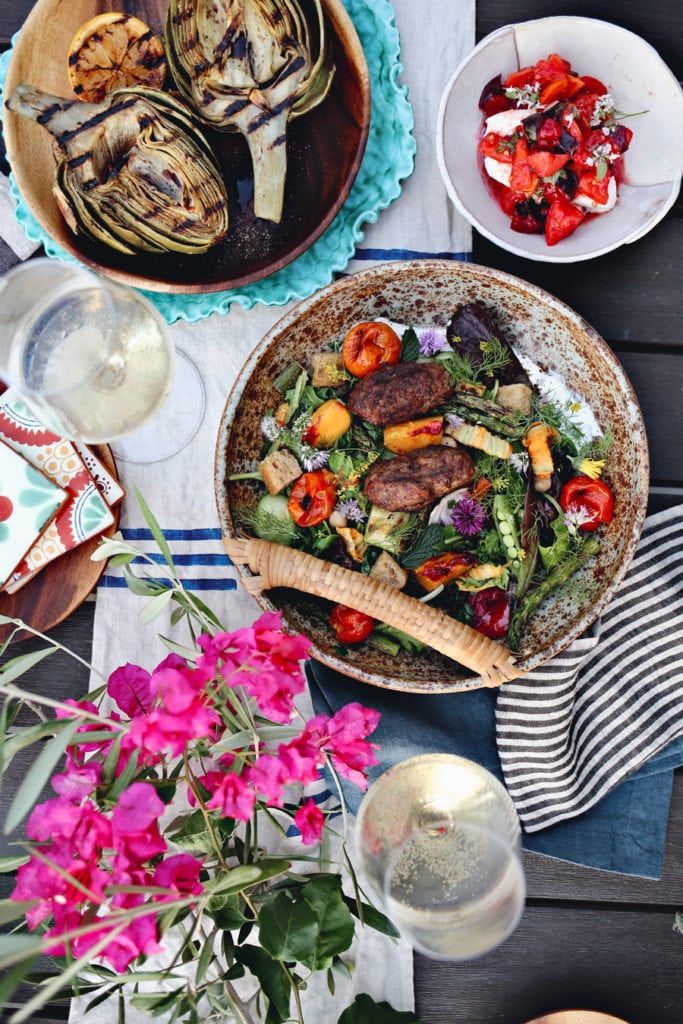 Grill Game: Strong
There is no right or wrong way when it comes to grilling, everyone has their preferred methods. Even heat and a watchful eye will get you what you need. But there are several ways to go about it but the top two that I love are: Skewers & cast iron (note: there is absolutely nothing wrong with good old fashioned straight on the grill grate).
While skewers keep your veggies organized, it also helps from stray pieces falling through the cracks (aka: less clean up, because no one enjoys cleaning a BBQ…no one). Cast iron skillets are an amazing way to get the most out of your flame and allows certain foods like tomatoes achieve that slow roasted quality. Which is perfect for those heatwave days that you definitely do not want to turn on your oven.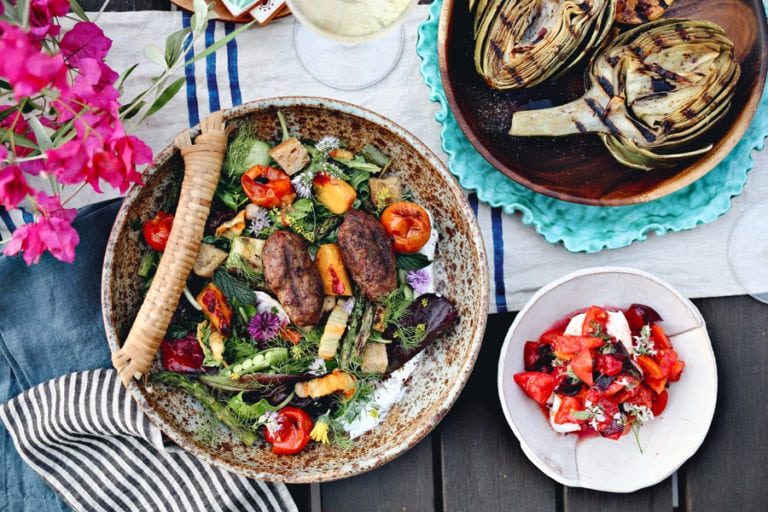 No Grill? No Problem!
No BBQ? Weather not cooperating (be it raining or 115 degrees)? You can definitely get the same effect and quality indoors with a cast iron grill pan. Crank up your flame to high, allow it to get blazing hot and get to work. This is actually my preferred method for artichokes. Boil whole, cleaned artichokes for 32 minutes (rotate on all four sides once every 8 minutes). Drain upside down, cut in half and clean out remaining thistles. Grill on cast iron pan until desired! Don't forget to throw on those lemon halves, that are the perfect accompaniment to a balsamic drizzle upon serving.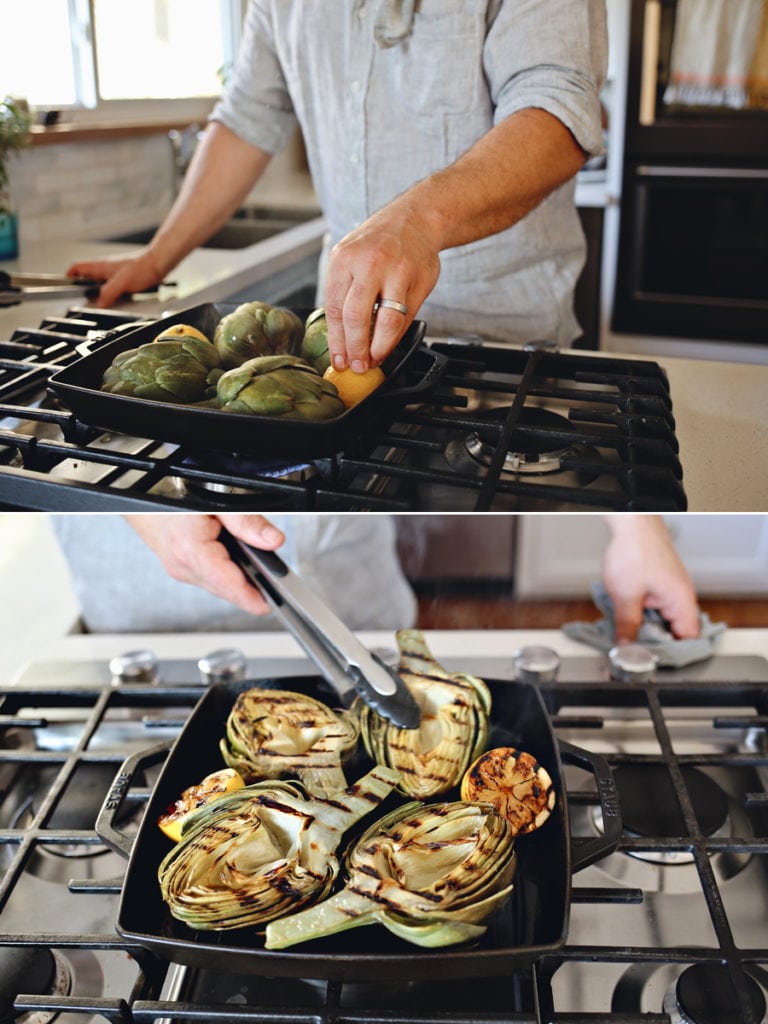 The Perfect Pairing
There is nothing better than a proper wine pairing to make your gathering feel extra special. Truth be told, Vinho Verde is my summer wine of choice. It makes any occassion feel like a special event with its elegant flavor profile and food friendliness.
Looking for the best wine to bring to a get together? It's Vinho Verde. A crowd pleaser that everyone will love and host will want to hide for themselves. For this Grilled Fattoush Salad, we served an Alvarinho which is widely considered the finest white grape of the Minho region. This particular grape varietal enhances the salad's smoky grilled vegetables, sweet stone fruit and the crisp fresh herbs with it's perfumed floral qualities and peach/apricot and sweet citrus notes. It really has the ability to elevate any summer grilling to feel like fine dining experience. That being said, I think I'm going to have to plan a repeat again this weekend!
See Also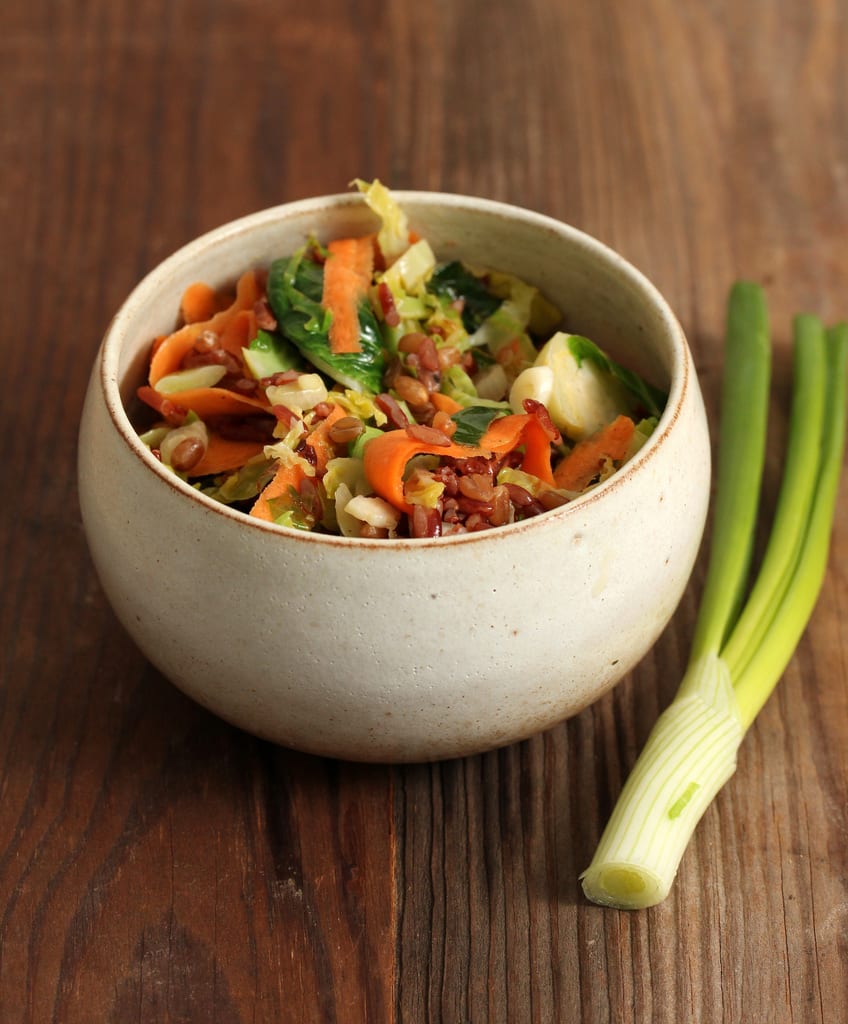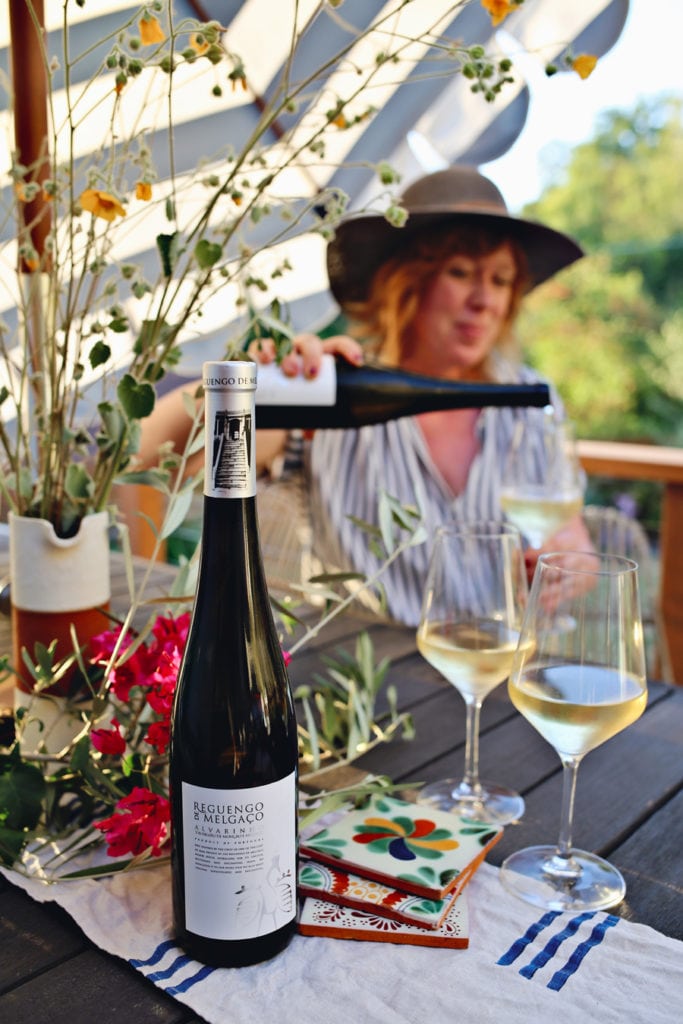 Stress Free and Seasonal
The best part about this salad? You can customize it however you want. In the summer, stick to stone fruit – but in the colder months swap out for a grilled kabocha or acorn squash. Mix and match your week's farmers market haul and have some fun with it. It's all about featuring a combination of fresh and grilled seasonal ingredients, tons of fresh herbs and that zippy Za'atar dressing.
Perfect alone or with a grilled skewer of lamb, chicken or even falafel – this play on a Fattoush Salad really is a choose your own adventure in delicious. I hope it makes its way into your weekend (or week night!) soon.
Cheers friends!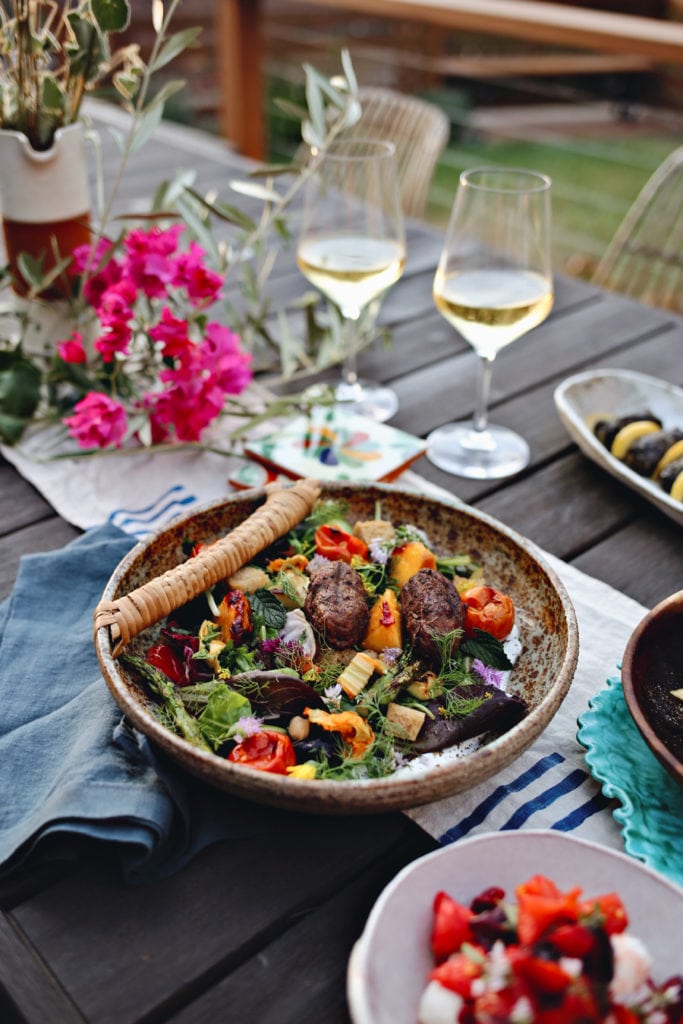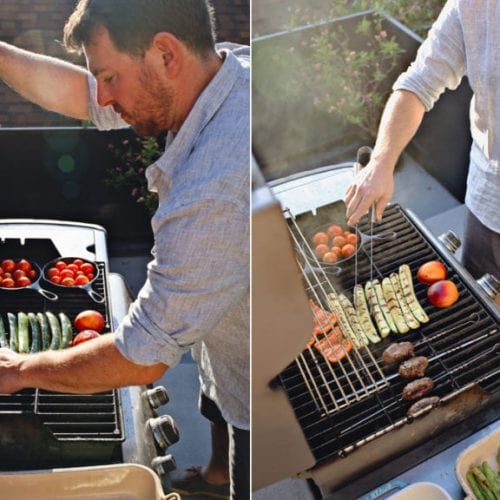 Grilled Fattoush Salad and BBQ Entertaining with Vinho Verde
Kristin Guy
Ingredients
SALAD INGREDIENTS
Mixed Baby Greens

Chopped or torn soft herbs

at least 1 cup: Parsley, Mint, Dill

Blistered Cherry Tomatoes

Grilled Vegetables: Zucchini

Asparagus, red bell pepper

Grilled Stone Fruit: Apricots or Plums

Fresh Peas

Sliced on the diagonal (English or Sugar Snap)

Radishes finely sliced on the mandolin

Persian Cucumbers

roughly chopped

1

can chickpeas

Squash Blossom Ribbons

Herb Blossoms: Cilantro

Dill, Fennel & Chive (optional)

Garlic & Butter rustic loaf bread crumbs

1

pound

ground lamb

1-2

TBS

Vadouvan spice blend

1/2

cup

labneh or greek yogurt

Juice of 1 lemon

1

garlic clove

finely chopped

Za'atar Spice Blend
DRESSING INGREDIENTS
1

TBS

Extra Virgin Olive Oil

Juice of 1 lemon

Za'atar Spice Blend

White Balsamic Vinegar

Dijon Mustard
Instructions
Combine lebnah, lemon juice and minced garlic clove and mix well. Using a large spoon, add a large dollop of yogurt mixture to the bottom of your plate or bowl, create a swoop using the back of a spoon. Top with Za'atar Spice Blend and build salad on top. Serve chilled or at room temp with your favorite grilled skewers: chicken, lamb, or falafel.