PARTNER POST: Dive into the 120 days of summer with Santa Rita wines that pair perfectly with the foods of the season, straight off the grill.
This easy grilled corn and shrimp salad is everything you want in a summer meal. Shrimp, corn, and poblano peppers are grilled to perfection and served atop Boston lettuce mixed with tomatoes, avocado, and lime.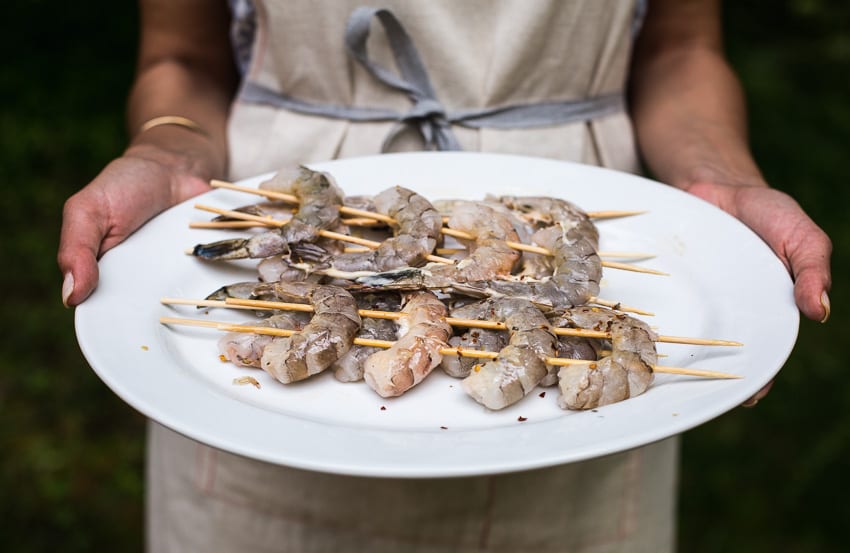 After a couple of hours of grilling and photographing, we enjoyed this salad with a bottle of Santa Rita's delicious Sauvignon Blanc.
This salad comes together pretty quickly. To tell the truth, it took me longer to write the recipe than to make it. I paired the shrimp and corn with Poblano peppers, feta cheese, tomatoes, avocados, and a quick and easy to make homemade lime vinaigrette. You could serve this as a side dish with other meat, or like we did, just by itself as lunch with a glass of wine.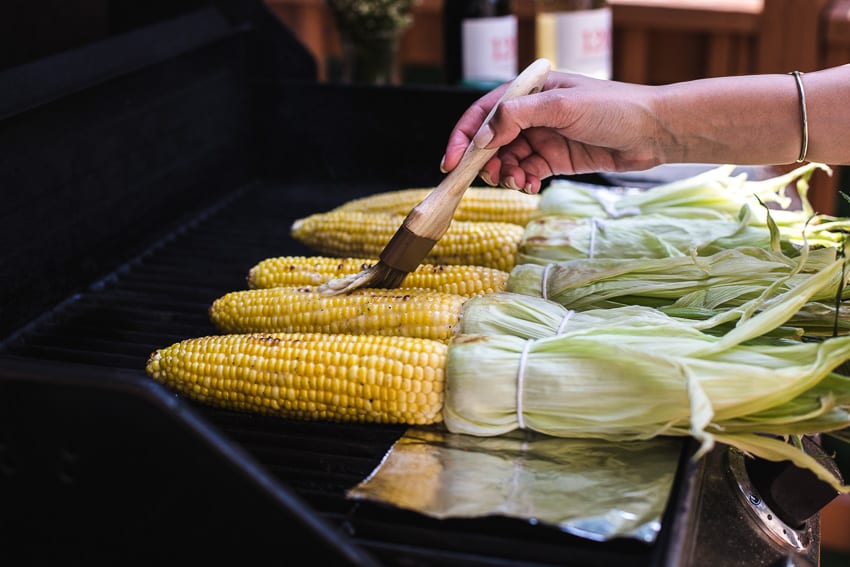 To make it, we started with the corn. Since it is in season, I was able to find some in our local farmer's market earlier in the week. I bought them with their husk on, because I love using the husk as a handle to turn the corn as it is grilling. If you have never tried, I highly recommend giving it a try as it makes the whole process so easy. All you have to do is to strip back the husk leaf by leaf leaving it attached at the stem end. Then tie the husk with a kitchen twine to form a handle. When you are ready to grill, make sure to place a piece of aluminum foil underneath the husk to prevent it from burning.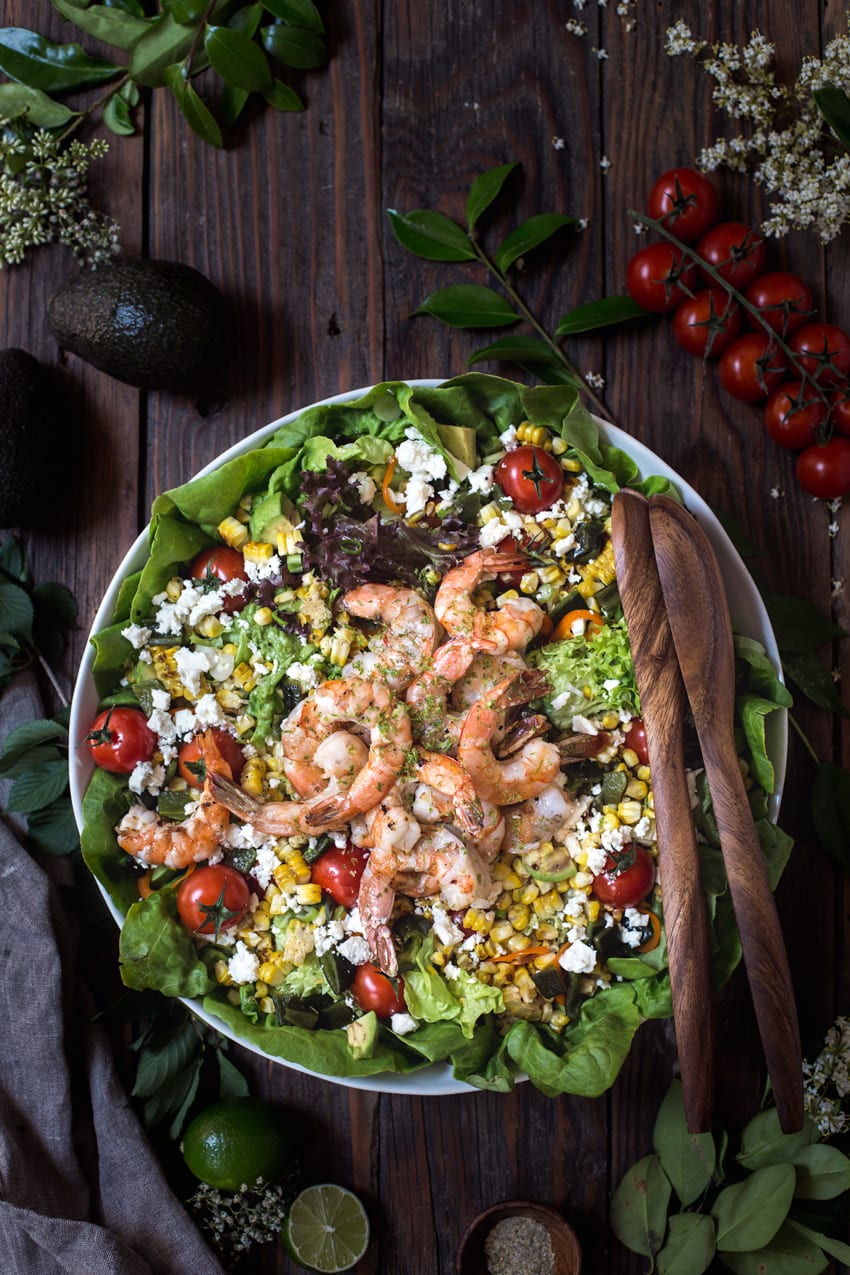 For this recipe, I brushed the corn with butter that I mixed with Badia's complete seasoning that has all the spices I needed to flavor the corn. Once it was on the grill, I kept a close eye on it. If you have ever grilled corn you would know, it might burn pretty quickly. As you can imagines "husk handles" came in handy while turning them to make sure they grill evenly. I also grilled some Poblano peppers at the same time for my salad as I love the meatiness that they add to salads. Once they were grilled, I covered them with aluminum foil for 10 minutes so that they can be peeled easily.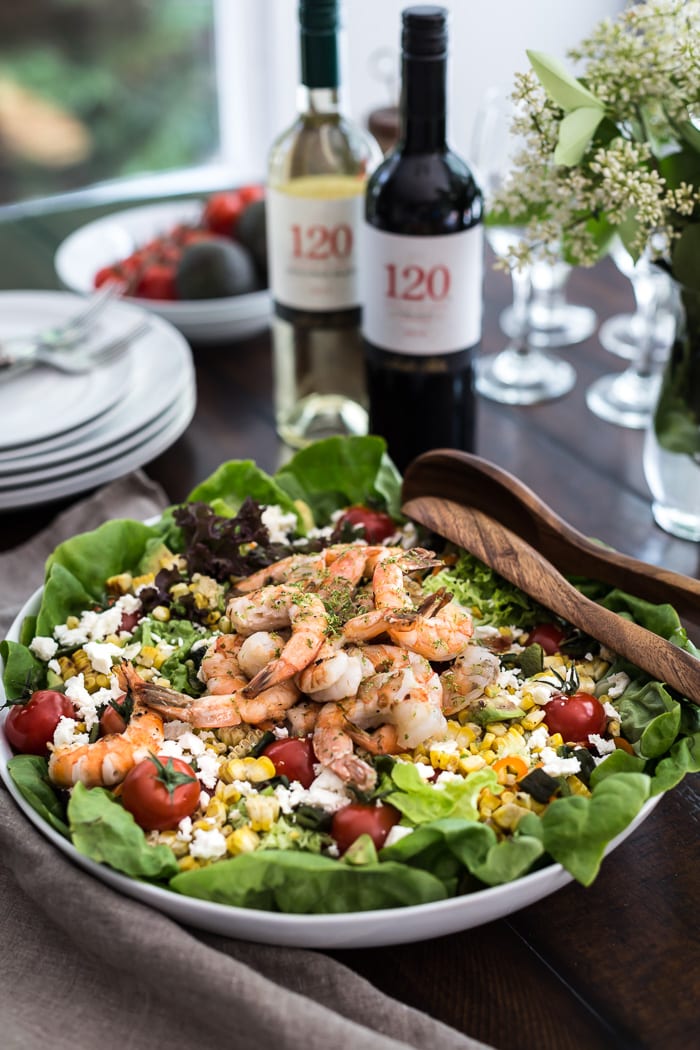 As for the shrimp, I deveined them but still left the tail intact, as I love the way it looks. If you are not a fan, feel free to cut the tails off. Since shrimp tend to spin when you place them on a single skewer, I placed them on two bamboo skewers running parallel to each other. In order to ensure even grilling, I positioned them facing in the same direction. Right before grilling, I basted them with a little bit olive oil that I flavored with Badia's complete seasoning and a pinch of crushed red pepper. Once they hit the grill, it took 2-3 minutes for each side to cook.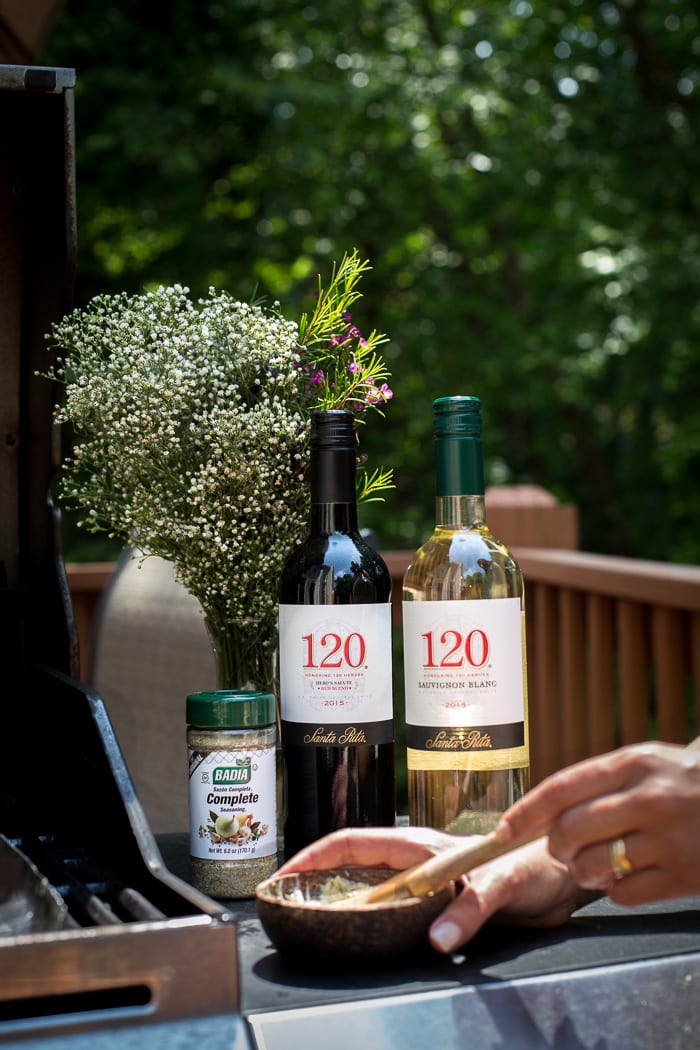 Once the corn, shrimp, and Poblano peppers were grilled, the preparations were halfway done. For the salad, I used Boston lettuce, ripe avocados, cherry tomatoes, feta cheese and my go-to lime dressing that I whisked up at the last minute.
All in all, it was an easy salad with a ton of flavor. It paired so well with Santa Rita's 120 series Sauvignon Blanc from Chile. Seriously, if you have never tried this wine make sure to pick a bottle next time you go shopping. It has such a smooth taste that can be enjoyed with dinner or even just by itself.
See Also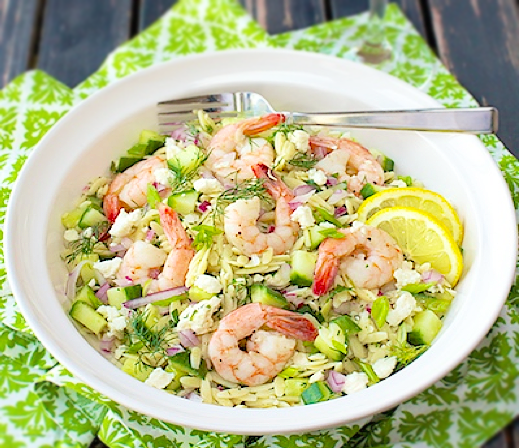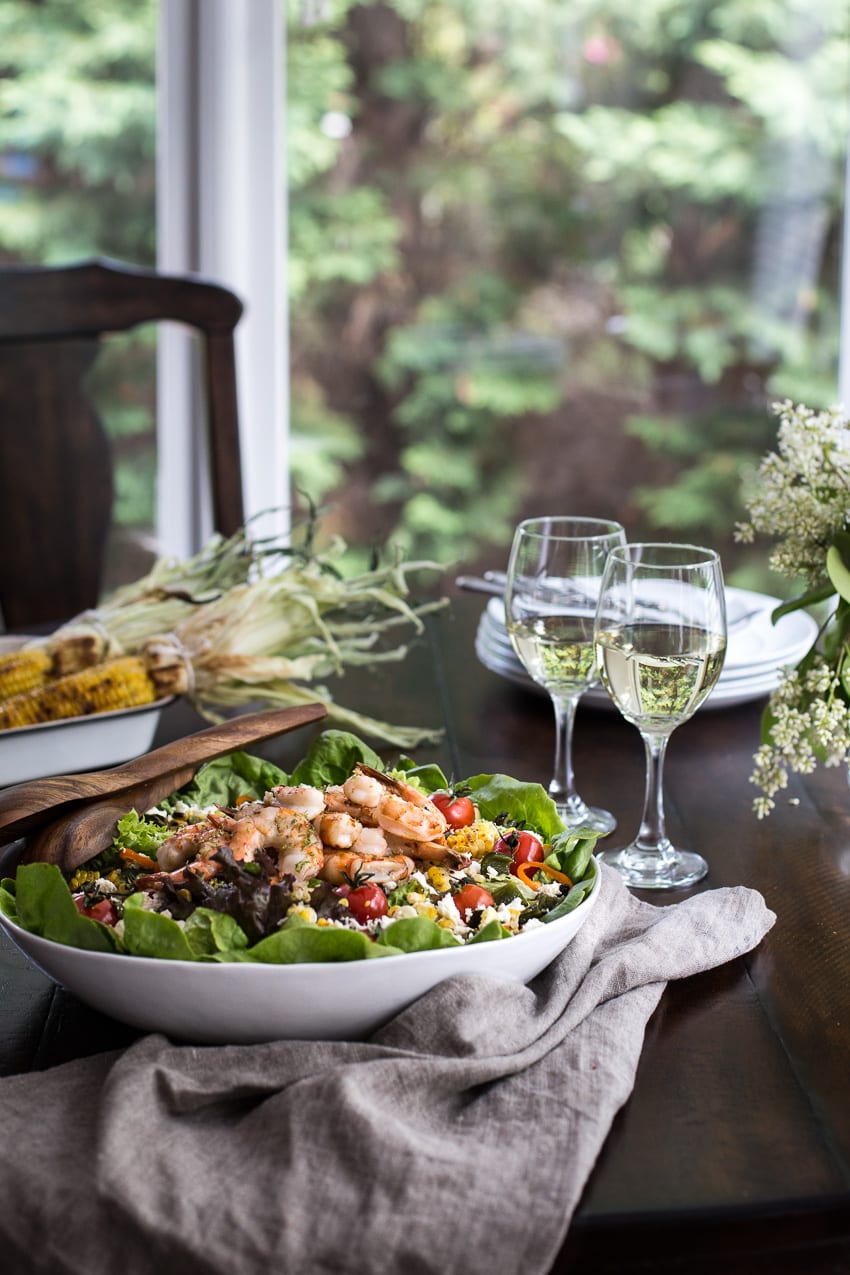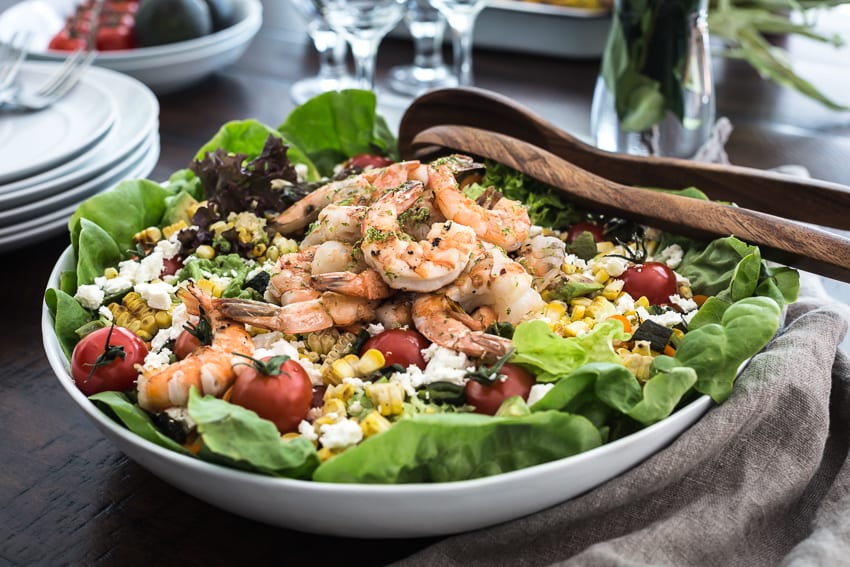 For more grilling inspiration with Santa Rita, check out this grilled Chilean chicken and pebre sauce.



d
Print
Author:

Aysegul Sanford

Prep Time:

20 minutes

Cook Time:

20 minutes

Total Time:

40 minutes

Yield:

4

servings

1

x
Category:

Main, Salad
For the grilled corn and Poblano peppers:
5

ears of corn

3 tablespoons

of unsalted butter (in room temperature)

1½ teaspoons

of Badia Complete seasoning

4

Poblano peppers
For the grilled shrimp:
1½

pounds of large shrimp (washed, deveined, and pat-dried with paper towels)

2 tablespoons

of olive oil

1 teaspoon

of Badia Complete seasoning
pinch of red pepper flakes (optional)
For the dressing:
½ cup

extra virgin olive oil
zest of a lime

3 tablespoons

of lime juice (freshly squeezed)

1

clove of garlic (minced)

1 teaspoon

salt ((make sure to adjust the level of salt based on the saltines of your feta cheese))

½ teaspoon

black pepper
For the salad:
1

large head of Boston (or butter lettuce, leaves separated, washed and drained)

1 cup

of cherry tomatoes

1

ripe avocado (cut into small pieces)

3

scallions (chopped)

1 cup

of feta cheese (crumbled)
Instructions
I recommend getting all your mise-en-place ready before starting the grill.
To prep the corn: Fold the husk of each corn back leaf by leaf and tie them with a kitchen twine (as shown in the photos). Mix together the butter and Badia complete seasoning together to make a paste that you can brush with. Set them aside.
To prep the shrimp: Place 4-5 shrimp onto two skewers running parallel to each other. Repeat until all the shrimp is set. Whisk together the olive oil, Badia seasoning and crushed red pepper (if using). Set them aside.
To prep the dressing: Whisk together olive oil, lime zest, lime juice, garlic, salt* and pepper. Set aside.
To prep the salad: Boston lettuce, cherry tomatoes, avocadoes, and scallions in a large salad bowl (this will be the bowl that you'll serve the salad). Pour half of the dressing over the salad and give it a gentle stir. Set aside.
To grill the corn and Poblano peppers: Heat the outdoor grill to medium high. Before putting the corn on the grill, brush all sides of each corn using half of the butter. Put both the corn and whole Poblanos (you do not need to brush the peppers with butter) on the hot grill rack. Grill them (turning occasionally) until corn is browned in spots and skin on Poblanos is charred and blistered on all sides. This takes between 10 to 12 minutes. Transfer corn onto a cutting board. Transfer Poblano peppers onto a large sheet of aluminum foil. Loosely wrap them to steam until they are cool enough to handle. When it is cool to handle, cut corn kernels from cobs. Add them to the salad bowl with other ingredients.
Remove Poblanos from foil. Peel off skins and discard. Cut each pepper in half and remove the seeds. Slice the rest of the flesh into small pieces and add them into the salad bowl.
To grill the shrimp: Brush all sides of the shrimp with olive oil mixture. Place them on the hot grate and grill until they are cooked, 2-3 minutes per side. Baste the shrimp with more olive oil if it dries while it is grilling.
Place the grilled shrimp onto the large salad bowl with rest of the ingredients.
Sprinkle the salad with crumbled feta cheese. Drizzle it with the rest of the lime vinaigrette. Taste for seasoning and add if necessary. Serve.
Notes
* Before adding salt to the dressing make sure to taste the saltiness of the feta cheese.
Aysegul Sanford
Aysegul is the cook, writer, and photographer behind foolproofliving.com. She spends her days creating recipes from seasonal ingredients on a small island in the Caribbean. Other than cooking and baking, her biggest passion in life is photography. She also is a firm believer that if you know how to read, you know how to cook.