Executive Chef Justin Dain is the mastermind behind the locally sourced culinary creations at PINE Restaurant located in the picturesque town of Hanover, New Hampshire. Read about his idyllic upbringing, creative mind, and benevolence through teaching others about his passion for using seasonal ingredients at the peak of their flavor.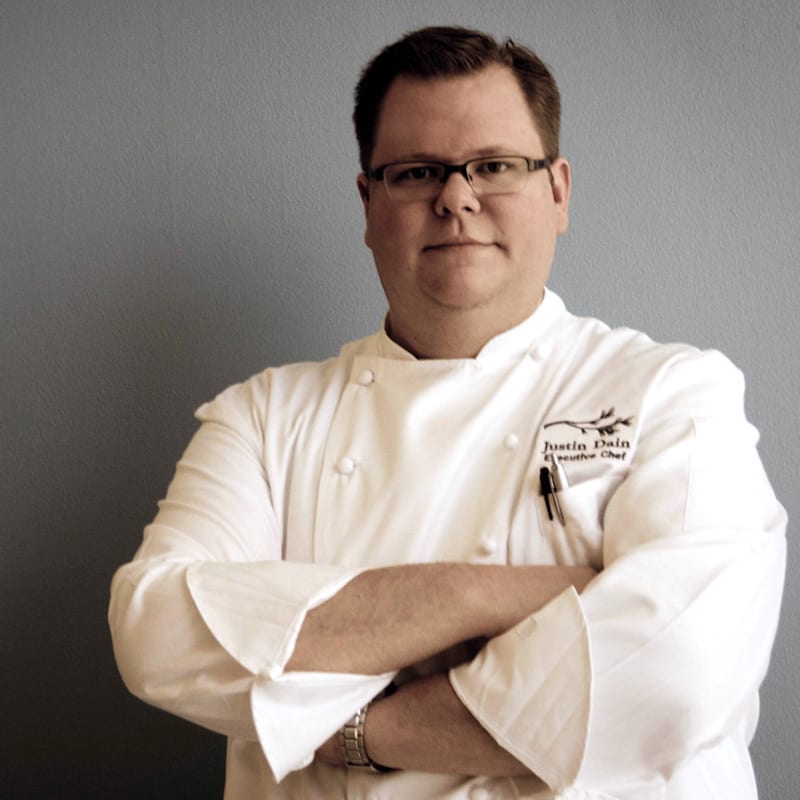 Nestled in the charming, scenic-strolling avenues of Hanover, New Hampshire, PINE is a beloved farm-to-table restaurant headed by Executive Chef, Justin Dain. Deeply rooted in the country life and respecting the cycle of seasonal ingredients, Chef Dain utilizes his talents to create classic dishes that celebrate the local bounty of New Hampshire.
For Chef Dain, PINE restaurant is the canvas for creating new dishes that are approachable, delicious and well-balanced. It has also been something that grows with time (like a tree) as it evolves with food, farmers, and new cooking techniques. Chef Dain usually writes the menus in the restaurant for inspiration to remind himself of what he is trying to continually create and produce.
Q & A with Chef Justin Dain
What is your favorite setting to have a meal?
My favorite setting to have a meal would be our family house in Wellfleet, MA. It is always special to cook and spend time with my wife, children, and family members at such an amazing place; and to have my children experience what I did as a child. Nothing beats opening oysters, steaming clams and poaching lobsters on a hot summer day on Cape Cod with a cold Heady Topper.
Tell us your least favorite ingredient, and how you'd make it into an appetizing dish.
Personally, my least favorite ingredient is fiddleheads, unless pickled. I am not a huge fan of the texture once they are cooked or the flavor it adds to certain dishes. I will use this ingredient during its season since many diners do enjoy the flavor. I do like to pickle fiddleheads in a spicy, herbaceous, vinegar-based brine. It helps retain the crunch of the fern, while adding a nice spicy vinegar flavor. These are a great addition to spring salads featuring local greens and a simple lemon and olive oil dressing.
When creating a dish, what is it that you are trying to convey to your guests?
When I set out to create a new dish or menu, I focus on finding a balance between what is seasonally available while creating dishes that are approachable, delicious, and appealing to the eye. I also want to shine light on local produce, meats, dairy, and fish. We are lucky in New England to be surrounded by such an array of ingredients and I enjoy bringing them into the restaurant and sharing these amazing products with our guests.
Tell us about a culinary adventure you've always wanted to go on.
I have always wanted to go to Alinea and Grace restaurants in Chicago. Both chefs are pushing the food and taking creativity to a new level that would be just amazing to experience personally. Dining in restaurants is a great way to learn new cooking techniques and experience service at the ultimate level. Dining out to me is always a learning experience either good or bad. You need to see all aspects of what people are doing with food and take what you can to use in my day to day cooking practices.
Do you take a special interest in Dartmouth students? Do you play any role in the university community?
Dartmouth students often reach out to me to discuss food and farm projects they are working on for their classes. I just spent time with 5 students discussing potential produce items the organic farm owned by Dartmouth College could produce for PINE Restaurant. It is very exciting for me and for the students to see how I use the local ingredients and to experiment with new items that would grow well in NH. It is always nice to teach local students my thoughts on food and practices at the Inn to show them the importance of local food and working with local farmers to give back to the community.
What is your favorite dish to make and why?
My favorite dish often changes from year to year as my tastes and interests change. Right now I am very much into foods with an Asian flair such as spicy Udon noodle dish with kimchee, peanuts, and cilantro. I also like simplicity in a dish like tossing perfectly-cooked pasta with butter, black pepper, parmesan and truffle oil. So simple, but when done correctly it is addictive! Simple and well executed is my basic thought process for my favorite ingredients and dishes.
What is the most unique style of food that you have eaten? Would you recommend it to others?
The most interesting food I have been into lately is Nikkei cuisine- Japanese and Peruvian flavors used together. This is the type of flavors I often crave and seek out when dining in new cities. I recommend this food because it is centered on fresh, spicy, clean, forward-thinking, healthy and, of course, balanced flavor profiles. Many common ingredients used in Nikkei cuisine are- sushi-grade fish, ponzu, yuzu, coconut, avocado, cilantro, sake, chilies, soy, fresh noodles and rice.
Has the recognition of your food and culinary skills changed the way you look at cooking? and if so, how?
My focus on food and how I create food has evolved much over the years. I have a great personal drive and passion to create delicious, eye-appealing, and approachable food. I am very honored to be able to work at a place where I can create food that inspires me and makes me feel proud of what we are putting on our plates every day. My process in creating food changes all the time as we evolve to create new, fun and enticing foods for our guests. It is an amazing feeling to be recognized for the accomplishments in the food we create. It has always been my goal to make people happy through food. I have been blessed to work with some amazing people at PINE restaurant. My sous chefs and line cooks work very hard and strive to put out delicious food on a daily basis. It's a great thing when you are surrounded by professionals who understand your goals and want to succeed.