Green Bean Salad with Walnuts and Feta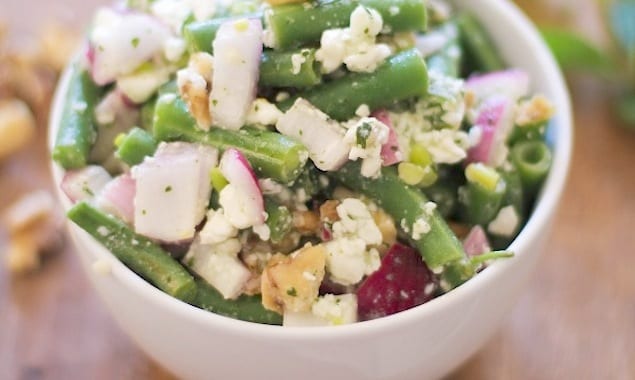 Green Bean Salad with Walnuts, Feta, and Lemon-mint Dressing. It's zesty, tangy, crunchy, perfect for all your summer barbecues.
By Julia Mueller
This salad will get you a standing invitation to all the summer barbecues. You'll be the cool guy or gal with that amazing green bean salad with all the je ne sais quois all up in it.
It does a body good. Just looking out for your health and well being, my babies. Except, by that, I mean I'm looking out for my own health and well being. Because it's summer, and bikinis have got to get worn. It's zesty, tangy, crunchy, and all you want to do is just.keep.eating.it.

Green Bean Salad with Walnuts and Feta
Green Bean Salad with Walnuts, Feta, and Lemon-mint Dressing. It's zesty, tangy, crunchy, perfect for all your summer barbecues.
Ingredients
1-1/2 pounds green beans, trimmed and cut into 1.5" pieces
1 cup raw walnuts, chopped
⅔ cup feta cheese, crumbled
⅔ cup red onion, chopped
Lemon-Mint Vinaigrette
1 cup grapeseed or olive oil
½ cup apple cider vinegar
¼ cup fresh lemon juice
1 lemon, zested
½ cup fresh mint leaves, roughly chopped
4 cloves garlic, minced
¼ teaspoon kosher salt, or to taste
Instructions
Lemon-Mint Dressing
Add the salad dressing ingredients to a small blender and blend until smooth.
Keep sealed in the refrigerator for up to 10 days.
To prepare the Walnut Salad
Bring a large pot of water to a boil and add the chopped green beans. Cook for 2 to 3 minutes, but no longer.
Immediately transfer the green beans to an ice bath in order to stop the cooking. Once cooled, strain the beans into a colander and pat dry.
Add the blanched green beans, walnuts, feta, and red onion to a large serving bowl. Mix in desired amount of lemon-mint dressing and add salt to taste.
Serve alongside your favorite entrée.
See Also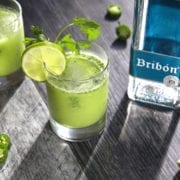 Julia Mueller
As a fitness and nutrition enthusiast, Julia writes a food blog called The Roasted Root, where she share recipes that are mostly vegetable and meat based along with stories of her travels and day-to-day activities. Julia loves enjoying fresh home cooked meals with her friends and family, and the process of developing recipes, photographing, and sharing them.