Green Apple Cheesecake Bars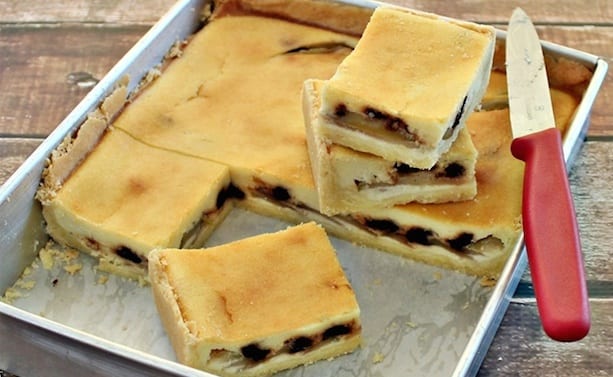 Apple cheesecake is simple to make ahead and can be served warm or chilled. Try your favorite apple and spice combination or stick with tart green apples and lemon zest.
By Ann Low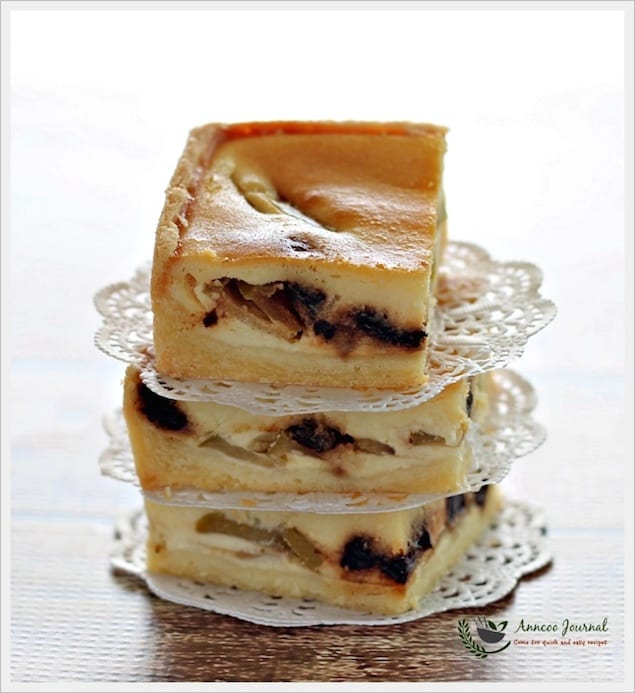 I quickly made this easy and delicious Apple Cheesecake Bars as our tea time treat over the weekend. This can be served warm with a cup of coffee or chilled cold and serve with some vanilla ice cream.

Green Apple Cheesecake Bars
Apple cheesecake is simple to make ahead and serve warm or chilled. Try a favorite apple and spice combo or stick with tart green apples and lemon zest.
Ingredients
100g Butter
160g Plain flour
2 tbsp Beaten Egg
35g Icing sugar, sifted
Cheese filling
2 Green applies
250g Cream cheese, room temperature
80g Icing sugar, sifted
120g Whipping cream
2 Eggs (70g each)
lemon zest from one lemon
½ tbsp Lemon juice
1 tsp Vanilla extract
2 tbsp Plain four
1.5 - 2 Green apples
30g Raisins
Instructions
Beat butter and icing until light and creamy. Add beaten eggs and mix well. Add plain flour and mix to a soft dough. Chill for 30 minutes.
Place the cold pastry evenly into a rectangle tray (9x7x2, greased and lined with baking paper below). Prick evenly with a fork. Bake at 180C in preheated oven for 15 minutes. Remove to cool.
Beat cream cheese and icing sugar until light and creamy. Add eggs one at a time until combined.
Add lemon juice and vanilla extract, mix well followed by whipping cream. Lastly add plain flour and lemon zest, mix well again, set aside.
Wash green apples and slice thinly. Arrange sliced apples onto base. Pour cheese filling over it.
Bake at 180C in preheated oven for 50mins. Then lower temperature to 140C and bake for another 10 minutes or until golden.
Ann Low
Ann Low is the author of Anncoo Journal, and loves to bake and cook for both family and friends. She acquired a strong passion for culinary skills from a very young age by watching her grandmother prepare delicious meals for the family. Ann believes that baking is an art and she wants to share her baking and cooking experiences with everyone in the world.