Greek Burgers with Tzatziki Sauce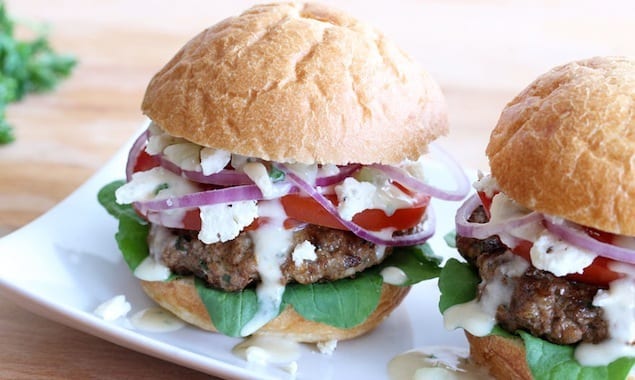 Greek spices and a homemade tzatziki sauce make this burger stand out from the crowd. Sun-dried tomatoes, pine nuts, and feta come together with arugula and red onions to make a flavorful barbecue meal.
By Kimberly Killebrew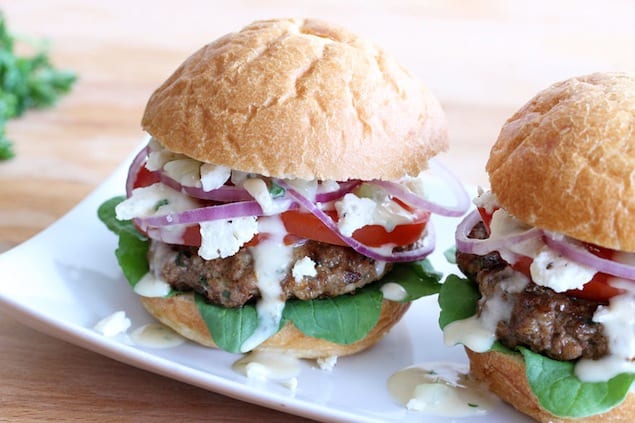 You've never tasted a burger quite like this before! It's your choice of meat and the incredibly flavorful combination of ingredients makes this a guaranteed winner!
You may already know that I have a slight obsession with Greek Gyros and Döner Kebabs. If you don't already know that, well, I do. I love them. Madly. Passionately. And so it was just a matter of time before I transformed my love affair into a burger. But it's not even just a "gyros" burger. It's sooooo much more than that! Can you guess what flavors are packed into these juicy, succulent, burger patties? First off, you've got your choice of meat: Beef, pork, lamb, chicken, turkey. Then we've got garlic, red onions, fresh parsley, sun-dried tomatoes, pine nuts, my special Greek seasoning, and crumbled feta cheese. Then they're topped with tomatoes, red onions, my special tzatziki sauce, and extra crumbled feta cheese. And all that sitting on a bed of fresh, zesty arugula leaves. Can you imagine the burst of flavors you'll get when you bite into one of these?

Greek Burgers with Tzatziki Sauce
Greek spices and a homemade tzatziki sauce make this burger stand out from the crowd. Sun-dried tomatoes, pine nuts, and feta come together with arugula and red onions to make a flavorful barbecue meal.
Author:
Kimberly Killebrew
Ingredients
1 pound ground meat (your choice: beef, pork, lamb, chicken or turkey)
¼ cup finely chopped red onion
¼ cup chopped fresh parsley
3 tablespoons pine nuts
¼ cup sun-dried tomatoes in oil, drained and chopped
3 cloves garlic, minced
¼ cup crumbled feta cheese
2½ tablespoons Homemade Greek Seasoning
2 cups arugula leaves
½ cup Homemade Tzatziki Sauce
Sliced tomatoes
Sliced red onions
Extra crumbled feta cheese
4 hamburger buns, lightly toasted
Tzatziki Sauce
1 cup (8 oz) plain Greek or whole milk yogurt
1 tablespoons freshly squeezed lemon juice
1 tablespoons fresh dill, chopped
1 large clove garlic, minced
½ teaspoon salt
½ cup cucumber, very finely chopped
Greek Seasoning Mix
1½ tablespoons dried oregano
1½ teaspoons salt
1 tablespoon onion powder
1½ tablespoons garlic powder
2 teaspoons freshly ground black pepper (note: freshly ground black pepper is less volume than non-freshly ground, if using non-freshly ground use half the amount)
2 teaspoons beef bouillon powder
2 teaspoons dried parsley flakes
1 teaspoon dried thyme
1½ tablespoons sweet paprika powder
¼ teaspoon ground cinnamon
¼ teaspoon ground nutmeg
Instructions
Tzatziki Sauce
Combine all Tzatziki Sauce ingredients in a medium glass bowl and refrigerate for at least an hour before use.
Greek Seasoning Mix
Combine all the spices and grind them to a fine powder in a spice or coffee grinder. Store in an airtight jar until ready to use.
Burger
Combine the meat, red onion, parsley, pine nuts, sun-dried tomatoes, garlic, feta cheese and Greek seasoning in a mixing bowl. Work with your fingers until the mixture is thoroughly combined. Form into 4 patties.
Grill or pan fry over medium-high heat for 2-3 minutes on each side or according to desired doneness (is using poultry or pork, make sure it's thoroughly cooked through).
Arrange some arugula leaves on the bottoms of each hamburger bun and place the patties on top. Top with tomatoes, red onions, tzatiki sauce, and crumbled feta cheese. Place the top bun on each burger and serve immediately with extra tzatziki sauce.
Kimberly Killebrew
Raised in Western Europe, widely traveled, and currently residing near Seattle with her husband and children, Kimberly loves preparing and experimenting with a large range of flavors and cuisines. This is reflected in her food blog, The Daring Gourmet, where she invites all to "tour the world through your taste buds." Passionate cook, recipe developer and photo enthusiast, her culinary repertoire includes everything from gourmet to simple comfort food, and, as she puts it, "simply downright good eats."