Granola is loaded with fiber, protein, healthy fats and essential vitamins and minerals. The aroma of nutmeg completes this granola and adds warmth to each spoon.
By Lail Hossain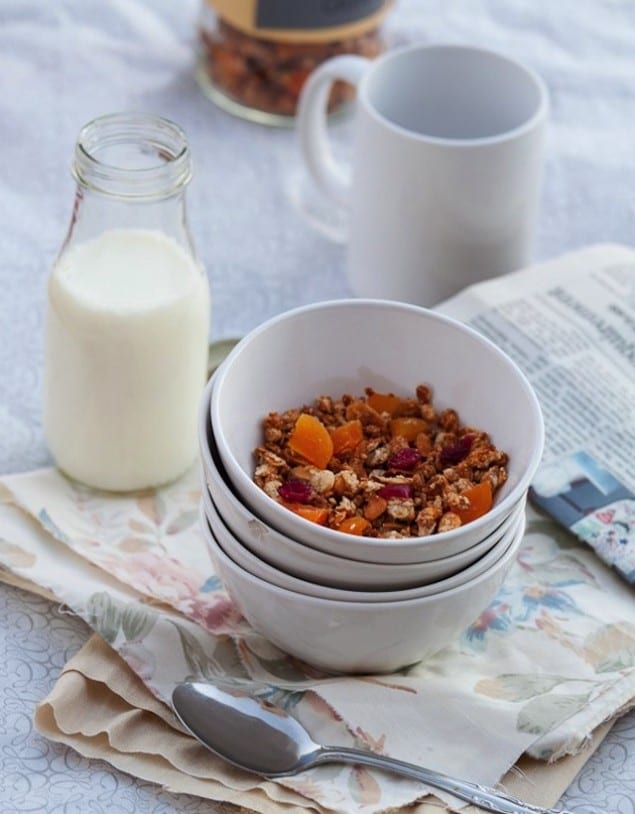 Crunchy, flavorful and with a hint of sweetness, this granola is brimming with rolled oats, quinoa, almonds, coconut, pine nuts, sesame seeds, flax seeds, and dried fruits. We can't help but start eating the granola in the morning even before the coffee maker finishes brewing. The granola taste fabulous over yogurt or milk. Keeps for up to two weeks stored in an airtight container at room temperature. Store in refrigerator if you would like to keep longer.
Print

Quinoa Granola With Maple
---
2 cups

oats

1 cup

cooked quinoa

½ cup

almonds

½ cup

desiccated coconut (unsweetened)

¼ cup

pine nuts

¼ cup

sesame seeds

1 tablespoon

flax seeds (powdered)

6 tablespoons

butter

½ cup

maple syrup

¼ cup

honey

½ teaspoon

salt

¼ teaspoon

ground nutmeg

1 cup

dried fruits (dried apricot, cranberry, papaya, etc. cut into small pieces)
---
Instructions
Preheat oven to 315 degrees Fahrenheit. Line two large baking sheets with parchment paper.
In a large bowl, combine oats, cooked quinoa, almonds, coconut, pine nuts and sesame seeds. Add the powdered flaxseed.
Melt butter in a small pan.
Add maple syrup, honey, salt and freshly ground nutmeg.
Pour the maple mixture evenly over oats mixture. Toss well to ensure everything is mixed well.
Evenly distribute granola onto the prepared baking sheets.
Bake for 30-35 minutes. Rotate baking trays and toss granola every 10 minutes for even baking.
Remove baking sheets out of oven to allow granola to completely cool.
Add the dry fruits.
Alternate Steps:
Instead of baking, heat up a large pan on medium heat.
Pour the mixture into the pan, dry roast about 8-10 minutes. Stirring frequently to make sure the mixture is toasted evenly.
Notes
Feel free to adjust sweetness of the granola by adding/subtracting honey and maple syrup. Feel free to substitute any combination of nuts, seeds and fruits, or the maple syrup for agave nectar or more honey. Use cinnamon, cardamom or vanilla instead of nutmeg.
Lail Hossain
Lail Hossain finds cooking to be an explosion of creativity. She is enthusiastic about modifying a laborious step of an old recipe, and experimenting with different ethnic recipes by adding her own spin to it yet keeping the recipes simple, healthy, and delicious. Originally from Bangladesh, Lail shares her journey of food, creativity and family in her blog "With A Spin". She is also very passionate about highlighting Bangladeshi cooking to the international culinary space.