The perfect snack – enjoy this awesome granola bars recipe from Katherine Sacks.
By Katherine Sacks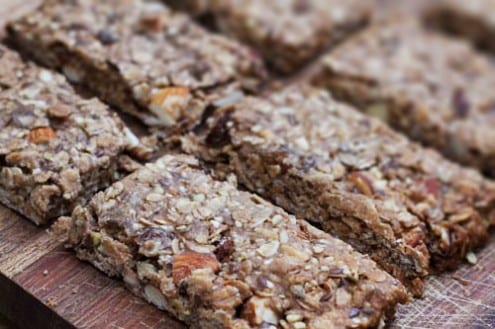 Granola Bars
Enjoy this awesome granola bars recipe from Katherine Sacks.
Author:
Katherine Sacks, adapted from Serious Eats
Ingredients
1 cup agave syrup or honey
A two thirds cup chunky natural peanut butter
2 and two thirds cups muesli with flax and sunflower seeds, or rolled oats
1 cup whole wheat flour
1 teaspoon ground cinnamon
½ cup golden raisins
½ cup dried goji berries
½ cup chopped almonds
Instructions
Preheat the oven to 350°Farenheit/176 °Celsius. Lightly grease a 9 x 13 inch baking pan. In a medium bowl, combine the syrup and peanut butter until well mixed. In a separate bowl, mix together the remaining ingredients. Add the peanut butter-syrup mixture into the dry ingredients and combine. Lightly grease your hands and press the mixture into the pan, flattening into a uniform sheet. Bake until golden brown, around 25 minutes. Cool for 15 minutes, remove from the pan, and cut into bars. Cool completely and store in an airtight container for up to 1 week.
Also check out
this
recipe for chewy granola bars.
Katherine Sacks
Katherine Sacks is a Berlin-based freelance writer and recipe developer specializing in travel, food, lifestyle, and health topics. A graduate of Drexel University's culinary arts department and Northwestern University's Medill School of Journalism, Katherine combines seven years of restaurant experience with her reporting and editing background. Her work has appeared in Chicago magazine, the Chicago-Sun Times, and FoodandWine.com, among other publications. She also contributes to culinary trade publication StarChefs.com, Forbes Travel Guide, and Snooth Eats, and blogs at LaVitaCucinare.com.