An Icy Blend – Cantaloupe Granita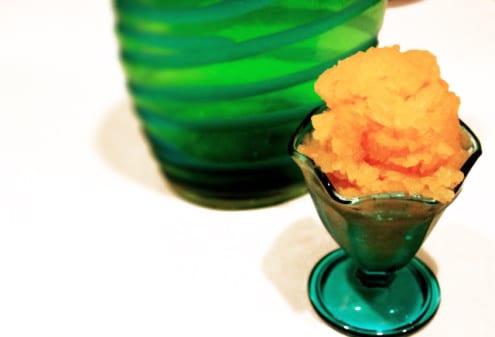 The frozen blend of melon, sugar and lime has an incredibly refreshing, subtly sweet taste with the perfect punch of citrus.
By Kara and Marni Powers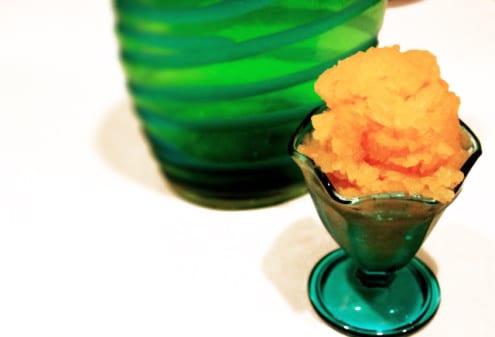 Served in a simple or ornate bowl, the icy treat is a terrific impromptu dessert for guests and is sure to cool you down in any heatwave.

An Icy Blend - Cantaloupe Granita
The frozen blend of melon, sugar and lime has an incredibly refreshing, subtly sweet taste with the perfect punch of citrus.
Author:
Kara and Marni Powers
Ingredients
1 cantaloupe, cut in large chunks
½ c water
¼ c granulated sugar (add more if you have a big sweet tooth, our version is pretty mild)
zest of one lime
juice of one lime
pinch of salt
Instructions
In a small saucepan, heat the water and sugar until the sugar is dissolved. Set aside and cool. In a blender, combine all ingredient and blend until fully pureed. Pour into a 9x9 pan and place in the freezer. After an hour, fork through the semi-frozen mixture and return the dish to the freezer for an additional hour. Fork again and spoon into bowls.
Since we love to further enhance a dish with the addition of spirits, we recently added a floater of Champagne on top of the granita and were delighted with our instantly sophisticated slushie. We can't wait to experiment with other boozy libations and fruits this summer!
Kara and Marni Powers
Kara and Marni Powers are twin sister cooks, dining and blogging their way through Boston's North End and beyond. They see the act of cooking and entertaining as a form of creative expression, an art that encourages the mixing of flavors, spices, techniques and stories. Their interest in cooking dates back to their Greek grandmother's open-arms approach, letting them taste her savory creations like her famous spanakopita. Kara and Marni's fascination with food and culture continued during their travels abroad in Europe where they saw firsthand the limitlessness of cooking.