Gourmet Cocktail Cherries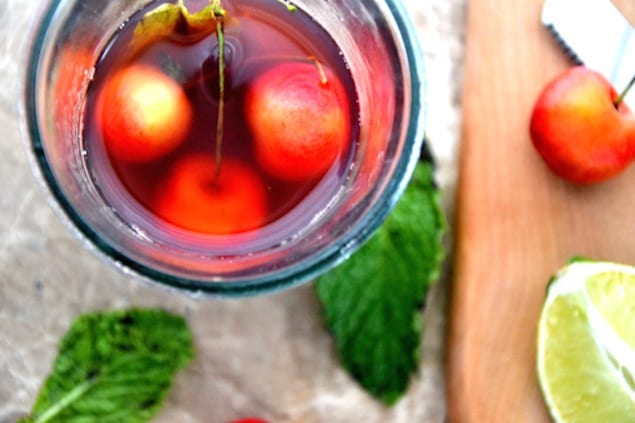 Don't let a cocktail be brought down by an artificial-tasting jarred cherry. Make your own glossy, rich, infused cocktail cherry at home.
By Cass Daubenspeck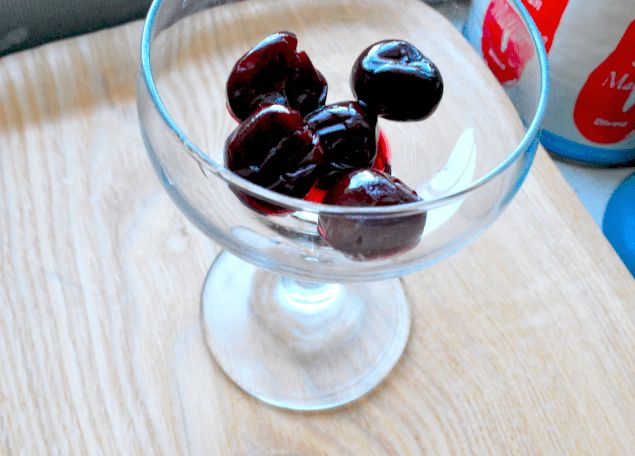 The Manhattan is one of the oldest, classic cocktails in the American repertoire. Some argue it's the choice of rye over bourbon that makes the perfect version, others say it's the ratio of vermouth, but I argue for the cherry. If the cherry is artificial tasting and pieces are floating in your liquor,  the very last sip you'll take will break the whole experience. That's why it's crucial no one is left with only the cheap store-bought maraschino option, or the exorbitantly expensive gourmet versions you can buy online or in specialty stores. Everyone who appreciates a delicious Manhattan should be able to make their own perfect glossy, rich, liquor-infused cocktail cherry at home.
This recipe is borrowed and adjusted from the Sweets and Bitters Quarterly cookbook. It makes one small jar.

Gourmet Cocktail Cherries
Don't let a cocktail be brought down by an artificial-tasting jarred cherry. Make your own glossy, rich, infused cocktail cherry at home.
Author:
Sweets and Bitters Quarterly
Recipe Type:
Cocktail Garnish
Ingredients
12 oz. bag dark frozen cherries, thawed fully
¾ cup raw sugar
3 tablespoons bourbon or rye
1 teaspoon vanilla
2 teaspoons Angostura bitters
1 lemon peel, sliced
Instructions
Strain the juice from the thawed cherries by placing them in a sieve on top of a bowl. As the cherries thaw, the juices will catch in the bowl. Reserve ½ cup of this juice.
To make a syrup, heat the sugar with the reserved cherry juice over medium heat stirring until dissolved. Add the bourbon, vanilla and bitters.
Rinse a small jar with hot water to warm up the glass. Pack the cherries and lemon peel into the jar. Fill the jar with the syrup. Seal and refrigerate.
Cass Daubenspeck
Cass is a writer, editor, and adventurous eater from central Pennsylvania, where she was raised with a healthy appreciation for scrapple and shoo fly pie. When she's not writing and cooking, she runs Sunday Routine, a website devoted to the habits and rituals associated with living a good life.