Goulash might not be the first thing you think about when you think about Italian food.
By Kathy Bechtel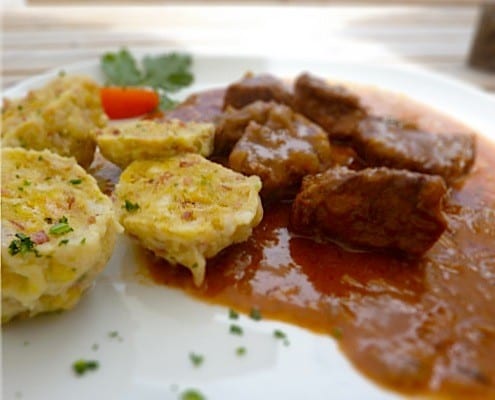 For most of us, when we think of Italian food, goulash is not the first dish that comes to mind. Originating in Hungary, and supposedly deriving it's name from the Hungarian gulyas, or 'herd', goulash is a dish first cooked by cattle and livestock herders. Traced as far back as the 9th century, Magyar (Hungarian) shepherds would prepare a stew, slowly cooking it until all the liquid was absorbed. The stew was dried in the sun, and packed in sheep's stomachs to be carried with them as they tended their flocks. Water would be added to reconstitute the stew at mealtime.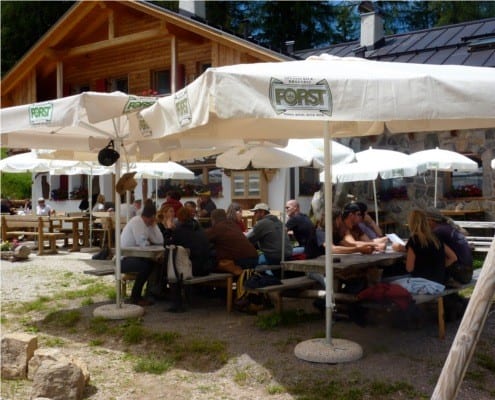 Popular in Austria, Croatia and Slovenia, it is yet another example of the Central European influence we see on our visits to the region, especially in the mountains of Trentino-Alto Adige and Friuli-Venezia Giulia, where you will see it referred to as goulasch in Italian. Called golas in dialect, it is a local specialty of Trieste, often found at many of the city's traditional buffets. It hails back to the days when Trieste was main trading port of the Austro-Hungarian Empire, and Trieste is credited with adding tomatoes as a key ingredient. It is found throughout Friuli and Trentino-Alto Adige, most commonly in the mountain areas along the Austrian border. It is usually served with polenta, potatoes, or csipetke, a pinched (csipini) noodle similar to spaetzle.
There are endless preparations for goulasch, and it can be made with a variety of meats, beef, pork, lamb and even a combination. But most use meat and onions that have been seasoned with paprika, cooking them for a long time over low heat. Paprika is a fairly recent addition, as it did not arrive in Hungary until the 16th-17th century, courtesy of Turkish invaders. The use of this fiery spice spread, well, like wild fire, as people loved it's exotic nature, and it was believed to have the ability to ward off cholera. There are some meatless versions that use vegetables such as peppers or potatoes, which were served during hard times when meat was too expensive.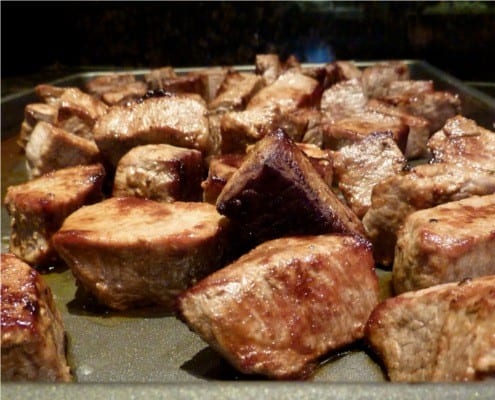 This recipe is derived from several versions I found both online and in books. I would encourage you to play with different meats and spice combinations. Here, I used smoked paprika, a bit nontraditional, but the only paprika I had! You can add vegetables like peppers, potatoes, carrots or parsnips, or add some caraway seed.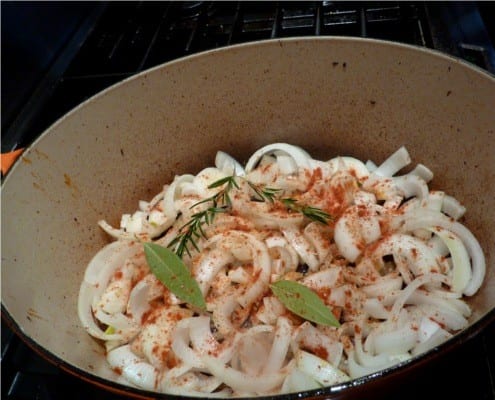 A nice spicy Schioppettino from Friuli would be a great wine to accompany this dish, or if you are in Alto Adige, try a St. Magdalener, a blend of Schiava and Lagrein.
Print
Goulash – Italian Style
---
Author:

Kathy Bechtel

Total Time:

3 hours 30 minutes

Yield:

8

1

x
Description
Goulash – a spicy meat stew
---
4 tablespoons

(

60

ml) pure olive oil

4

medium onions, cut into

1/2

inch slices
Kosher salt and freshly ground pepper

1 teaspoon

(

2 g

) smoked paprika

1

small sprig rosemary, leaves removed and stem discarded

2

bay leaves

1 teaspoon

(

2 g

) dried oregano

3

pounds (1.4 kg) stew beef

1

28-ounce (0.8 kg) can pureed tomatoes
---
Instructions
Heat half of the olive oil in a large enamel or heavy-bottomed sauce pan over medium-high heat. Spread the stew beef cubes out on a sheet pan and season with salt and pepper. Add the beef chunks to the pan and sear on all sides, cooking in batches so they have some space between them. If they are crowded in the pan, they will steam more than sear. You want them to brown nicely on several sides. Remove from pan when browned and set aside.
Reduce the heat to low, and add the remaining olive oil. Add the onions, spreading them out in a layer that covers the bottom of the pan. Season with salt and pepper, and half of each of the spices: paprika, rosemary leaves, bay, and oregano.
Top with the beef cubes, and then the remaining paprika, rosemary, bay and oregano. Partially cover the pot, and cook for 3 hours over as low a heat as possible. After 1 1/2 hours, check the pot every 30 minutes to make sure liquid remains in the bottom. If it becomes dry, add a bit of water.
One hour before the goulasch is done, place the can of tomatoes in a small sauce pan. Bring to a simmer over medium-high heat, then decrease the heat to low and continue to cook until thickened. You want to reduce the tomato puree by approximately one-half, making a very thick tomato sauce.
After 3 hours, add the reduced tomatoes to the pan, and stir to combine. Increase the heat to medium-high, and bring to a simmer. It is now ready to serve, but will be even better if left to sit for a day (in the refrigerator, of course.)
Serve with crusty bread, polenta, potatoes, or csipetke noodles.
Prep Time:

30 mins

Cook Time:

3 hours
Kathy Bechtel
Kathy Bechtel's obsession with food and cooking began as a teenager. After years following a traditional career path as a telecommunications engineer, she left to attend culinary school and wine training, and is now combining her passions for food and wine, the outdoors, and travel as owner and Culinary Tour Director of Italiaoutdoors. In this role, Kathy leads small bicycle, skiing and walking tours that explore the authentic regional cuisines, local products and undiscovered wines of Northeastern Italy.